Leg Avenue Kink Faux Leather Studded Eye Mask Review
Leg Avenue Kink Faux Leather Studded Eye Mask review by Joanne's Reviews
As an avid fan of BDSM in the bedroom and with several masks and hoods in my collection, I jumped at the chance to review
a faux leather eye mask
for Cara as part of the Pleasure Panel.
I like comparing products, and with a bit of experience with masks, I thought it was the perfect product for me to cast my eyes over this month and so here are my thoughts on the Leg Avenue Kink Faux Leather Studded Eye Mask.
The mask arrives in a resealable plastic pocket pouch with a card insert.
Masks are a lot of fun for lots of different reasons. They can help you with confidence issues, they can preserve your anonymity, and they can even help you role play.
Wearing a mask as opposed to a blindfold can make you feel more dominant, and as your partner's eyes are drawn to your own, they can induce some very sensual and sexy playtimes.
When I wear the Leg Avenue Kink Faux Leather Studded Eye Mask I do feel dominant and also kinky too; I call it my cat woman mask due to the shape it takes on my face, the edges of the mask almost look like cat ears from certain angles. I love its look, and the upturned edges are giving it that seductive feline look.
The mask's faux leather is soft, and the inner surface is a suede-like soft material. It is a one size fits all type of mask and has a single black elastic strap riveted to the side of the mask. The mask also has a central rivet just above the nose bridge.
The soft inner coating also prevents the Leg Avenue Kink Faux Leather Studded Eye Mask from slipping up or down, although you need to be careful of catching the mask on things otherwise you will always be adjusting its fit.
This band stretches to fit all sizes of head, and it holds the mask snugly but not tightly to your face, making it a comfortable mask to wear. You will find that it is best to bend the mask around the nose area to make it sit flush with your face, but after you have worn it a couple of times, it will be the perfect shape for you.
The edges of the faux leather are stitched, and for the most part, it is good, but there are areas of stitching that lets it down. But for a mask of this price, it is still an excellent little mask.
I like to wear the Leg Avenue Kink Faux Leather Studded Eye Mask when experimenting with my dominant side, and it is so much fun to wear it while enjoying some tie-tease fun and games in the bedroom.
Wearing it makes me feel sexy and gives me the confidence to be a bit stronger in the bedroom. I don't know why that is the case, but when I put it on I want to be the one in control, and it has been so much fun exploring this side of myself. I also love having my partner looking into my eyes through it.
This is a mask that I can see fitting lots of different roles, whether it be some anonymity for some naughty bedroom pics or for someone looking to explore their dominant side. I think it is a good quality mask given its price and hope that anyone who buys one gets as much fun out of using it as I have had reviewing it.
Rating: 7/10
– Joanne's Reviews
---
Where To Buy
Thanks to Pleasure Panel reviewer Joanne's Reviews for this review of the Leg Avenue Kink Faux Leather Studded Eye Mask (KI2002).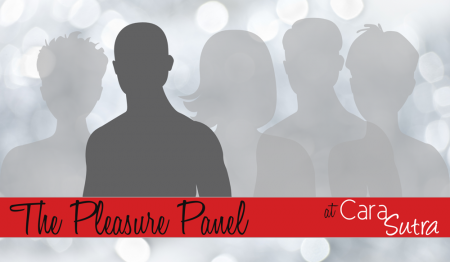 Unaffiliated