John Thomas XTRO Fusion Colour Dildo Review
Tigerlily's review of the Large size John Thomas XTRO Fusion Colour Dildo, in Soft silicone firmness
XTRO is an extreme alien dildo, which probably hails from the planet REKURASS.
Thanks to John Thomas Toys for sending over this extreme alien dildo in exchange for an impartial review.


Enjoy all our John Thomas Toys reviews
I opted to try out the John Thomas XTRO Fusion Colour Dildo in large, because sometimes it's nice to challenge yourself. That was perhaps a little optimistic, but after a week or two of stretching in the shower and probably running up an enormous water bill, I finally hilted him.
Note: I've tested this from the point of view of use anally, but it's equally functional for vaginal insertion too. My wife, however, didn't want this monstrous alien beast anywhere near her.
Unboxing
When you purchase a toy from John Thomas Toys, it arrives in a generic brown cardboard box, revealing no hints about your love of monster cocks to the innocent postie. Inside you'll find your toy shrink wrapped with a gold sticker of authenticity and a label showing the firmness you bought (though not the size).
As another sticker on the packaging instructs, you should wash before use. Fresh out of the bag, it'll have a light dusting of release agent, which stops the silicone from sticking to the mould it was manufactured in.
Included with every purchase is a lovely drawstring bag to keep it safely alongside other toys. Or you can just stand it proudly on a display shelf, as I do.
You'll also find a custom Vac-U-Lock compatible suction cup adaptor, which fits into the toy's base. Despite weighing nearly 1.4KG, I had no trouble with XTRO falling off the shower tiles, which is a testament to the strength of the John Thomas Toys Vac-U-Lock adaptor.
XTRO: Colour and Design
Not only is platinum silicone a fantastic choice for dildos because of its durability and cleanliness, but it also means you can mix and match different colours to create glorious marbled patterns.
For the design of XTRO, John Thomas Toys have done a simple mix of dark blue and neon yellow, resulting in beautiful shades of green where the two blend. It definitely ticks the box for appropriate extraterrestrial entity colouration.
It's worth noting that manufacturing a mix of colours is not an exact process. That means you'll be getting an entirely unique dildo. But on the flip side, you can't look at our photos or on the John Thomas Toys site and purchase based on a particularly swirly pattern you happen to like. You'll get the same mix of colours, but not necessarily in the same places.
Regardless, you'll always get the same fantastic production quality. John Thomas Toys also sells XTRO in a plain light purple coloration, if you'd rather.
The main shape of the John Thomas XTRO Fusion Colour Dildo is about as bent as a dildo can get; not quite doing a full 90-degree angle, but close to it. This presents a bit of difficulty if you're trying to mount him straight on and hands-free. You'll need to come at it from an angle, and then wiggle your body up once halfway inserted. This is less of a predicament if you can grab hold and guide him in, or have a partner to assist.
Starting just under the tip are two nobbly strips, running along the top and underside of the entire shaft. Texture fans will love this, but it doesn't stop there. A series of concentric ribs run on the sides of the shaft, where the armoured plating of this almighty alien member struggles to contain the bulging mass within. There's a LOT going on here, and at this size, you'll feel every nubbin, ridge, and bulge.
Material and Cleaning
Like all John Thomas Toys, XTRO is made of Platinum Silicone, the best material you can get for a sex toy. It's completely body-safe and should require no more than a quick rinse with soap and warm water after use.
If you're using the John Thomas XTRO Fusion Colour Dildo anally and find it's picking up a slight odour, or just want to thoroughly sanitise it for whatever reason, it's also safe to put in a pan of boiling water, or put in the dishwasher. And if that still isn't enough, soaking in a diluted bleach solution is also safe.
XTRO Sizing
XTRO is, without doubt, the largest toy in my collection, and now it makes everything else looks small. It's funny how your perception can change so dramatically. He's short and stubby, but so much girthier than most.
The large size of John Thomas XTRO Fusion Colour Dildo, as pictured throughout this review, has an overall insertable length of 9.6 inches. The head is an incredible 9.2 inches in circumference (which shocks me even as I write it). It then shrinks slightly to 8.8 inches, before rising again to 9.9 inches in the centre of his shaft.
If that sounds like entirely too much, the next size down, Medium, is 7 inches in circumference at the head, while Small is a mere 5.5 inches.
Should You Invite XTRO Into Your Bedroom?
Reviewing the John Thomas XTRO Fusion Colour Dildo has made me realise that a lot of the experience will come down to the sizing. With this being so large, and pushing well beyond my normal limit, my experience has been less about riding the full shaft and enjoying all those lovely textures, and more about slowly working up to, getting the head in, then creeping ever more down. Then the experience of withdrawing XTRO is just as pleasurable, especially as the head pops back out again. There aren't many dildos that genuinely send shivers down my spine; XTRO is one.
XTRO was trying to communicate his dark hunger for me. A series of guttural clicks were followed by a deep angry growl, as he grew impatient for me to understand, let alone reciprocate his need. I tried to scrabble away, but couldn't help myself glancing back to find that wasn't the only thing that was growing. Luminous green drool dripped down his gaping maw, landing on his now huge cock. I froze, but at least I could be confident he didn't want to devour me for dinner.
He pounced forward onto my back, one enormous arm grounding squarely in front of me, the other clenching my neck and chest, pulling me tightly to him. I could feel the immense pressure building down there, his hulking mass pushing me down and stretching me wide.
The feeling of elation as his cock finally popped me open and filled me up entirely was unrivalled by any other since, man or alien. I clenched tightly, thankful that biggest part of his member was in. But it was a short-lived respite, as he pushed forward, probing for more, stretching me ever wider.
Then just as suddenly he withdrew again, leaving me with a gaping feeling of literal emptiness. I panted, and grabbed his arm, still cradling me tightly. As his grip loosened, I wriggled around to face the terrifying slimy beast.
"Again", I whispered, trying to manoeuvre my legs around his slippery waist. Apparently, some languages are universal.  
I'd give the XTRO alien dildo a massive 9/10. Bring on the probing.
– Tigerlily
Buy Yours Today
Thanks so much to Tigerlily for another thorough (as well as thoroughly captivating) sex toy review.
Find more fab dildo & sex machine reviews by Tigerlily here at CaraSutra -as well as at their own website, sextoydb.com.
Buy your John Thomas Xtro Fusion Colour Dildo directly from JohnThomasToys by clicking through the big green button below: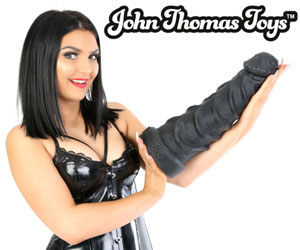 John Thomas Toys is a sponsor of carasutra.com