Fun Factory FUN Cup Explore Kit Review
Before this review, I hadn't used menstrual cups for many moons – and the only one I'd ever tried was (appropriately enough) the Mooncup. That was after the birth of my now 12yo son, and before the birth of my now 5yo son. Since my youngest was born I must confess to going back to the familiar comfort of tampons. However, when Fun Factory offered me their new Fun Factory FUN Cup Explore Kit to review, I welcomed the opportunity to give menstrual cups another try.
Related post: 8 Reasons Why I Love Menstrual Cups
I've been using the Fun Factory FUN Cups through my periods since August 2017, so I've had plenty of chance to form some solid opinions.
I'm going to focus on reviewing the Fun Factory FUN Cup Explore Kit here, but if you want to learn more about this type of product and my opinions, read my recent menstrual cups post.
First impressions? Well, the box is well presented and nicely made. It feels like a luxurious product, something you can put your trust in. The Fun Factory branding is bold and feels fresh, and the box gives you all the info you need about the contents.
In The Box
Inside the outer card slip-sleeve, the contents are safely nestled in a gold, Fun Factory branded box which I can only describe as chocolate-box style. Lifting the lid the following items were presented for my delectation:
Two Fun Factory FUN Cups, A (pink, 20ml) and B (blue, 30ml)
A Tyvek, metallic coated antimicrobial storage bag featuring Fun Factory branding
User manual with instructions in 16 different languages and a handy photo guide to insertion
A Fun Factory booklet in English and German giving more info on the FUN Cups, a helpful FAQ, some reassurances, and explaining the benefits of using menstrual cups.
How To Use The Fun Factory FUN Cups
Before plunging straight in with the Fun Factory FUN Cups, it's a good idea to study the provided information for a while – especially if you're new to menstrual cups.
There's a LOT of information in this pack – not so much it overwhelms, it just provides you with all the reassurance you might need. Plus, there's helpful tips on inserting the cups, which size might be best for you and how to clean & store them afterwards.
A menstrual cup is usually folded between your fingers a certain way, then you insert the cup inside yourself. The Fun Factory FUN Cups can be folded in a C shape (which is the way I am used to, through my Mooncup experiences) or something called a 'punch fold'. With the punch fold you indent the bottom convex area rather than folding the outer rim of the cup into a C shape.
Basically, however you choose to fold the cup, you're folding it into a slightly smaller, easier to insert shape which is then shoved up inside you. You can use some water based lube to help, if you need it. Once inside, and ensuring it's up high enough, you gently release your fingers and the cup opens out to form a seal around your cervix. Safely situated there, it will capture the menstrual blood as it flows, ready to be removed and emptied as required.
Ready To Use
After having a look through the pamphlets, I simply had to wait for my period so I could try out my new Fun Factory FUN Cup Explore Kit.
Using a combination of the provided instructions and my previous menstrual cup experience, I didn't find it difficult to insert the Fun Factory FUN Cup. As I've mentioned, I'm used to doing the 'C fold', so that's how I insert it.
I don't need to use any water based lube when I'm inserting my Fun Factory FUN Cup, but I do give it a fresh rinse under the tap so I'm not inserting dry silicone (mmm, chafing).
What They Say
The included info gives in-depth detail about insertion, and tells you to push it in as far as it will go, then let go. Then the cup will open, covering your cervix, and you twist the cup while bearing down with your muscles to form a seal. After this, swirl a finger around the edge and give it a gentle tug to make sure a seal has been created.
In reality? I only do half of this. Doing all of the above might work for you, but I find that the swirling my finger round and testing the resistance just makes the cup come loose and it's annoying starting again.
How I Insert Mine
First I make sure I've rinsed the cup, then I fold it into a C shape. I open my vaginal lips fully with the fingers of my other hand. I then shove the C-folded menstrual cup as far up as I'm physically able – seriously, the higher up the better, don't stop just cos your fingers touch your body, they may have to go inside too. If you're not absolutely certain you can't go any further then you're not shoving it in high enough.
Then let go. And hope it's in the right place because any swirling at this point is gonna loosen the seal created by letting it open around my cervix. I can tell if it's in right by how it feels – when placed correctly I can't feel the cup inside me at all.
Folding The Menstrual Cup Into a C Shape (Video)
Fun Factory FUN Cup Sizes
I really liked having the option of a smaller and larger capacity cup; it meant I was able to choose the one I felt would best suit my flow at any particular time.
I've tried to decide which cup I prefer, the A or B size. It's impossible for me to choose between them because one or the other seems perfect at different times in my period. It really does depend on where I'm at with my flow. At my heaviest the larger B cup feels safer and more secure, whereas at the start and towards the end I opt for the smaller A cup.
The differences between the A and B Fun Factory FUN Cups isn't just size, either. FUN Cup Size A is smaller (20ml capacity) and great for lighter flow/those with shorter vaginal canals, but it's also made of firmer silicone. FUN Cup Size B is bigger (30ml capacity) and made of softer silicone. They say this one might be better for 30yo+ folk, and/or who have given vaginal birth.
Using The Fun Factory FUN Cups During Sex
At this point I must note that the Fun Factory FUN Cup Explore Kit guide doesn't actually say you can have sex with the FUN Cups inside. It says that the FUN Cups are easier to take out than tampons, and that with a FUN Cup inside you can still have oral sex, shallow penetration, play with external sex toys etc.
However, I had sex with my Mooncup inside, back in the day, regularly. I guess it comes down to how comfortable you feel -plus of course how comfortable your partner feels about it.
At the end of the day you have a silicone cup over your cervix. Having sex with a menstrual cup inside (including this Fun Factory FUN Cup) doesn't hurt – either me or my partner. In fact, he quite likes the sensation… but that's another story for another day.
There is a risk of the menstrual cup moving during particularly vigorous and deep penetrative sex; I like to make sure I've gone to the loo and emptied, washed and reinserted it before having sex (when I get that much time to plan ahead!). His penis thrusting into me stops the FUN Cup coming out in any case, and there's no ouchiness because the material is so flexible. There's less discomfort than when we're using one of the We Vibe couples vibrators, for instance, as they're more rigid due to the inner mechanics.
Risk of Leakage
Is there any risk of leakage with the Fun Factory FUN Cups? I'd say if you're new to using them then definitely, yes. That's why I'd advise using the Fun Factory FUN Cups along with your usual period products for the first few months while you get used to them.
No, not both at the same time!
If you're out in the day, whether it's the office or you're off shopping, then it might be wise to stick with what you're used to. But in the evenings or whenever you're in the comfort of your own home for a while, you can practise with your FUN Cups. Over time you'll come to figure out the best and easiest way for you to insert yours, and because you can check regularly while you go to the loo in your familiar environment, it will help you build up your trust in the menstrual cup.
The first time you wear one out and about, back up with a panty liner or thin towel and take some wipes and back up tampons or towels in your handbag just in case. I found most of the reason for taking out backups the first few times was simply for mental reassurance, to make me feel confident in case anything went wrong. But it didn't.
After Use
While you're mid-flow, you might want to take it out from time to time when you're in the loo so you can empty it and reinsert. Tip the blood down the loo and wash it with mild soap and water.
After your period you can wash and dry your FUN Cup and store it in the provided antimicrobial storage bag. You can also boil it for 3 minutes first so you're assured of thorough hygiene.
Would I Recommend?
I think the Fun Factory FUN Cup Explore Kit is brilliant. It's especially great for those experienced with menstrual cups, but people who are generally stick with using them. And we've all got to start somewhere. It's not realistic to say you're going to be a convert after your first month, but all good things take some time. There's a definite learning curve here and with a little commitment to the cause you could change the way you experience your periods for years to come.
As well as offering a period solution that you can have blush-free, mess-free period sex with, there are loads of other benefits to using the menstrual cups in the Fun Factory FUN Cup Explore Kit.
They're made from a body-safe material: silicone. This is also waterproof, long lasting and boilable so as to be completely hygienic.
They're economical. In the end you'll save money because you won't be buying plentiful tampons or sanitary towels each month. You can wear a Fun Factory FUN Cup for up to 12 hours between emptying (depending on your flow, obviously).
Using menstrual cups is eco-friendly. As a reusable, washable period solution you're not contributing tampons and towels to landfill.
Tampons can negatively affect the vaginal pH balance – the Fun Factory FUN Cup does not alter your vagina's pH levels.
This product is appealing regardless of gender. It's not directed towards necessarily feminine, femme or female identified types. You can simply order online, slip in when you need and carry on with your life – both in and out of the bedroom.
The Fun Factory FUN Cup Explore Kit is 100% vegan-friendly.
You don't get that dry tampon issue… you know what I'm talking about!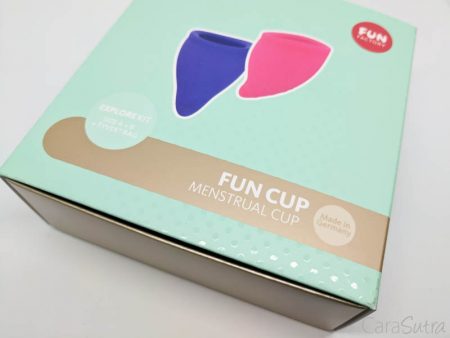 Where To Buy Yours
You can buy your Fun Factory FUN Cup Explore Kit direct from Fun Factory for €34.90. If you feel confident about which size cup would be right for you, there's the option to purchase either a pack of two A size cups or two B size cups, instead of two different ones like in this Explore Kit.


Thanks Fun Factory for sending me the Fun Factory FUN Cup Explore Kit for a fair & honest review.


Sponsored review