System JO Wintermint Nipple Titillator Arousal Gel Review
by Pleasure Panel reviewer Kmlewis
I am reviewing the System JO Wintermint Nipple Titillator Arousal Gel. I have sensitivity issues due to medical reasons but I have tried some arousal or tingling gels that have some sensation. I am sorry to say that this product did not live up to the standards of tingling.
Related: Read all our System JO reviews
I wanted to give the System JO Wintermint Nipple Titillator Arousal Gel the benefit of the doubt, that maybe it was the application. I had hubby suck my nipple to see if it might be activated by heat or a sucking motion and the only result was my hubby's mouth tingled with a minty taste. Some of the main ingredients for us are as follows: water, glycerine, peppermint, menthol.
I decided to try it on him since he has sensitive nipples. It was a fail for us. I even blew on them to see if the tingles would begin and nothing happened. It is always good to get a second opinion with the hubster watching on and participating.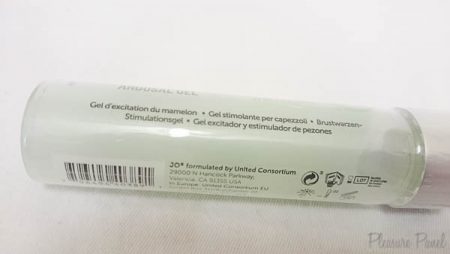 Now that is to not say this Arousal Gel might would for you. If you have very sensitive, there is a good chance it may work for you. If you decide to get your own I found that they are reasonably priced and come in a 1 ounce/30 millimeter container. I have checked several sites and received both good and bad reviews. This product isn't for everyone. You may need to try several before finding the one that works for you. I have discovered other nipple titillator flavors that may work instead of the wintermint. There is Electric Strawberry and Winter Blitz.
While perusing System JO website, I have come across other products than this particular gel which might work for you as well. It's all about exploring and finding out what works best for you. You can also find these products at your local shop or your favourite online retailer.
– kmlewis
---
Thanks to Pleasure Panel reviewer kmlewis for this review of the System JO Wintermint Nipple Titillator Arousal Gel.
This product was sent free of charge, in exchange for a fair and honest review by theCara Sutra team.
Contains affiliate links.