System JO H2O Strawberry Kiss Lube Review
Pleasure Panel review by Scandarella
We've tried a few of these System JO flavoured lubes now, and they've all been a hit, so when this System JO H2O Strawberry Kiss Lube came up for review we just had to give it a shot. Before I could even get my hands on it, my husband had pocketed it, telling me it was about time he got to have first go with the new stuff. I took that to mean that I was in for a lot of spoiling, so I didn't argue!
Shop more System JO Lubes here
When he finally whipped the bottle of System JO H2O Strawberry Kiss Lube out from under his pillow, I watched him travel down the bed, giggling at his appraisal of its contents;
"Well it's colourless, why won't it come out of the… oh, paper disc, right. Jesus, that smells strong, it's good and runny, oooh, cold too apparently, and it tastes like… urgh, it tastes like Calpol!! I can't be going down on you with this stuff there, it reminds me of when the bairn was poorly when he was little, get it washed off."
I'm sure you can see why I'm the one who writes our reviews, and also why this product didn't work for my husband.
As is the same with the other lubes in the System JO lubricants range, there are a few ingredients to watch out for. Glycerin, parabens… if these things bother you, take note. My husband was more or less right with his assessment of the lube itself. The runnier consistency is perfect for oral sex, and saliva helps it last quite a while so you don't need to add lashings of it, and reapplying is only necessary if your session is a long one. It's too runny for penetrative sex though, so it's not one I would put in our just grab one box.
He was right about the flavour too. The System JO H2O Strawberry Kiss Lube tastes more or less exactly like Calpol, which is something I personally like, but it's too situation specific a taste, and, unfortunately, it puts both of us off. I did keep going with the blow job I used it for cos I'm a trooper, but I got a lot less enjoyment from it than I usually would. I've never had a lube put me off my game before, but I guess there's a first time for everything.
As great as I think these lubes are, this flavour just didn't do it for us.
5/10
– Scandarella
---
Thanks to Pleasure Panel reviewer Scandarella for this review of the System JO H2O Strawberry Kiss Lube (30ml, currently £4.99).
This sex lubricant was sent free of charge, in exchange for a fair and honest review by the Pleasure Panel.
Shop more System JO Lubes here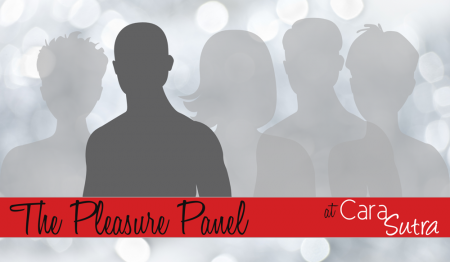 Contains affiliate links