Shunga Sparkling Strawberry Wine Massage Candle Review
Shunga Sparkling Strawberry Wine Massage Candle review by Lovebirds_x
Presentation and Formulation
The Shunga Sparkling Strawberry Wine Massage Candle is presented in a triangular tin featuring tasteful Japanese style erotic artwork and beautiful gold detailing. The stylish presentation immediately makes me think this would make a fantastic gift, it has that luxury look and feel. Ours shipped in a plain cardboard box with a protective plastic wrap, ensuring it arrived discreetly and in perfect condition.
On the back of the tin you'll find instructions for use while on the base you'll find the ingredients list, which is full of lovely skin nourishing oils including soybean, coconut, sweet almond, avocado and more. The Shunga Sparkling Strawberry Wine Massage Candle is sugar free, paraben free, gluten free and suitable for vegans and I can happily confirm that the company's claim that it won't block pores rang true for both of us, neither my partner nor I experienced any kind of skin irritation after use.
Scent
My first thought was that this Shunga Sparkling Strawberry Wine Massage Candle smells just like those Haribo giant strawberry gummy sweets, namely a very sweet and delicious strawberry scent. Once lit the more mature sparkly wine notes come through more, although the sweet strawberry remains dominant. There's no actual alcohol smell, it makes the room smell like someone has been eating strawberry sweets rather than drinking (or spilling) strawberry wine. As someone who loves candy and doesn't want my room smelling like a bar, I very much enjoy the scent.
I find the scent strong but not overpowering and it will fill a room simply by leaving the lid off the candle, let alone burning it, so it works well both as an ambient candle and as a massage candle. I'm quite fond of leaving the Shunga Sparkling Strawberry Wine Massage Candle open on the bedside table, it keeps my bedroom smelling lovely and sweet and it's a very relaxing smell to drift off to sleep to. The scent lingers in the air and on your skin long after the massage, both on the body of the receiver and on the hands of the giver.
In Use
For the first use I left the Shunga Sparkling Strawberry Wine Massage Candle burning (attended of course!) for 20 minutes, as recommended on the back of the tin. The wax quickly melts into a warm (not hot) oil and, thanks to the shape of the tin, is easy to pour out without making a mess. In the photos you can see how small a dent 20 minutes burn time makes in the candle itself, as well as the amount of oil this creates once you pour it into your hand. I'd say the 40 hour burn time is true should you stick to 20 minutes at a time, though whether this produces enough oil each time is a matter of personal preference.
Once poured into your palm the oil from the Shunga Sparkling Strawberry Wine Massage Candle retains its warmth but very quickly changes texture and becomes more like a thick body lotion, unusual I thought as in my experience the oil from massage candles tends to retains its liquid consistency. The picture of the pool of oil in the palm of my hand and the solidified oil on my fingertips were taken just a minute and a half apart, so it really was a quick change! I actually like this texture transformation for two reasons;
1. being that bit more solid means it doesn't drip everywhere or run off your body and
2. It feels incredibly rich and luxurious on the skin compared to a thin oil.
While the thicker texture glides smoothly over your skin the trade off is it doesn't spread very far, I found the 20 minute burn time produced enough oil/lotion for a back massage for one person. If you wanted a full body massage or to take turns giving/receiving I'd recommend letting it burn for longer.
The oil feels lovely on the skin, it's warm and luxurious and with the sweet strawberry scent it makes for an utterly blissful massage. I found my skin didn't absorb the oil particularly well and there was quite a lot of residue, I don't like a lingering greased up feeling post massage so I chose to wipe down with a soft towel which removed the yucky feeling while still leaving my skin feeling soft and nourished. It's a bit of a nightmare to clean the oil off your hands as it hardens when the water hits it and neither hand soap nor dish soap can shift it, I'd recommend having a towel or some kitchen roll on stand by to wipe your hands afterwards.
In Conclusion
I really like the Shunga Sparkling Strawberry Wine Massage Candle, it leaves my skin feeling soft and beautifully scented (I love strawberry candy!) and I love how the room smells even just leaving the lid off the candle. It's a great way to take a massage to the next level and so far it seems like it will last long enough to be good value too. The oily residue lets it down a little for me, since I have used other strawberry scented candles that smell similar without leaving a heavy residue I'm not sure I'd rush to rebuy this one (although I would try the other more unique sounding scents in the range).
Overall I'd give it an 8/10.
– Lovebirds_x
---
Thanks to Pleasure Panel reviewer Lovebirds_x for this review of the Shunga Sparkling Strawberry Wine Massage Candle.
You can also shop the Shunga Erotic Art range at SheVibe.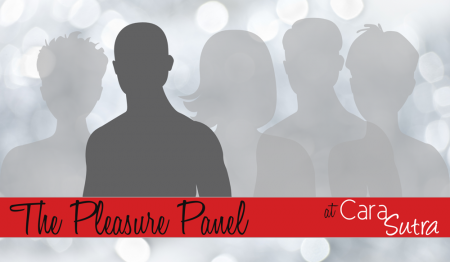 Contains affiliate links