Sheets of San Francisco White Double Fitted Fluidproof Sheet Review
By Pleasure Panel reviewer DivaFoof
I received the Sheets of San Francisco White Double Fitted Fluidproof Sheet (available from sheetsofsanfrancisco.co.uk) to test on behalf of Cara Sutra's Pleasure Panel in exchange for my open and honest review.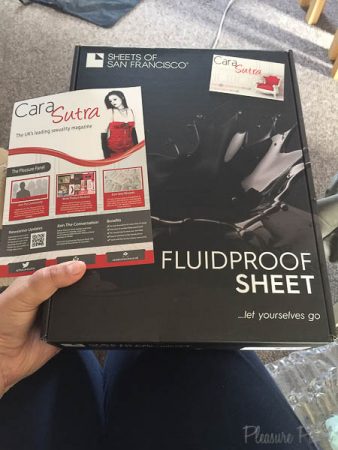 I've had some awesome things from the Pleasure Panel but I've never been more excited than last week when I realized I'd been selected to review the Sheets of San Francisco White Double Fitted Fluidproof Sheet, I've been staring at their website for months every time I've washed my bedding, I've thought about how good it would be to have them, but have never been able to justify the cost. However, as luck would have it I'm now a proud owner.  When viewing the website I also used to wonder how I'd be able to hide a black sheet. Whilst my bedroom is a boudoir of sexual makings, it is not a black-filled room. But now they do a white sheet – how cool is that?!
I got rather excited about seeing the postman and even exclaimed how he'd made my weekend. I'm imagining he now thinks I'm a little unhinged and will in future approach my door with caution. The Sheets of San Francisco White Double Fitted Fluidproof Sheet comes encased in a lovely cardboard casing that is sealed shut with a single circle piece of tape that you can see hasn't been tampered with.
The case is nice and thick and gives an air of a top quality product before you've even opened the box. The only point to note about the cardboard box is that the picture on the back of the box is showing a bed decked out in a black sheet, and you only know it's a white sheet by looking at the barcode.
On opening the box, the sheet is nicely folded. No crazy plastic shrink-wrapping or unsightly materials, the product is there for you to touch straight away.  It's folded width ways followed by length and as such folds out into a 5 foot width for a double bed.
The Sheets of San Francisco White Double Fitted Fluidproof Sheet is a fitted sheet and as such, it's easy to put onto your bed without worrying about how to do hospital corners! It can easily stay on your bed underneath your bedding too, and doesn't cause bedding to come off. This sheet is a double, and is great for a thick mattress. If you have a thinner mattress, you're likely to have to do some tucking under; it is not tight fitting.
The material is soft to touch and is quite a cool temperature. Having put it on my mattress and then made my bed up, I slept on my normal sheet sat over the top with no problem. The only point to note was that it was colder to sleep on than normal but soon heated up with body heat like normal and it didn't cause any perspiration.  You can either play with your cotton sheet on top and it then soaks any liquids up (not your mattress), or you can remove your cotton sheet and play directly on the Sheets of San Francisco White Double Fitted Fluidproof Sheet itself.  It actually makes your bed feel much more luxurious and there is no noise when rolling over it at night.
I contacted Sheets of San Francisco with some questions and Mark was extremely helpful. He was really happy to answer my questions around it being a white sheet.
His advice was as follows:
"A standard 30 degree wash is fine. You can also tumble dry it on warm NOT hot. If you do tumble dry it we recommend adding a small towel as this helps speed up the drying. We would recommend washing with whites only but you should be OK with a colourfast mixed load. The black is OK with anything.
Some things do stain the white – coloured wax for one, so some non-fast dyes could be a problem. Hope all that helps. Avoid bleach and high heat.
You can iron the sheet on the back with a cool iron but we don't recommend it although we do it for shows etc. Hope all that helps and that you are enjoying the sheet. Any other questions just ask.  
-Mark"
Personally I feel a small sheet for care would be really useful inside the box especially for this white sheet.
Currently the box does not have any instructions on the sides or within regarding how to wash it other than it can be put in a washing machine. I've previously owned a terry toweling mattress protector that must be washed on 90 degrees, and without a tumble dryer, it takes forever to dry…
This sheet however, wipe clean but if you do need to wash it, you can stick it straight in the washing machine with no preparation. You should know that because it's a waterproof product, it will drip dry so giving it an extra spin out to remove as much water as possible is advised.  I chose to wash it on a 30 degree wash (as advised by Mark) with my normal washing liquids and conditioners and it came up sparkling. It hung to dry in my living with no problem.  I washed it alongside the rest of my cream and blue butterfly bedding and there was no colour transfer.
When It comes to drying, I'd have no problem with putting this white sheet out on the line as it doesn't look remotely kinky (whereas I feel the black one does!). In fact it's probably one of the most normal looking things in my flat to date! Despite the fact you can put it in the tumble dryer, I currently do not have one and so I hung it up on a clothes horse and then transferred it to one of my doors and it dried overnight. A point to note is that because of the material it does feel cold to touch as if it were still wet, but the telltale is the backing. Another way of seeing if it's still wet is that water pools at the bottom which then drips off.
When using the Sheets of San Francisco White Double Fitted Fluidproof Sheet, it was as expected: waterproof.  Perfect for the Doxy lovers out there.  My main requirement for the sheet was down to squirting. I'm not into food play or scat play and I've never tried wax play… but basically if you can think of anything runny, messy, drippy, sloppy this sheet is your saving grace. It covers a multitude of naughty sins and is the answer to all your prayers in the Church of Kink.
When pouring liquid directly onto the sheet, the liquid pools at the lowest point. Therefore if you're sat on the bed when you do it, the water will naturally run towards you.   Basically, the water will sit on the top and not soak in.  As my primary use is just to protect my mattress from en masse liquid, and to try and extend the life of my mattress as it wasn't cheap, I regularly just dress my bed with normal bedding over the top and as such the liquid is soaked up by the fitted sheet over the top. Otherwise, you'll need something to gather the liquid up in. However, you can play directly on top of the Sheets of San Francisco White Double Fitted Fluidproof Sheet if you have something more messy.
In the non-kink scene, this Sheets of San Francisco White Double Fitted Fluidproof Sheet would also be fantastic for women who have troublesome periods. I have stained a mattress myself because of past complications. It would also be great for anyone due to give birth whose waters may pop, or who wants to give birth with home comforts.  Also, it's great for anyone with continence issues.
In conclusion, I love love love this sheet.  I binned my other terry towelling sheet when I realised after a few nights how awesome it was.  Another product I used previously were puppy training pads for one use only when I was playing by myself and not with my partner. Those are now a thing of the past and my bin is a lot less full! I'm sure you can imagine that either terry toweling sheets hanging up, or a bin full of pads, is not the sexiest thing ever. As such, my life has just got that little bit better with the help of Sheets of San Francisco (and Cara Sutra for picking me, thanks!).
I also discovered from my research into the sheet that the company does a variety of other products including white pillowcases (review to follow) and they also do things like duvet covers which I'm looking at investing in as well. In terms of the product, you cannot fault it. I just think with the Sheets of San Francisco White Double Fitted Fluidproof Sheet, it could do with some more care instructions included. That said, with Mark on standby on the Twitter account, this is taken care of. Therefore I give it a 10/10.
Update June 2017:
Following my review, Sheets of San Francisco have taken on my feedback and have now created a care instructions sheet. This included sending it to me to proof, at which time I was able to add some extra thoughts. This will now be included with the products. I thank Mark for paying attention to my review and taking what I said on board.
– DivaFoof
---
Where to Buy
Thanks to Pleasure Panel reviewer DivaFoof for this review of the Sheets of San Francisco White Double Fitted Sheet. You can buy yours here for £129.
The Sheets of San Francisco White Double Fitted Fluidproof Sheet was provided free of charge, in exchange for a fair and honest review by the Pleasure Panel, by Sheets of San Francisco. Thank you! 🙂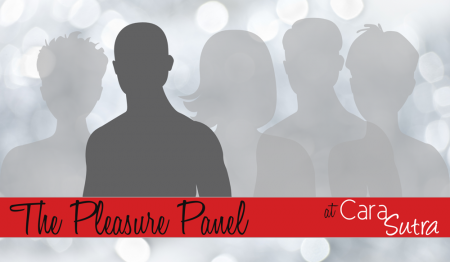 This review contains one affiliate link.