Rocks Off Ruby Glow Vibrator Reviews
Enjoy these Rocks Off Ruby Glow Vibrator reviews by reviewers Supercutesecret & Just Jess
Supercutesecret's Review
Firstly, thank you so much to Cara Sutra for allowing me the honour of getting to review this intriguing vibrator from Rocks Off! As soon as I saw the Rocks Off Ruby Glow Vibrator amongst the pile of vibrators on offer in the April 2016 sex toy tester program list, it instantly stood out from the rest. The sex toy market has developed exponentially in recent years, in my opinion, and with so many toys available, with every novelty-related selling point out there (some more successful than others in practice), it is a struggle to find a toy that it truly DIFFERENT… but also actually works. I present to you a toy that fulfils that brief! By no means is it perfect, but such is its individuality, I think it is definitely a toy that people should give a go, purely to try something a little different.
Enjoy all our Rocks Off sex toy reviews
I did some background reading on the origins of the Rocks Off Ruby Glow before using it. The concept was actually first dreamed up by erotic author and artist Tabitha Rayne. She initially wanted a hands-free sex toy that she could use whilst writing her sexy stories on her computer at the same time. Soon, she realised how the market was much larger for a toy like this than just erotic authors – people with mobility issues, multi-taskers, non-penetrative toy users, the list goes on. She refined her concept, got in contact with Rocks Off and after further development, the Rocks Off Ruby Glow is now a reality!
I was pretty impressed with the packaging that the Rocks Off Ruby Glow arrived in. It sounds odd, but I don't think I've ever received a sex item that has come in properly "nice" packaging. Sure, I've had the occasional included storage pouch (though the Ruby Glow does not include a pouch *sad face*), but nothing has ever come in such a pretty box too. It doesn't scream sex toy, but it does look sleek, simple and classy. Honestly, it could be the box for some hair straighteners or something, which I actually like – it makes it feel like you are opening any other fun, electrical device, not necessarily a sex toy.
For someone like me who loves sex toys, I am comfortable with owning them, but for someone who is only just getting to grips with the fact that hey, it's OK to buy/own sex toys, I think the packaging is non-intimidating and helps normalise the experience.
I know I've wittered on about the packaging a lot, but as someone who, in real life, is slowly bringing people I know around to the idea that sex toys are fun and non-scandalous, I really appreciate the little touches in products that emphasise that it's really no big deal to enjoy sex toys. A mini booklet featuring other Rocks Off sex toys is also included.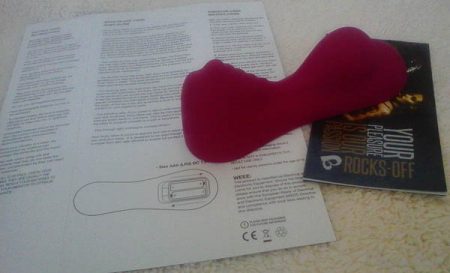 I opened it all up to finally get a proper look at my new toy. My first thought? The weirdest-looking vibrator I've ever seen. If I didn't know what it was, I honestly don't know what I'd guess it to be… maybe something to put in your shoes to keep their shape? Basically, this is a weird-ass looking toy, which could perhaps be considered discreet, since I straight-up wouldn't know what it was, so I definitely wouldn't know you had a vibrator sat on your table!
The Rocks Off Ruby Glow is about as long as my hand (17 cm), so isn't a huge toy – a definite bonus for someone like me who is approaching her sex-toy-storage maximum. It also feels a lot lighter than I expected it to. Despite its light weight, this toy does feel very sturdy – I wouldn't really know how to break it, and if you are a little on the…um… heavier side, I don't think you'd be in danger of breaking it.
The silicone surface of the Rocks Off Ruby Glow truly feels velvety smooth (not the absolute pinnacle of smoothness and softness I've ever felt, but up there, definitely) and has minimal drag (a necessity if you choose to rub yourself over this in the nude, since you don't want to irritate your clitoris). I suspect it is just a covering over a hard plastic inner structure, but I don't see the problem in that, as my body is in contact only with the surface anyway. The downside to this lovely silicone is that it attracts flecks of dust and pieces of hair like no tomorrow if you leave it lying around, but I always put it away as soon as I can after use. This particle magnet needs a thorough clean after every use, with soap and water at the very least to unstick the pesky particles (though remember, this toy isn't submersible!).
To explain the shape a little more, the ridged surface is where your clitoris goes, the bump is for your vaginal/perennial area and the dip in between the two is where most of your vulva will go. To use it, you just sit on it. Well, when you're using it, it'll have vibrations going and you'll most likely be grinding around, but in basic, you sit on it. It is designed to be used over clothes primarily, but the safe materials mean you can use it in the buff too.
I will be honest, the Rocks Off Ruby Glow doesn't 100% fit my anatomy. Literally every woman has a different sized and shaped vulva, so obviously Rocks Off aren't miracle-workers, so this will not fit every woman's shape. Having only seen one other vulva in real life, I don't have much to compare to, but I would describe mine as generally small in all aspects (I am only 5ft and in proportion), with an average-sized clitoris hidden in there. That being said, I find it an acceptable fit to my body and grinding around during use means there is a bit of leeway in regards to the actual dimensions of the toy.
The clitoral bump is 6cm tall, but honestly I don't think you can measure yourself, I believe this toy is more a case of try it out and see. This bump is at a sloped angle and curves inwards towards the clitoris slightly, I assume in an attempt at "hugging" it. As I have a small vulva, the very top of the clitoral bump is actually above my clitoris instead of on it, so a less steep slope would work better for me. This inward curve can press against my pubic crotch bone as it falls so high up on me, so I have to manoeuvre a bit to find my correct clit position, as too long with this pressing against my bone can get a bit painful.
The ridges on this bump are ingenious, I believe they do help to create that bit extra friction to stimulate more blood flow and can nestle into your labia more easily to delve to find your clit (obviously I can't properly compare with something smooth, but I imagine with a smooth surface, your clothes would just slide over it and not really stimulate anything).
The vaginal/perineum mound I think should be good for all. This is about 4.5cm tall. It isn't really a penetration mound, I think it is more there to make your vulva feel stimulated and make the toy fit the contours of your body more comfortably. In all honesty, I'm still not fully sure where it actually is when I sit on it. I move around until it feels snug somewhere, which tends to be where my bum cheeks start when I'm sat down. The surface of this one is smooth.
An aspect of the Rocks Off Ruby Glow that I know may perhaps put off fans of more luxurious toys is that it is battery-powered. Whilst I would of course prefer it to be rechargeable or something, it doesn't actually bother me that it takes batteries. It doesn't eat up batteries insanely quickly either – I'm still on the same pair that were included with the toy. It requires two AAA batteries, which you insert opposite ways around in the plastic battery compartment. When you click them both in place, the toy makes a slight, quick buzz, like it's letting you know that you've turned it on. If you were going to use it as some sort of surprise where the other person can't see the toy, I would have the batteries inserted first, so you don't get the tell-tale mini buzz of it turning on.
To then use the vibrations, you click the buttons on the front of the Rocks Off Ruby Glow. There are included instructions to explain everything, but a quick fiddle with the toy tells you all you need to know really. There are two buttons, as this toy has two motors, one in each "bump". These buttons are easy to use, in terms of positioning and being able to click them, though I expected the clitoral motor to be the top button and the vaginal motor to be the bottom button, but in fact the reverse was true (perhaps that was through mechanical necessity, rather than by design though, I don't know).
I am a little disappointed that there are no up/down buttons – with so many vibration settings (10 for each motor), it's a little annoying that you can't click backwards and have to skim through all over again if you click too far.
Now, the vibrations. There are 3 single speeds and 7 patterns in each motor. They both feature the exact same vibrations settings, although note that all the pattern settings do the pattern at opposite times in the two motors, apart from number 6. The strength of the patterns approximately matches the first speed.
The Rocks Off Ruby Glow settings are:
Medium-strength single speed
Weaker single speed
Weak single speed
Vibrate for 2 secs, pause for 1 sec
Vibrate for 1 sec, pause for 1 sec
Near-constant with fractional pauses between
Constant with a "duhduhduhduhduhduhduuuuuuuh" pattern
Hard to describe… kind of like a 2-second-long "duh-la-duh-dee-dee"
"duh duh duuuh duuuh"
Another hard to describe… kind of like a cartoon laugh that goes "ahh-a-a-ha-ha" said in 1 second, with a background of irregularly placed extra vibration
In general, the vibrations are of the mid-strength, slightly buzzy variety, except the vaginal motor is noticeably  weaker and even buzzier than the clitoral one. If you require a magic wand to get you off, I doubt you'll get off with the Rocks Off Ruby Glow. I personally can get off with mid-strength vibrations, especially if you factor in that with this toy, you grind, giving added movement-based stimulation. If you can get off by rubbing your clitoris with your fingers, there is the definite possibility this should work for you. I don't really understand why the single speeds go from most powerful to least powerful, that really confuses me and I can't really think of a reason why they did this.
The only settings I can achieve orgasm with in all states of dress are 1 and 7 (7 is a pattern, however it doesn't actually have a pause within, making it not irritating like most other patterns). I can also orgasm with no clothes on settings 2, 4, 5 and 6. The other settings I am unlikely to use and will just skip, since in all honesty a lot of the patterns kind of merge together and you forget which one it actually is.
Since my orgasm with the Rocks Off Ruby Glow focuses on the clitoris, it doesn't hugely matter which setting the vaginal motor is on. These merge together even more than the clitoral motor's, and a lot of the settings are completely forgettable. They are nice as background stimulation though, since it makes the whole experience feel a bit more complete, as that way your whole vulva is being stimulated, and it does make me feel more likely to orgasm and more in the moment if I have the vibrations turned on in the vaginal bump.
I actually prefer some of the patterns in this to the single speeds (settings 4 and 5), just because it makes you feel less like you're going numb in that area of your body, as when you're sat on it, you make constant contact with this bump.
These vibrations are kind of loud in general (but probably of average loudness for the type of vibration), so definitely do not use if there is someone in your house who you would prefer not to hear you. I use this sat on a chair and the sound gets amplified as it vibrates the chair seat slightly too.
Suggested positions for using the Rocks Off Ruby Glow include facing forwards or backwards on a chair, being stood up and just holding it in your hand like any other vibrator. The only way I found that felt right was facing forwards sat on a chair, which is fine, as that was my whole purpose for wanting to use this toy. It features no suction cup, it has a flat base instead, but it did stay in place on my chair, despite my enthusiastic grinding.
As I have mentioned, the shape of the Rocks Off Ruby Glow was not 100% matched to my anatomy, but once I had found a position I was happy with, this vibrator really made its worth known to me. This felt awesome and was definitely a different experience to orgasm hands-free whilst alone. It felt less like I had made myself orgasm and that was it, the end, it felt more like a whole experience, because I could fantasise more, and grind in that way you do on your partner when you reeeally want them.
When with my partner, I orgasm nearly every time from dry humping and just rubbing against him in the cowgirl position, so for me, I adored that this toy could help me replicate those moments in times when he wasn't there. I could fantasise about him being there, and him being the one who I orgasmed with/on, and I didn't even need to use my own hands to do it! I felt even more in the moment with my fantasy with this toy than with a vibrator that requires my hands, as I find grinding to be a lot more instinctive and automatic than positioning a vibrator with my hands.
I would also like to praise a toy that I can use on my chair without getting too tired. I am not overweight, but I am unfit, and riding insertables on a chair I find really tiring, and sometimes it can start feeling like exercise (the horror!), but I didn't feel worn out at all with the Rocks Off Ruby Glow (well, apart from when I had climaxed obviously).
There are more variations for using the Rocks Off Ruby Glow than one may first believe… You can use it with or without clothes (though I prefer without, the vibrations feel much more powerful that way, plus it is a "wow" moment to see all your juices over the toy when finished). I love to use it with my legs spread, with my ankles around the chair legs, thus exposing my clit even more and having something to grip around when the climax arrives. Using with your legs completely closed also works well and makes maximum use of the ridges on the clitoral bump, as that is basically the line that you grind against. I wore it with a butt plug too – it felt enjoyable, but on par without (a tip if you choose to wear a butt plug: pick one with a small, squishy base, as a base that is too big or hard can get in the way of the vaginal bump of the toy when you sit on it).
I also tried this whilst on my period. Of course, the vibrations have a lot to through when wearing a sanitary towel, so felt a little weak, but I still managed to orgasm a heck of a lot of times. I will say that when you are sat on it, you can barely see the Rocks Off Ruby Glow, so to watch someone ride and use this toy probably isn't as exciting as one would imagine, so I would recommend this for solo use more than with a partner.
The Rocks Off Ruby Glow instructions do warn of this toy potentially getting overheated with excessive use. I used this for about an hour and a half at one time with no clothes on and it didn't feel hot at all, so I assume this warning must be in regards to seriously major overuse.
In summary: innovative. That is the word I would use to describe the Rocks Off Ruby Glow. It is something genuinely new. Yes, I can think of improvements, but I'm sure Rocks Off can too. In fact, there are so many possibilities to expand this line: materials, shapes, size, charging options, I could see this becoming a full range! I am very surprised I have not really seen any competition latching on to this concept. Well done Rocks Off, you have given me not only a new toy, but also a new solo experience.
I am rating the Rocks Off Ruby Glow a 9/10, but if you are averse to mid-speed toys and require seriously strong vibrations, then you'll probably see this as more of a 7/10.
9/10
Just Jess' Review
The Rocks Off Ruby Glow Vibrator has always intrigued me. A ride on, saddle style vibrator for hands free fun that claimed to be strong enough to get you off through your clothes? Hell yes!
But despite being on my wish list for over a year I'd never actually taken the plunge and bought one.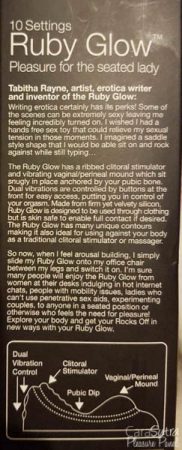 Thank you to Cara Sutra for giving me the chance to finally test one myself.
Background
The Rocks Off Ruby Glow Vibrator was designed by erotic author Tabitha Rayne. The hands-free model was intended to be used while seated. Tabitha has explained this was so she could play whilst writing but also the design aimed to help those with disabilities or dexterity issues.
I don't suffer from any mobility issues myself but loved the amount of thought that went into the Ruby Glow's design. Tabitha and Rocks Off have evidently thought about how they could make sex toys and sexual pleasure more accessible which gets a huge thumbs up from me.
Packaging
The box housing the Rocks Off Ruby Glow Vibrator is classy and simple. Black gloss cardboard surrounding a moulded plastic viewing window showing off the Ruby Glow. While this is not exactly discreet, the saddle design is so unusual I doubt many people would know it was a sex toy at first glance.
Aesthetic and materials
The Rocks Off Ruby Glow Vibrator is deep pink, matte silicone coated ABS plastic, both of which are completely body safe.
I love pink toys and the colour of the Ruby Glow is stunning but I wish more manufacturers would branch out into other colours, I'm guessing the name Ruby Glow wouldn't work quite so well on a sea blue.
I found the Ruby Glow's silicone quite draggy so used a dollop of Sliquid Sassy when testing. You should only use water based lube with silicone toys to avoid any surface degradation.
Rocks Off's silicone is a total fluff magnet and as no storage pouch is provided you may need to keep it in the box. This isn't really an option for me as I have a lot of toys and limited space so I've been keeping my Rocks Off Ruby Glow Vibrator in a mesh bag.
The 17cm long and 6cm wide saddle has a ribbed clitoral mound and a second rounded mound designed to sit at the vaginal entrance or against the perineum depending on the length of your bits.
The matte silicone is quite firm but with a slight squish on the vaginal mound and the clit ribs.
Cleaning
Why, oh why Rocks off? The Rocks Off Ruby Glow Vibrator is splashproof. What does that even mean? Surely a toy is waterproof or not?
I hate splash proof toys, I always feel like I must be super careful with them and normally just end up giving them a wipe and spritz with toy cleaner but I much prefer throwing my toys in a sink of hot soapy water.
I assume splash proof means you're ok to wipe with a damp cloth if you are careful to avoid the battery casing but if you're clumsy like me, I'd just stick to toy wipes and cleaner.
Controls, motors and power
The Rocks Off Ruby Glow Vibrator houses two independent motors, one within each of the mounds on the saddle. Each motor has 3 constant vibrations of increasing intensity and 7 patterns.
Two buttons on the clitoral end of Ruby Glow control the two motors. Press and hold the lower to turn on and scroll through the vaginal hump, hold again to switch off. The top button controls the clitoral mound. Because the two motors are independent you need to switch both off to silence the Rocks Off Ruby Glow Vibrator, this can be an issue if you need to turn it off quickly and more than once I've ended up taking the batteries out because I couldn't get it to turn off.
Speaking of batteries, this is not my preference at all for sex toys. I'm yet to find one that matches the strength of a rechargeable vibe and being a bit of a power queen, I was worried that the vibrations would be weak and waspy.
I was gutted to find the Rocks Off Ruby Glow Vibrator was as buzzy as I'd feared especially on the constant settings. The patterns were rumblier but the underlying buzz was still there.
Also the Rocks Off Ruby Glow Vibrator is so loud; even on the constant settings this wasn't masked by low music or my TV and on the patterned settings it was distracting even with headphones in. I was surprised at just how loud it was given the weakness of the vibrations.
In use
Not only can you use the Rocks Off Ruby Glow Vibrator hands free, the product information claims it can even be used through clothes. In one review I read, the blogger had used Ruby Glow through a sanitary towel and still achieved orgasm!
My experience was so different. Even through thin mesh knickers I struggled to get enough stimulation to be aroused let alone orgasm. The only benefit I found was clothing muffled the sound a bit but this was still loud enough to be heard from the next room.
The length of the Rocks Off Ruby Glow Vibrator isn't quite right for my anatomy. If the large mound is against my vagina, the clit ribs are about half an inch away from where I need it to be.
If I try to grind against the clit end it's too firm and stabs into my sweet spot.
With the clit end snuggled in my labia the bump is firmly against the lower end of my perineum but not quite at my anus so sits quite uncomfortably despite the squish.
Overall
I'm a huge fan of clitoral stim and have used rocks off bullets in the past but found their battery operated vibes just a little too buzzy and shallow. I'm gutted that the Rocks Off Ruby Glow Vibrator follows suit – stronger, rechargeable motors and I think Rocks Off could be on to something but as it stands it's just another novelty that doesn't quite hit the spot.
4/10
---
Buy Yours
Discover the fabulous Rocks Off sex toys collection, including the Rocks Off Ruby Glow Vibrator, through the links below.
These products were sent free of charge in exchange for fair and honest reviews by the Cara Sutra team. This post contains affiliate links.