Pjur Woman Silicone Lubricant Review
By Petra Pan
I was sent the Pjur Woman Silicone Lubricant by Cara to review on behalf of the Pleasure Panel.  Thanks Cara!
Click to enjoy all our Pjur reviews and sex lube reviews
The Pjur Woman Silicone Lubricant comes in a small, simple bottle.  I was sent a 30 ml / 1.02 fl oz bottle, which is a great size for popping into your weekend bag when going away.  It is advertised on the bottle as having no flavouring, fragrance, oil, fat or preservatives.  If you're sensitive to any of these things, this could be a winner for you!
Taste and Smell?
The lube isn't flavoured so doesn't taste particularly nice, but I wouldn't use this lube with oral sex anyway.  I actually prefer the natural taste and smell of my other half to using a scented or flavoured lubricant.
Dispensing
To dispense you can do one of two things, depending on how much you want to get.  Turn the bottle upside down, hold it over your genitals and gently shake the bottle to give you a few drops.  If you need more, squeeze the bottle too, but be careful as it comes out fast!
Consistency
The Pjur Woman Silicone Lubricant is more like a gel and is a little thicker than some runnier, water-based ones.  However, it isn't super thick and it still drips off the skin, albeit slowly.  Silicone lubricant is great for playing in the bath or shower as it is waterproof and stays on really well.  Pjur has great staying power (see below) so is ideal for this.  I'd also recommend it for playing with non-silicone anal toys, where it's more comfortable to have a slightly thicker lube.
Staying power?
The first time I used this lube, I applied a relatively small amount to my vulva, then went to reach for a silicone sex toy.  I suddenly remembered that this is a silicone lube and therefore it can't be used with silicone toys!  If you use a lubricant containing silicone with a toy made of silicone, you can cause damage to your toy.  I thought, I know, I'll go to wipe it off and see how easily it comes off.  Well, the answer is – not very easily!  Silicone lubricants are designed to stay on for longer and be waterproof; so I put it to the test.  I wiped and rinsed, and yet it still remained.  Top marks right from the off!
Play time!
Using the Pjur Woman Silicone Lubricant on a session with a non-silicone toy, I applied a few drops to my clit, and began to play for a while with my fingers.  The lube feels like it sits on top of your skin, and doesn't get absorbed.  This is great if you are playing with fingers or non-silicone materials and you don't want to have to keep reapplying your lube.  It stayed on really well and my finger glided over my clit effortlessly, with absolutely no friction or drying.  I didn't even need to use very much.
After my session, I tried again to wipe it off with a damp cloth but it wouldn't go, the only way to rinse it off fully is with shower gel or soap.
In the bath
I had a little session in the bath with the Pjur Woman Silicone Lubricant, slicking it onto my clit and vulva and getting hot and bothered under the soothing, bubbly water.  My fingers glided over the lube, with it staying on top of my skin, the water not seeming to disturb it.  I love how silky it feels underwater!  I had a decent session, and the lube remained in place, with no soreness afterwards or friction.
Recommendations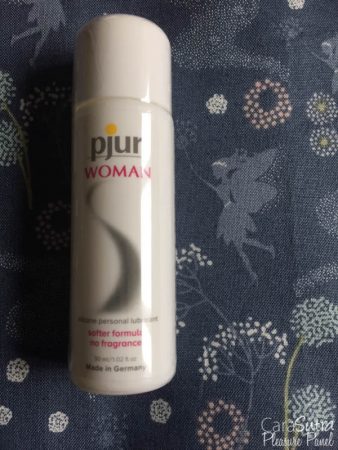 As mentioned above, the Pjur Woman Silicone Lubricant is great for underwater play so a lovely addition to shower sex or bath play.  It's great for finger masturbation, and works well with non-silicone toys.  For anal play however, I have thicker lubes which I prefer to use.
Marks out of 10: 8.5 as it's a small bottle, and it could be a little thicker.
– Petra Pan
---
Where To Buy
Thanks to Pleasure Panel reviewer Petra Pan for this review of the Pjur Woman Silicone Lubricant.
This product was sent free of charge, in exchange for a fair and honest review by the Cara Sutra team.
This review contains affiliate links