Njoy Pure Wand Steel Dildo
By Puspus
First of all, the Njoy Pure Wand Steel Dildo is so sexy! It is a piece of art, a sculpture, a gorgeous weapon and a very confident piece of orgasmic, squirting yummy pleasure. It comes in the beautiful fake leather Njoy box, with a pink satin lining. The box looks very classy and luxurious and is very good for storage – keeps the Wand safe and clean.
Enjoy all our Njoy reviews
When I took the Pure wand out, the first thing I noticed is that this ravishing beast is heavy! I mean it is pure stainless steel, so it will have a very good feel and weight to it! I love heavy toys, they feel so confident and just pure raw and sexy… I like it, I like that the Pure wand is who it is. It just is… It´s not trying hard with all kinds of sircus gadgets or bells and whistles. I think this is the confidence aspect that I love about my Njoy Pure Wand Steel Dildo! The wand has a perfectly sleek and clean shine to it. It has been polished to the max, with a little Njoy logo on the middle of the shaft.
The Njoy Pure Wand Steel Dildo is a double ended dildo. It has two different sized bulbs at the ends and they are both awesome in their own way. The bulbs are simple round balls, no tapering or nothing, again simplicity! I began my orgasm hunting adventure by lubing up the smaller bulb end and trying it on my already warmed up G-spot. The coldness of the toys gave me a thrill and was very pleasing! I worked my G-spot with a mini thrust-like movement and the heaviness of the bigger end applied pressure to my G-spot. The small end is a pinpointy type stimulation, because of the preassure that is applied through the weight of the toy, and also because the surface area of the bulb is small, so it is a very condensed feeling. Squirting is a very big thing with this toy and yes, it happened to me too!
After cumming with the small end I wanted to try out the bigger bulb. I had a slight sting in my vaginal opening when I slid the toy inside. But when the big bulb is inside, you can really feel the weight in you! It is a very soothing and grounding feeling in some interesting way. I started to rock the curve in myself, to stimulate and seduce my G-spot. This is more of a broad stimulation. And you have to go slow and be warmed up so it doesn't hit your pubic bone. Stainless steel + pubic bone = not comfortable, so go easy and slow and enjoy the journey.  I like to find a good position and stay there, I don´t like my Njoy Pure Wand Steel Dildo for craziness (=moving around, trying positions…), this is something slow and sensual.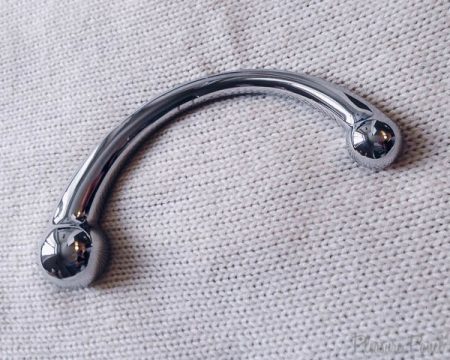 I like to add some good clitoral stimulation and go slow and I will squirt, get cum drunk and become very relaxed.
Next thing I tried was some butt fun! Particularly the small bulb anally. This is very very nice, if you are into butt fun (everyone should try, it really is very pleasurable ans sensual)… The curve is extreme enough that I can easily hit my G-spot through the rectocele wall. So now my G-spot + clitoris + butt are all stimulated and let me tell you, WOW! The orgasms are strong and deep! I loved it so much,  my legs start trembling, sweat droplets on my body, pussy juice dripping down and whole body pure liquid euphoria…
So do I recommend the Njoy Pure Wand Steel Dildo? Yes indeed, absolutely! It is beautiful, it can be sterilised, you can do temperature play, anal, vaginal fun or even just massage other muscles in your body. I like to also sometimes use it on my shoulders to massage, or on my pc muscles around my perineum… It is the simplicity and confidence of the Njoy Pure wand, use it however you see fun!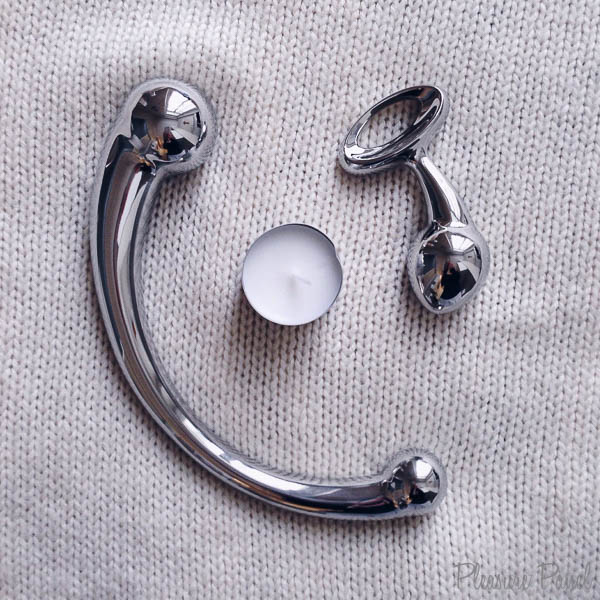 – Puspus
---
Buy Yours
Thanks to our reviewer Puspus for this review of the Njoy Pure Wand Steel Dildo.
Check out the Njoy sex toys collection through the buttons below:
This review contains affiliate links