Nexus G-Play Plus Large Rechargeable Vibrating Butt Plug Review (Red)
By Pleasure Panel reviewer NatandTom
After reviewing the Nexus Anal Starter Set during last month's Pleasure Panel round, I was pleased to see more Nexus products up for testing in the latest round. Whilst all of the items looked great, I knew I'd had success with the largest plug from the set so I decided to volunteer for the Nexus G-Play Plus Large Rechargeable Vibrating Butt Plug in Red and see what this toy would feel like with the addition of vibrations. It has the same shape and dimensions so I knew that it would be a good match in those areas but would the vibrations turn this toy from an anal advocate to a g-spot dream?
The box the Nexus G-Play Plus Large Rechargeable Vibrating Butt Plug arrives in is simple, just a few key features printed on the front along with the product name and a viewing window to admire the scarlet beauty inside. The back reads a basic product description and offers up a list of some more key features. You'll also find an area on the front labelled 'touch me' and this is where you can get a feel for the super soft silicone that has been used on the massager. I imagine that this would be a great feature for people who are buying in a store rather than online who want to get an idea for the material before purchasing. Inside the box is the charging cable, instruction guide and the Nexus G-Play Plus Large Rechargeable Vibrating Butt Plug.
Before use, it needs to be charged. To do this, plug the jack into the port on the base of the toy and the other end of the cable into a laptop or other charging point. A blue light will flash to indicate the charge is taking place and this will become steady once complete. It takes approximately an hour and a half to charge fully and this provides up to two and a half hours of use time depending on the vibration modes that are being used.
As briefly mentioned, the Nexus G-Play Plus Large Rechargeable Vibrating Butt Plug is made from silicone. It is listed as phthalate-free, luxury brushed silicone and it's described as super soft. If body safe materials are an important factor to you when choosing sex toys (hint: they should be) then you'll have no concerns with this product. It meets those guidelines and should not cause any problems at all. If you intend to use it as an anal toy as well as a g-spot massager then it makes this non-toxic, non-porous option an even better choice. The only slight negative to this material is that it attracts a ton of lint and this product comes with no storage to keep it at bay. Easily solvable with a quick rinse before use but it can be of minor annoyance if you just want to grab it and use it straight away.
Silicone is hypoallergenic, odourless and comes with a smooth finish that feels comfortable during insertion, removal and wear. The silky surface of the type used here gets through quite a bit of lubricant but the drag is minimal once some has been applied. If using for long periods of time, you might notice that you need to top up on the water-based stuff to avoid any discomfort or chafing but for short sessions, one application should be enough. After use, clean the Nexus G-Play Plus Large Rechargeable Vibrating Butt Plug with warm soapy water and rinse thoroughly. I use an antibacterial cleaner or a 10% bleach solution if I know I'm going to be switching from vaginal use to backdoor play though to ensure all traces of bacteria have been removed.
It's overall length is just under four inches and it's insertable length is roughly 3.3 inches. This doesn't sound large for a vaginal toy and I'd agree because it isn't, but it is on the larger side for an anal plug. Some people might be wondering from these measurements whether the Nexus G-Play Plus Large Rechargeable Vibrating Butt Plug would actually be long enough to hit the g-spot or prostate and as these hot spots are only a couple of inches inside for most bodies, this massager should reach them and provide a snug, satisfying sensation as it pushes up against them. Penetration may be shallow but the maximum circumference of this massager is around 3.75 inches which does provide somewhat of a full feeling during anal use.
There is just the one button on the Nexus G-Play Red Large Vibrating G-Spot Massager which is located on the base. It's very simple to use because of this, all you need to do is hold down the button for three seconds to turn on and continue to push the button to scroll through the six vibration modes. You then press and hold again to turn off. The six settings consist of a low, medium and high intensity followed by two pulsation modes and finishes with an escalation mode that goes from low to high and back again.
I would describe the first setting as rumbly, low-frequency and pleasant. It had a decent amount of power without starting out too strong and the depth of these sensations was great. The medium intensity had a slightly higher frequency but I'd still consider it rumbly and enjoyable. The highest intensity was unfortunately buzzy although I can't fault the power that came through the soft silicone. I don't mind buzzing too much for internal use if the power levels are strong enough but I do wish this mode had managed to maintain the rumbles of the previous settings. I don't use the pulsations as these are not for me but I did think the escalation function was fun for anal use.
So the Nexus G-Play Plus Large Rechargeable Vibrating Butt Plug feels firmer than the large plug from the Nexus Anal Starter Set so it was able to apply more pressure to the back wall of the vagina when worn anally. It was filling without causing an uncomfortable stretching sensation and the pressure made sex feel much more intense for both of us. I can wear it comfortably for long periods of time with no issues as the toy has some weight to it which seems to keep it in place and the base feels secure as it is not as flexible as the non-vibrating version.
I don't have a prostate so I can't vouch for how this would stimulate one however I can comment on how I found this toy for g-spot use as that is how I primarily use this product. I wasn't sure whether I would get much from this vaginally as it doesn't have the typical long shaft, defined curve and bulbed head that dominates the g-spot category but after my first session, any doubts that I once had were removed. It engulfed my g-spot upon insertion, pressing its firmness up against it almost instantly and it felt delightful. I didn't need to move the massager much as this would knock the positioning off-balance and I'd have to start all over, so I just held it in place making small rocking motions every so often and let the rigidity and vibrations take charge.
Orgasming was easy with the Nexus G-Play Plus Large Rechargeable Vibrating Butt Plug regardless of how it was being used as the ergonomic shape works well in either orifice, the firmness applies pressure to all the right areas and the vibrations were nicely powered. I am surprised by how much I liked it as a g-spot toy as I was expecting my preference to be anal use, considering my past experience with a similar product, but it was a treat to use for this purpose and I'm struggling to find anything that I did not like about it.
In conclusion, I am extremely impressed with the Nexus G-Play Plus Large Rechargeable Vibrating Butt Plug and I would happily recommend it to anyone looking for a smaller g-spot/prostate toy to explore with. I would describe it as gender neutral and suitable for all bodies as it works with all anatomies and I'd also describe it as reasonably quiet. It doesn't make much noise at all and should be silent enough for those who require discretion. I discovered during the recent heatwave that the fan in my bedroom was more than enough to cover the sound of the motor in action so I would not hesitate to recommend this to people who insist on a quiet sex toy.
9/10
– NatandTom
---
Where To Buy
Thanks to Pleasure Panel reviewer NatandTom for this review of the Nexus G-Play Plus Large Rechargeable Vibrating Butt Plug.


The Nexus G-Play Plus Large Rechargeable Vibrating Butt Plug was sent free of charge, in exchange for a fair and honest review by the Pleasure Panel, by Nexus Sex Toys. Thank you! 🙂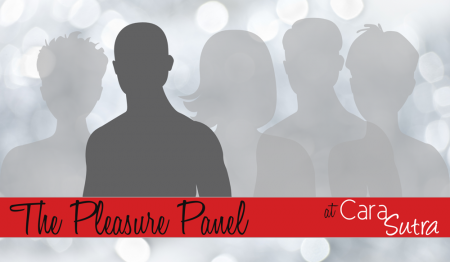 Unaffiliated