Nexus Excel Prostate Massager Review
By minnie
Once again Cara Sutra has provided me with a toy to test out, this time it's the Nexus Excel Prostate Massager from Nexus Range. I've tested several different ones in the past, with mixed results.
Enjoy all our Nexus reviews
Mostly they haven't done much for me and I've gone back to my trusty Rocks Off Naughty Boy. So I wasn't expecting too much this time.
The first thing to notice about the Nexus Excel Prostate Massager is the colour – bright orange! It looked as if it should glow in the dark! Remember the Tango adverts some years ago? It's that orangey! It is also available in black and in purple.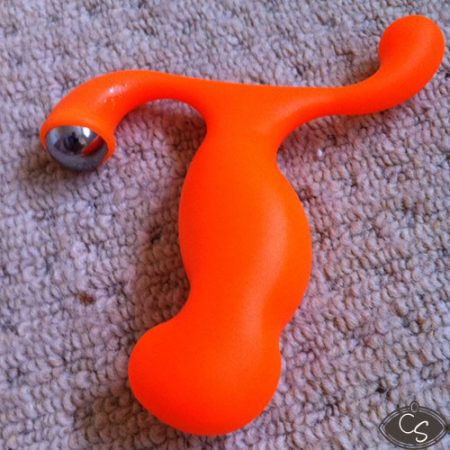 It's a nice thick size, chunky and solid. It's not as big as most of my collection of butt plugs, but big enough. It's about 4″ long and 1.5″ diameter at its widest part.
As usual I washed it before use and then applied lube. It made from phthalates-free polypropylene so you can use silicone or water based lubes.
Surprisingly it slid in with ease, no effort at all. Then the fun began.
As soon as the Nexus Excel Prostate Massager was in my little cock began to dribble cum. Actually it was more than a dribble, I could hardly believe how much was leaking out, it was fantastic! Just sitting down and slowly rocking back and forth kept up the dribble. I had no need to stroke my cock, the Nexus was doing it all for me. Eventually I stood up and moved around which as usual caused more leakage.
The 'horns' make a good handle if you want to work it in and out to increase the feeling and effect. One horn rests against your perineum and has a small ball bearing embedded in it, also to enhance the sensations. I can't say I felt any difference, the main body was doing very nicely indeed, thank you very much!
I could feel the girth of the Nexus Excel Prostate Massager, pressing on my prostate, doing its job. It wasn't at all uncomfortable, quite reassuring in fact. After about an hour the dribble dried up and reluctantly I carefully eased it out. Cleaning afterwards was easy, in hot soapy water.
The Nexus Excel Prostate Massager is available online for around £40 and I can only award it 10 out of 10!
Excellent!
– minnie
Buy Yours
Discover the Nexus Range which includes effective prostate massagers and vibrating butt plugs, through the following links:

Contains affiliate links