MEO Leather Padded Puppy Play Paw Mitts Review
By Joanne's Reviews
I couldn't resist myself when I saw these MEO Leather Padded Puppy Play Paw Mitts from MEO available to review from Cara Sutra. Having enjoyed some puppy play in the past, I liked the quality look of these mitts so I put my hand up trying to get Cara's attention, and I was sent them to enjoy and review.


Enjoy all our BDSM gear reviews
So, what is puppy play? Well just think of it as acting like a puppy, getting lots of enjoyment out of romping around, playing with toys and trying to please your owner. It allows you to regress and forget your daily worries as puppies have no problems.
These leather mittens arrive in the usual minimalistic form of packaging common to MEO products, and I like that. Why waste material on packaging for a product like this when all that will happen is a customer will just end up throwing it in the bin creating a landfill problem. MEO's solution is simple packaging, and that is good for the environment, and also good for the customers pocket too.
They MEO Leather Padded Puppy Play Paw Mitts come with a handy little pup play guide showing positions and communications between pup and owner. I love these little guides as it means that anyone new to pup play can learn quickly.
The first thing that I noticed when I opened up the Puppy Play Paw Mitts packaging was the delightful smell of leather, I just love that. Removing them, I was delighted at how well padded they are and how good the stitching looks. These are indeed a quality pair of cuffs.
The thick padding makes the MEO Leather Padded Puppy Play Paw Mitts extremely comfortable to wear. The opening for your ha is nice and wide, and the inside of the cuffs are lined for comfort. They are 20cm = 8″ long and 15cm = 6″ wide
When you insert your hand and make a fist the design of these mitts means that your fist is perfectly aligned with the front pad that is used for walking on all fours while wearing them.
The back of the MEO Puppy Paws features a delightful puppy paw logo stitched into it that really increases the appeal of these mitts. They look fantastic.
Once your hand is inside, then you have a double system to secure them. Firstly, you pull the boot laces tight to ensure a snug fit. The end of the laces are stitched together and wrapped inside a piece of velcro which is a brilliant idea.
Once tightened you can then just wrap the laces around the wrist of the MEO Leather Padded Puppy Play Paw Mitts and then fasten the laces to the main velcro area to secure the laces – simple.
You then wrap the main leather velcro strap around the wrist, and it locks itself in place neatly.
They fit very snugly, sort of like a kinky pair of boxing gloves. The fastening system means that you can actually put them on yourself. Removing them by yourself is an utter pain but possible using your teeth to loosen the laces. This means you can enjoy some private puppy play with them. The velcro on the end of the laces makes this possible, and it is genius. I would never have thought of that myself, but it is a great way to secure laces neatly and securely.
I love wearing the MEO Leather Padded Puppy Play Paw Mitts; the fact that when you have them on your ability to pick up and hold objects is severely limited is appealing to me. They are comfortable to wear and romping around when wearing them is a lot of fun.
They are ideal for pups out there or for anyone looking for a different sort of restraint. I can remember being highly amused when seeing a photo of a submissive wearing a set of mitts sat in front of a tea set and being told to drink her tea without spilling a drop, or she would be punished. Good luck with that one.
They can be used to control or limit the functional ability of the hands. Just try using a Doxy while wearing them, I can attest to how difficult it is to do even the simplest of tasks when wearing mitts. My stunt cock has taken his submissive to a swingers club and made her wear them for the whole evening. When she was sent to the bar to get some cans of coke was highly entertaining.
I have an old set of mitts that I will no longer be using, these ones are so much more comfortable and fun too. I love the look, design and functionality of them.
These puppy play paws from MEO are so much fun, and I can highly recommend them to anyone looking to explore some pup play or for anyone looking for a pair of restraints that can be used on a submissive to make tasks more difficult.
Rating: 9/10
– Joanne's Reviews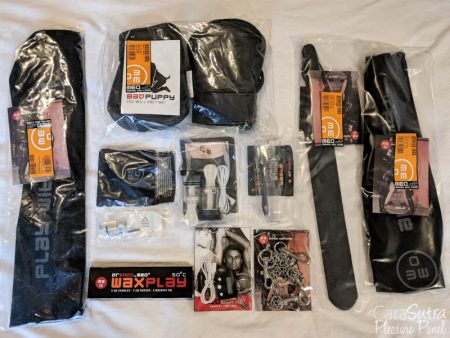 ---
Where To Buy
Thanks to our reviewer Joanne's Reviews for this review of the MEO Leather Padded Puppy Play Paw Mitts.


This product was sent free of charge, in exchange for a fair and honest review here at the Cara Sutra sex blog. This review contains affiliate links.