MEO HURTME Leather Paddle with Stainless Steel Handle Review
By Leila_K
The MEO HURTME Leather Paddle with Stainless Steel Handle arrives packaged in a thick plastic bag. This has to be opened using scissors, inside you will find a lovely black velvet storage bag, inside this, is the paddle.


Enjoy all our spanking paddle reviews
There is also a leaflet regarding usage, MEO recommend talking with your play partner, setting boundaries, and having a safe word in place. I though this was great  information for people that are just starting to experiment with bondage, and a good reminder for people experienced in bondage.
First Impressions
The MEO HURTME Leather Paddle with Stainless Steel Handle is made from high quality leather and it has a glorious smell. I love the design of this paddle, I've never seen anything like it, all my other paddles pale in comparison to this one. This paddles consists of two pieces of leather that are glued together. The paddle part has eight arrow-shaped recesses, from top to bottom. At the base of the paddle there is another small section of leather at either side with two small metal studs  securing everything together. The handle is made from stainless steel, but it is surprisingly lightweight. The information on the MEO website states that both handle and paddle are exactly the same weight, so that prolonged play does not cause wrist ache.
The words 'Hurt Me' are embossed on the handle, and at the bottom of the handle there is a leather wrist strap, this is perfect for hanging the paddle up for storage. This is a large paddle and the totally length is 7.75" and the paddle part measures 4.75" at its widest point.
The construction of this MEO paddle is great, apart from a small flaw on the leather. At the edge of the paddle the stitching had run off, then it's been picked out to leave three small holes in the leather. If I had purchased this paddle myself, I would have returned it for another one, as its an expensive product at £70 and I think it should be perfect for that amount of money. However, this did not affect the performance of the paddle.
In Use
The MEO HURTME Leather Paddle with Stainless Steel Handle is a pleasure to use. It is easy to hold, and it feels sturdy in your hand. The paddle itself is very flexible, allowing you to vary the pressure from small taps, to full force smacks. The wide paddle head covers a large surface area intensifying the feeling.  In use, it makes a very loud satisfying sound and provides a delightful sting. If used hard enough this paddle will leave some interesting marks on your bottom. The holes in the paddle is a genius idea because it glides so much faster when in use. The smooth stainless steel handle can also be used for sensory play, running it over naked skin can feel amazing, and placing it on a very hot bottom can also feel very soothing.
Summary
Overall, My partner and I really enjoyed the MEO HURTME Leather Paddle with Stainless Steel Handle. Its a high quality paddle, built to last, its flexibility and steel handle make it versatile.  This paddle may look scary, and the product name may put a lot of people off but, this is a gorgeous paddle and a pleasure to use and receive. It will leave you with a very red bottom, and a smile on your face.
9/10
– Leila_K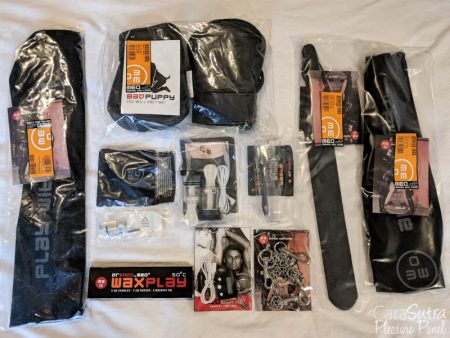 ---
Where To Buy
Thanks to our reviewer Leila_K for this review of the MEO HURTME Leather Paddle with Stainless Steel Handle.


This product was sent free of charge, in exchange for a fair and honest review here at the Cara Sutra sex blog. This review contains affiliate links.