Lovehoney Cherry Lickable Massage Candle Review
By Pleasure Panel reviewer Candy Snatch
When my man set up a really special date for us I wanted to do something special back to thank him, given that he works ridiculously hard and aches like a bitch I decided to pick out a massage candle and give him a full body massage with the happiest ending. Searching Lovehoney I found a lovely big selection of massage candles and after reading reviews and blurbs on them all opted for the Lovehoney Cherry Lickable Massage Candle.
The Lovehoney massage candle range comes in three delicious scents (or flavours) Strawberry, Vanilla and Cherry. It's available in two sizes 60g for £4.99 or 113g for £12.99. I opted for the 60g as it was my first time trying this product and wasn't sure whether either of us would enjoy it.
As is always the case with Lovehoney my parcel arrived beyond fast and in amongst the other bits I'd ordered nestled a lovely little tin. The packaging was very cute and I liked it on sight alone. Taking the lid off I sniffed the unlit wax and was impressed at the strength of the scent. It was almost mouth-watering.
When it came to using the Lovehoney Cherry Lickable Massage Candle I was very impressed. Despite it taking me a few attempts to light it, once lit it burnt quickly and filled the room with the cherry scent of those cherry drop sweets I'd had as a kid. It was very sweet and I found it quite sexy, having the candle light in the darkened bedroom certainly added to the romantic ambience.
As soon as I had accumulated a small pool of liquefied wax I blew the candle out and carefully drizzled it across my man's aching back. The gentle moan kind of hinted to how he felt about this and as I spread the oil across his shoulders and up his spine I was pleasantly surprised at the level of glide the candle oil gave, and as to how vocal he was with his appreciation. It was by far one of the most lubricating massage candles I've come across but after I'd taken my time working out the knots in his muscles I was shocked to find it left no greasy residue and massaged into the skin beautifully. This was very unusual given how well the oil had allowed my hands to slide across his back. A little definitely went a long way in this instance and I didn't need to relight the candle which I was fully expecting to need to do.
The strong scent in the Lovehoney Cherry Lickable Massage Candle remained on his skin but in a much less powerful manner, more a gentle hint, which is good because I'm unsure he would want to wander around smelling of cherry drops all day. I burnt my Lovehoney Cherry Lickable Massage Candle for approximately ten minutes to get enough oil to enable me to massage my man for nearly an hour. I also used my Doxy Massage Wand (read my review here) to change the sensation up and can say the two complimented each other beautifully, the large padded head of the Doxy sliding across his muscles effortlessly on the melted Lovehoney Massage Candle oil. Based on the amount of oil produced from my short burn and the tiny dent this made in my candle I would say you would get a lot of use out of this amazing little tin and I would absolutely buy the bigger size and try the other scents based on the cherry one.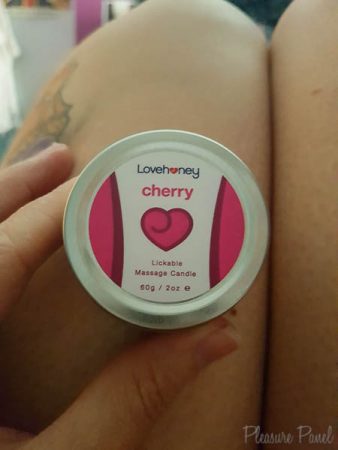 We spoke about his experience of using the Lovehoney Cherry Lickable Massage Candle after playing and he said that the oil was hotter than warm but not painful when it drizzled on his skin, I held the little tin about 6 inches above his skin and it wasn't difficult or messy to pour at all. He told me that the oil felt hottest on impact and then just warmed as I spread it across his body. He said it felt amazing to feel the warm oil spread across his back and he loved the whole massage experience. I can definitely say that you can lick the skin after using the Lovehoney Cherry Lickable Massage Candle and it did definitely taste of cherry it didn't leave an unpleasant feeling on my tongue which was something I was concerned about. There is a very slight chemical back note to the aftertaste of the oil but it didn't diminish my enjoyment of kissing and licking his skin.
I seriously love the Lovehoney Cherry Lickable Massage Candle. In fact I love it so much I may never use a standard massage oil again. This adds a little extra romance to the occasion and I simply can't fault it as a product. The price of £4.99 for the smaller tin is an absolute bargain and I can't wait to give him another massage. I give The Lovehoney Cherry Lickable Massage Candle a delicious 10/10 I'm definitely trying the vanilla next.
– Candy Snatch
---
Thanks to Pleasure Panel reviewer Candy Snatch for this contributed review of the Lovehoney Cherry Lickable Massage Candle (60g for £4.99 or 113g for £12.99)
Find more erotic massage treats at Lovehoney from just £4.99.
Useful Links
This review contains affiliate links.