Jiahao Faux Leather Red And Black Flogger Review
Jiahao Faux Leather Red And Black Flogger review by MaamReviews
Welcome one & all to MaamReviews, taking you through the wonders and wastes of the sex toy world.
I personally identify and play as a Dominant woman so I will naturally gear towards BDSM items, helping guide you as you decide whether to add a certain item to your trusty kit bag!
First up is the Jiahao Faux Leather Red And Black Flogger. Easily accessible, attractive price and looks good on images… you would think there has to be a pitfall somewhere!
The truth is I haven't found one yet!
The Basics
Item- Flogger
Material- Faux Leather & Suede
Length- Total 32 inches,Strap 2 inches, Handle 8 inches, Falls 22 inches.
Price- £10.99
Initial Thoughts
The Jiahao Faux Leather Red And Black Flogger arrived in a simple clear plastic covering, no frills but what do you expect for the price you're paying!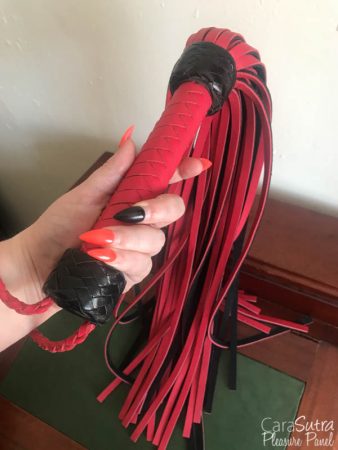 Upon first inspection it has the classic leatherette smell instantly taking you to a space of play & enjoyment. Stunningly well made and aesthetically pleasing it instantly gave me the chills & anticipation to play with it. Sporting the classic fetish colour scheme of red & black; gorgeous but sadly not available in other colour combinations as far as I have found.
The falls are not only rather thick and firm to the touch but dual sided; faux leather in red & suede in black, giving it multiple sensations depending on how you choose to wield the toy. The Jiahao Faux Leather Red And Black Flogger is well weighted with an intricately wrapped handle for grip and a wrist strap to ensure safety during play (that I also use to hang the item, versatile or common sense you decide).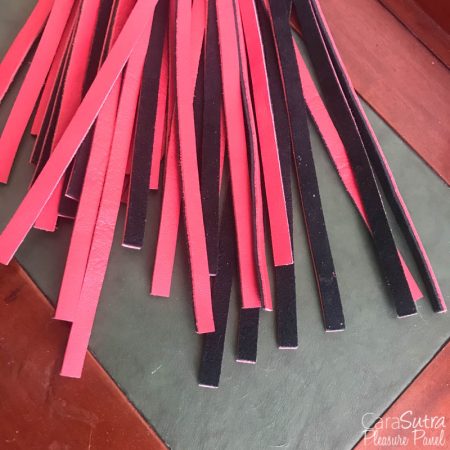 This is a rather lengthy flogger (with the falls alone standing at 22 inches) for 5ft 4 me but still easy to handle and able to create consistent hits. As mentioned it is balanced well which makes the potential issue of the length of the falls moot & lends itself well to comfortable consensual play.
In Play
There is a wonderful range of marks you can make with this one item alone. This well created toy can easily fit into some sensation play brushing, tickling and feeding deeper desires or pushing it further into the realms of true impact & pain play. Practice & patience make perfect with this flogger.
As with most toys of this nature the bark is a little worse than the bite, as there as so many falls it gives more of "thud" on impact than the sharp snap the sound alludes to. Yet never fear if you are sadistically inclined as I, the skill of the wrist can easily make the bite deliciously powerful leaving some striking welts and marks with some well aimed and strong whips.
Upkeep & Cleanliness
Naturally I will keep an eye over time on the wear of the Jiahao Faux Leather Red And Black Flogger but it has been in my kit box for 6 months already with no sign of wear, which is surprising considering my heavy handed nature and the sheer price of the toy itself.
Wear and unravelling of the faux leather was an issue I assumed this item would be plagued with, as many of its fellow cheaper toys are – but I have been more than pleasantly surprised at the durability of it so far.
Cleanliness with this Jiahao Faux Leather Red And Black Flogger is relatively easy providing there is clean play. As we all know suede can be rather difficult to keep clean so the less fluids involved the better to sustain the durability of this product. Otherwise the handle and falls can be given a quick wipe down with your preferred toy cleaner!
Conclusion
I would suggest this as a perfect medium weight flogger for ANY person from the newbie to the hardened of impact play enthusiasts. Especially for those who wish to indulge within the world of BDSM without breaking the bank!
For me this is an easy 10/10 not just for the price point for for being an easily accessible,safe and workable item for any BDSM enthusiast.
Versatile, Aesthetically Pleasing, Attractive Price.
MaamReviews the Jiahao Faux Leather Red And Black Flogger as a WONDER!
– MaamReviews
---
Where To Buy
Thanks to Pleasure Panel reviewer MaamReviews for this contributed review of the Jiahao Faux Leather Red And Black Flogger.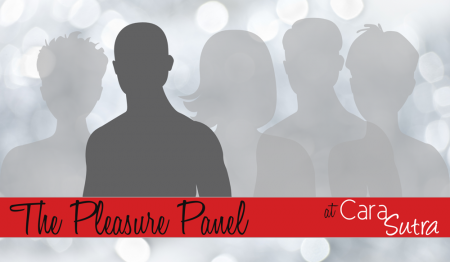 Contains affiliate links.