BS Atelier Rainbow Drops Silicone Dildo Review
By Belle Bisous
As a past enthusiastic attendee of Manchester Pride, I decided to embrace my love of diversity and acceptance by reviewing a Pride-themed dildo from an online sex shop. When I found out about this particular sex toy in the range, the BS Atelier Rainbow Drops Silicone Dildo, I was over the moon when I was offered it free of charge in return for an honest & thorough review.
Enjoy all our BS Atelier reviews & other dildo reviews
This is such a pretty Pride-themed rainbow dildo!
Postage & Packaging
Very soon after arrangements were made, a discreet brown package arrived on my doorstep. It was free from tell-tale markings and gave no indication as to the contents of the package. Inside the box, the BS Atelier Rainbow Drops Silicone Dildo was contained in a clear, sealed package which indicated that the dildo was unused and in mint condition.
First Impressions
The BS Atelier Rainbow Drops Silicone Dildo measures approximately 7 inches long and has a girth of approximately 5.5 inches at its widest point, which is at the bottom next to the flared base. The dildo is handcrafted in Madrid, so each patterned dildo may differ slightly. However, I was more than happy with the quality of my product. The rainbow drops are unique to my dildo and make a colourful addition to the item.
Material
The silicone is firm but flexible and free from phthalates, so it is perfectly safe to use. Because of the type of silicone used to create the product, it has a tendency to drag against the skin so plenty of your favourite, silicone-compatible sex lubricant is required. Furthermore, this dildo also seems to attract dust and lint so careful washing between uses is required. Drying with a towel may attract lint, so I recommend using a kitchen towel to dry the product between uses.
Related: Our big guide to sex lubes
During Use
The BS Atelier Rainbow Drops Silicone Dildo has a deep curve which makes it ideal for G Spot or P Spot massage. The flared base is perfect for anal play because it ensures that the dildo doesn't travel into the body, whilst also ensuring that the dildo can be worn with a standard O-ring harness.
My usage of the dildo was quite primitive in terms of using it for sole G Spot massage. However, because the Rainbow Drops Silicone Dildo is one of the few waterproof dildos that I own, I decided to experiment with this product in the shower too.
The firm silicone is easy to grip during use, but as stated it needs a lot of lube to reduce the drag. The flared base enables me to direct the product in the direction that I need it to go, and can keep a firm grip at all times. The angled delivers a pleasurable massage and the girthy base was super stimulating. Rather than focusing solely on G Spot massage which rarely gets me off, the flattened tip is perfect for switching between clitoral and G Spot play and quickly brought me to a lovely climax. I have been struggling with vibrators lately, I'm not sure whether I am becoming jaded with the products or they just don't excite me anymore. So it was lovely to enjoy a natural climax that wasn't forced by vibration.
Keeping The Dildo Clean
The BS Atelier Rainbow Drops Silicone Dildo works equally well in the shower but the water tends to wash away the lubricant so keep it close to hand. After use, I washed the dildo with soap and water and left to dry naturally. As stated earlier, avoid towels as the lint sticks to this product. If you're in a rush, use kitchen roll.
Storage
The BS Atelier Rainbow Drops Silicone Dildo is very easy to store. It doesn't need batteries or a charger so you can simply pop it into a drawer between uses.
9/10
– Belle Bisous
Buy Yours
Thanks so much to our reviewer above for this review of the BS Atelier Rainbow Drops Silicone Dildo. Find yours through the links below: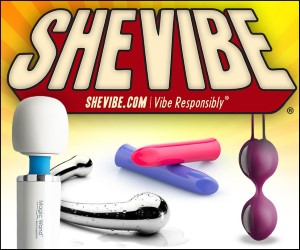 Contains affiliate links