Bondara Silicone Double Kegel Balls Review
By Pleasure Panel reviewer Sugar Cain
I'm humbled to confess that before I picked up a pair of the Bondara Silicone Double Kegel Balls I'd never really concerned myself with kegel exercises. At the tender age of 22 I assumed my pelvic floor muscles were in tip top physical condition and boy was I mistaken!
No matter your age or opinion on the strength of your pelvic floor muscles, I highly recommend you try the Bondara Silicone Double Kegel Balls; especially if you're new to the wonderful world of kegel exercises. You may find that the Double Kegel Balls are the kind of product you have to try a couple of times to get the most out of but, after a while, I'm sure you'll be as enthralled by them as I am.
In spite of the fact that I (naively) I assumed the Kegel Balls wouldn't make a big difference to my pelvic floor, I approached testing them with all the enthusiasm of a very excitable puppy. The Bondara Silicone Double Kegel Balls were packaged in a very nondescript plastic wrap which was black on the back and transparent on the front so I could fully see what my lady parts would be up against. Not the most creative design but I guess they wanted the product to speak for itself. I wish I could tell you more about the packaging other than the fact that it made me feel like a kid in a sweet shop as I hungrily tore it open.
It took a little composure not to immediately lube up my Bondara Silicone Double Kegel Balls (and I do recommend using water based lube when getting used to these babies) and get straight down to business. Still, for the sake of a thorough review, I took the time to examine the product before diving straight in. The balls were small at 2.5″ in length and 1″ in diameter, encased in a silky smooth silicone shell, and attached to a handy silicone loop for ease of extraction. They came in an obligatory shade of sex toy 'hot pink' and, on the whole, were unintimidating. I was expecting them to be a bit heavier than they were so I wasn't too concerned with whether or not they'd stay in place.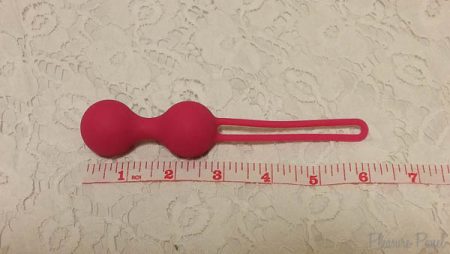 Satisfied with my examination I moved on to the main event. I lay on my back and, with the aid of my favourite water-based lubricant (silicone lube with silicone toys is a big no-no), I inserted the Bondara Silicone Double Kegel Balls with ease. As this was my first time using them I wasn't exactly sure where they should sit so I aimed as high as was comfortable and found they sort of reworked themselves once I stood up and gravity took effect. I was consciously tensing my pelvic floor muscles for the first few minutes they were in and decided to stress test the Double Kegel Balls by walking about a bit.
Honestly, I expected to feel more of a 'clicky-clack' sensation as I wandered around. I even tried jogging on the spot but I still couldn't feel the proverbial 'jiggling' I'd read so much about. I was definitely aware of their presence the entire time I was using them but they certainly offered less direct stimulation than I thought they would. I say 'direct stimulation' because I would later discover that my vagina and I have different ideas about what constitutes stimulation.
I was surprised to find that I didn't have to tense to keep the Bondara Silicone Double Kegel Balls in and this caused me to fear I wasn't using them correctly but, after a quick Google, I was pleased to find out that simply having them in constitutes the exercise.  I spent most of my evening sat down and am happy to report that the protruding silicone loop was in no way irritating during this time. After which I nipped upstairs to remove them and tried flexing my pelvic floor to see if it felt any stronger. I can't say I'll be lifting kettle bells with my vagina any time soon but I certainly noticed a difference from the off.
I've been using the Bondara Silicone Double Kegel Balls every other day for about a week now and have discovered that they work wonderfully in tandem with a bullet vibrator. I don't know if it's the same for everybody who uses them but I've found that the subtle stimulation they provide has definitely increased my sex drive. I can contest that my orgasms are a hell of a lot more powerful lately and they weren't at all feeble to begin with!
If you're on the fence about picking up a pair of Bondara Silicone Double Kegel Balls I implore you to try them out. They're an easy to use toy, they don't require a lot of afterthought, and they yield big results in return for minimal effort. If I could give you any advice it would be the following: don't expect too much in the way of jiggling, lube helps, and perseverance is key.
– Sugar Cain
---
Thanks to Pleasure Panel reviewer Sugar Cain for this guest review of the Bondara Silicone Double Kegel Balls (usually priced at £9.99 from Bondara)
This sex toy was sent free of charge, in exchange for a fair and honest review by the Pleasure Panel, by Bondara.
Useful Links
This review contains affiliate links