Suit Porn: Fucking Me In His Pin-Striped Suit
An erotic story by Cara Sutra
Sat astride my pin-striped suited Master's lap, completing the circle of his similarly dressed friends in the hired hall, I'd never felt quite so exposed and vulnerable. It was my own fault for disclosing my long-held fantasy some time ago; him fucking me in his pin-striped suit. A cosy little sex scene, just the two of us… or so I'd imagined. I should have known he'd push me to my absolute limits by inviting his office colleagues to come watch & enjoy the scene.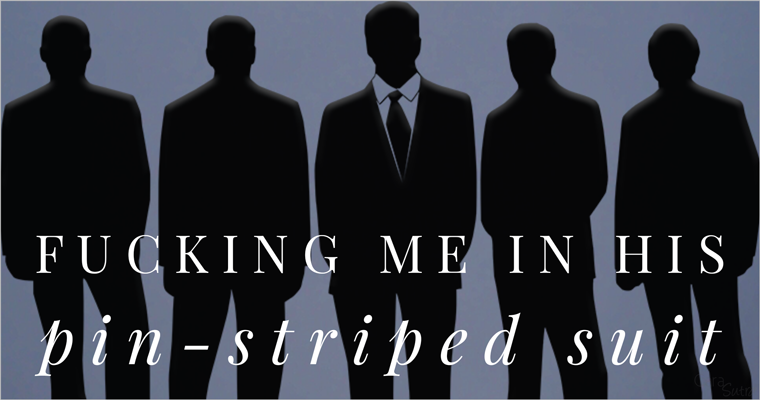 It's not like you're completely naked, Master had told me, in that infuriatingly superior and amused way he had. If I hadn't been so fucking turned-on by his plans, plus his sexy Dominance, I swear I would've screamed. As it was I had no choice but to obey his every command. The bastard knew he owned me mind and body. That's how I found myself sat astride his suited lap, facing him, bra straps pushed off my shoulders when he'd exposed my tits for his fondling -and wearing nothing else but those knee high white socks he adores. They kept making me lose my purchase on the polished floor beneath us, meaning I relied on Master pretty much completely for my balance and what remained of my dignity.
Every seat shuffle and nervous cough from the ring of guys echoed in the large hall, exaggerating their presence and aiding my fast spreading beetroot blush. This sort of thing was all new for them, I imagined. But then I'd heard they were a bunch of kinky fuckers and so had been well up for the show. Goosebumps topped my blush, spreading from my throat to my rose-pink areolae which brushed against his suit lapels. The goosebumps had nothing whatsoever to do with the room temperature.
Master's hands came up to take each shamelessly erect nipple between thumb and index finger. It's time, he told me. I swallowed, hard, and managed a barely discernible nod in response. I didn't dare take my eyes from his. It was as if maintaining eye-contact with Master was my lifeline, my safety. He merely smiled at me, his incorrigibly knowing smile, and proceeded as if it were just us two in the privacy of our bedroom. A part of me wished we were. A shockingly larger part of me was glad we weren't.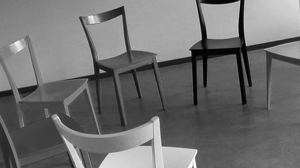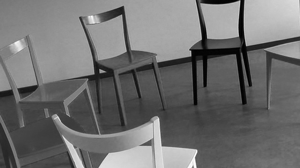 As his fingers left my nipples to undo his trousers, I almost lost my balance with the heady overwhelming-ness of it all. Gripping on to Master's suit jacket it was hard to believe this was really happening. The circle of men around us seemed to collectively draw a sharp breath of anticipation; whether it was my imagination I couldn't be sure. I didn't dare turn around to look at any of them. It was more than enough knowing they were there, watching. Perving. Repeatedly swallowing as their mouths watered and they wished they could have a turn. Shit, don't think about that, I told myself. He wouldn't, would he?
Undoing his belt buckle, button and zip, Master freed his unsurprisingly hard cock from its suited confines. Using both hands to both lift me and position himself, his cock-tip soon found my ready pussy entrance. I was a messy puddle down there, I knew. I'd felt the slippery damp patch spreading beneath me on his suit trousers. There'd definitely be a punishment for that later. Feeling the tip of his cock slide against me, I tried so hard not to let out a whimper. I thought I'd succeeded until he flashed his smug smile at me. He knew… Master knew what he was doing to me. With no time to enjoy that moment of intimate connection, he took me by the shoulders and pushed me down hard on to his waiting cock.
The jolt of so sudden and so public a penetration caused me to cry out in a complex mixture of intense arousal and painful humiliation.
Good girl. I could hear nothing else in the hall but Master's voice telling me that, close to my ear, over and over. Good girl. Well done. There was nothing else but his soothing words, juxtaposed with my exposed vulnerability. My mind knew that the men we shared the hall with were still watching, enjoying, anxious to stroke themselves to climax at the view… but I could hear nothing but Master's comforting voice, and I could see nothing but Master's familiar and beautiful face. Good girl. I'm so pleased with you.
His perverted, public fucking of my traitorous pussy continued and I felt myself becoming lost in submission to his wants. He didn't have to hold me by the shoulders any more, and his fucking became rougher as he bounced me up and down on his cock and my tits bounced in the same rhythm. They undoubtedly distracted him and his comforting words became less frequent. They weren't as necessary now; I wasn't going anywhere. My Master's hands once again roamed my body, and mauled my breasts, pinched my nipples and moved around to explore my waist, hips and arse. I was his, his alone to fuck and use, no matter who else he allowed to watch.
Eventually he could take the eroticism of my tight cunt pumping his cock no more, especially combined with showing off his fuck-toy to an audience. My arms were around my Master's neck, fingers laced over the triple layering of shirt collar, tie and jacket. I felt the heat of his neck on my hands as his head lolled backwards, losing himself to the pleasure. His breathing suddenly quickened in that familiar, revealing way. Sure enough, he let out a grunt as his hips thrust against me, his hands holding me by the waist as he pumped his streaming hot cum deep inside my pussy.
My eyes squeezed closed to enjoy the familiar sensation, that addicting bliss. As he relaxed into the post-orgasmic waves of pleasure, I realised my lip hurt from biting it so much. I had no idea how much noise I had made throughout his perverted fucking, and I was right back at the peak of my self-consciousness in front of the circle of men.
Master wasn't finished yet.
Slipping me off his cock, I could tell how he wanted me next by how he was shifting me around. No, please, I whispered… but Master simply carried on. He wanted more from me, and I was in no position to argue. I was turned around on his lap now, facing out to the sea of male faces looking at me with expectation and undisguised lust. As I had to grip on to my Master's legs under me wherever I could, to stop myself from slipping, my tits were pushed together and my nipples – erect from arousal and pinching – were perfectly presented to their new audience.
I dropped my gaze to the polished wooden floor below, flushed with mortified embarrassment. My long hair fell forwards, following the downward turn of my head, and I was momentarily glad of its curtain against my shame.
Not impressed with my attempts to shield myself from abject humiliation at his hands, Master took steps to relieve me of my minuscule comfort. Gripping my long hair in his fist and cruelly yanking it backwards, my face was forced up once again to meet the horny and now amused faces of my audience. There was no escape. Even when I squeezed my eyes closed against the visual onslaught I could feel their eyes on me, crawling over every millimetre of my body and thoroughly enjoying every second of my humiliating abuse.
Careful to keep my head raised, his grip on my hair knuckling the back of my neck, Master moved to the next part of his delightfully objectifying plan. With his free hand he reached down behind me, between us, to scoop some of the fast leaking cum and pussy juices from my cunt. Using it as filthy lubricant, he coated my arsehole and dipped first one, then two and finally worked a third finger inside to adequately ready me. With this new and shocking invasion I involuntarily tried to leap from his lap… but with Master's grip on my hair keeping me in my place I was going absolutely nowhere.
New sounds entered my mind… unzipping and mumbles of approval from an audience gaining confidence from the view. Daring to open my eyes slightly I was horrified yet taken to the pinnacle of my own arousal to see that several men had released their cocks, unable to resist stroking themselves any longer. This opened the floodgates for the rest, who quickly followed suit. Any pretence of formality and boundaries had completely disappeared now. They were the salivating dogs and I was the juicy meat to be drooled over.
Even though he'd only just taken my pussy, Master was ready again, and urgently nudging his cock tip against my now ready arsehole. With his free hand he positioned it properly, and with a tight pop it slipped inside my most private entrance.
My vision seemed to turn entirely white… like a white-hot heat of maximum exhilaration, humiliation and vulnerability. All at once I was completely nothing – a fuck toy, his rag-doll to use and abuse – and everything. The jewel in the scene, treasured and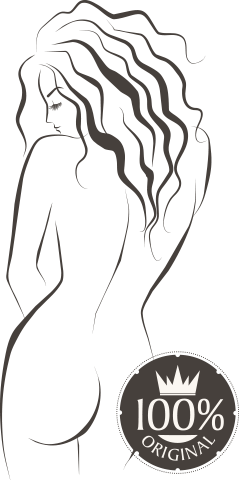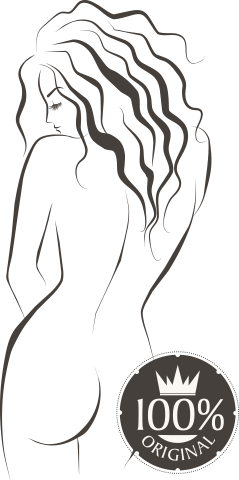 beautiful and envied and lusted after. I could hear nothing but ragged breaths, and the hall seemed fiercely hot. Heat on my back, my Master's breath as he plundered my arse. His grunts and moans filling my ears as he fucked my tight hole, which were echoed by the circle of men masturbating over the perverted performance.
A whisper at my ear.
I'm not stopping until they're all satisfied. Until every single one of them has cum over what I'm doing to you. Look at them! Watching you – my filthy little slut – get taken up the arse by her Master.
Fuck.
It's not often I can orgasm anally, but his words combined with the rough arse-fucking, and the hotness of being watched, unlocked it for me at precisely that moment. I stopped fighting against his grip on my hair, letting my head fall backwards, facing the ceiling, my eyes closed and my mind and body swept away in a tide of pleasure. His earlier invasion of my pussy kept him from losing himself and coming right then in my arse -but the fact I'd lost all control due to his anal fucking did begin a chain reaction. With my noisy orgasm the moans around the circle began.
Master hadn't lied to me.
He didn't stop until every last one of them had cum. Only then did he expel his pleasure into me; the filthy climax of his shockingly perverted show.


This post does not contain any affiliate links
If you've enjoyed this post please buy sex toys here (this *is* an affiliate link and I get a small % of the sale). All pennies raised through affiliate sales go towards keeping this site open and full of sexy stories & more. Thank you!