Satisfyer Pro 4 Couples Review
Satisfyer Pro 4 Couples review by Miss Doll
If you ask me why I decided to become a sex toy reviewer, I'll answer: it's because I'm constantly in search of something that will make my love life merrier and more playful. I feel like sex toys play a big role in my relationship: they've changed the way we perceive sex as a couple, bringing to us the excitement of having always a new entry in our bedroom to try: different colorful designs and different sensations.
That's why I am almost addicted with sex toys targeted at couples: colorful vibrating cock rings, blindfolds, flavored or warming lubes and massage oils, or kissable body paint.
So, I was very excited to try a new couples vibrator: the Satisfyer Pro 4 Couples. I have always needed clitoral stimulation to orgasm during intercourse. Cock rings in my experience didn't always pinpoint the right spot, and I always had in my hand a mini vibe during sex with my OH, leading to him always asking to switch off or put down that damn, noisy thing. I knew the Satisfyer pressure waves were the ideal thing for my clitoris, so I couldn't wait to test them during intercourse!
At a first glance the Satisfyer Pro 4 Couples looks handy and compact and it has a classy look that could appeal my guy too, since he is not a fan of realistic\semi-realistic toys that look just a little too explicit for his tastes; plus, the USB magnetic charger immediately woke up the computer nerd inside him.
I found the Satisfyer Pro 4 Couples control buttons to be quite intuitive and I soon learned they allow you to control vibration and suction separately, and we realized we had in our hands infinite possible combinations to play with, that means hours and hours of fun: that's exactly what we were looking for and expecting from this toy!
The clitoral stimulation from Satisfyer's pressure waves technology didn't fail to impress me as usual, while I felt like the internal part that sits inside my vagina was pushing my OH's penis towards my G spot, like if it was suddenly angled differently than before using the toy, even in the same position. Although, I understand our bodies are different and maybe it's just me!
My guy said the vibration definitely feels pleasurable on his penis, but what he loved most from this toy is the "tighter" feeling he could get
I was surprised to not find lube stuck into the suction hole and the Satisfyer Pro 4 Couples was super easy to clean, since it's waterproof and I could thoroughly rinse it with warm water. We really loved it!
I have been sent the Satisfyer Pro 4 Couples free of charge from the Satisfyer sex toys company in exchange for an honest, unbiased review. Thanks Satisfyer!
10/10
– Miss Doll
---
Where To Buy
Thanks to Pleasure Panel reviewer Miss Doll for this contributed review of the Satisfyer Pro 4 Couples.

The Satisfyer Pro 4 Couples was sent free of charge, in exchange for a fair and honest review by the Pleasure Panel, by Satisfyer Sex Toys. Thank you! 🙂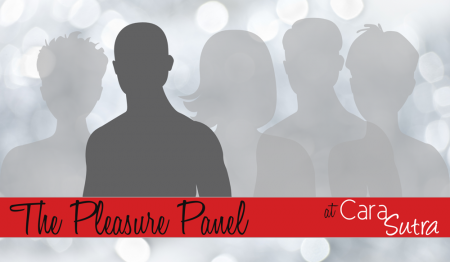 Unaffiliated review