Tantus Touchdown Silver Silicone Butt Plug Review
By Pleasure Panel reviewer Nat and Tom
Tantus are one of the best brands in the business for people who are looking to find well-made, body-safe products at affordable prices and I have been extremely fond of them ever since my first encounter with their toys. If you've read the product page, you'll know that this latest release, the Tantus Touchdown Silver Silicone Butt Plug, was designed and put into production in just three days and released to customers in less than a week. That's incredible. It does however mean taking a bit of a risk and stepping outside of their comfort zone which could turn out in one of two ways. Either the experiment falls flat on its face and leaves people feeling less than satisfied or it makes people remember why they fell in love with your company in the first place.
Based on my experiences, I'd say that Tantus absolutely achieved the latter and have once again left me feeling impressed and eager for more.
The Tantus Touchdown Silver Silicone Butt Plug comes in a plain metallic pouch that takes up minimal space and cuts down on waste but it's not overly exciting so if you're giving it as a gift you might want to wrap it up yourself first. Initial impressions were good. I was honestly a little surprised that this looks and feels like any other Tantus product I've tried, considering the short amount of time that went in to making this toy a reality, but that didn't stop them from making sure that this was kept to their usual high-standards. It was made well and I spotted no obvious flaws or problems.
As the Tantus Touchdown Silver Silicone Butt Plug was made by a company that are renowned for their dedication to body-safety, you can be assured that their unique formula of 100% ultra-premium silicone is exactly what it claims to be. It has been designed to last a lifetime with minimal care so it is odourless, hypoallergenic and free from latex and phthalates. It can be bleached, boiled or even placed in the dishwasher for a thorough clean as there are no vibrating parts. I usually just wipe down with antibacterial cleaner and rinse with water but if I intended to share this with my partner I'd use one of the above methods to minimise the spreading of any bacteria.
The silicone used for the Touchdown has Tantus's signature glossy finish, rather than the matte type they're also known for, so it has less drag and resistance to it than either of the Perfect Plugs. This does not mean you should scrimp on the lubricant though as this is an anal toy and this area does not self-lubricate. I would recommend sticking to a water-based option such as Sliquid Sassy to be sure that there are no interactions with the material but I personally have had no issues using Sliquid's hybrid lubes on the handful of occasions that I've used them instead. Always do a patch test on the base of the toy first if you are using anything but a water-based formula to be sure they are compatible with each other.
Described as petite and beginner friendly, the Tantus Touchdown Silver Silicone Butt Plug is perfect for first timers, people who prefer their anal toys to be small and those who are nervous about exploring butt plugs. It has a small dome, a long neck and a sturdy flared base for safety. You should not use anything anally that doesn't have a base wider than the thickest part of the bulb as that could end up getting sucked into the body and causing an unwanted trip to the emergency room. This one is fairly rigid and secure and I have no concerns regarding unwanted travel at all.
With an overall length of 3.5 inches and a usable length of 3 inches, this plug is definitely one of the smaller options available on the market. The Tantus Touchdown's neck might be longer than the neck on a teardrop shape plug but I think this actually makes it all the more comfortable to wear, especially if you haven't worn one before or are trying to build up the amount of time you can wear it for. The plugs widest point measures in at just over four inches (1.5" diameter) so it's pretty slimline and non-intimidating. If I were new to plugs, I would happily be wearing this for a longer session or just to walk around the house in as the shape and size make it extremely comfortable. I would advise people who plan to do this to keep some lube on hand though as it may require top-ups from time to time to avoid chafing.
Some beginner plugs that I've tried in the past have a very flexible neck and base which means that the toy can move around as it's trying to be inserted and make things more complicated than they need to be but the Tantus Touchdown Silver Silicone Butt Plug has a firm base and bulb which makes things much easier. The neck has a level of flexibility that makes insertion simple as I can move from side to side if needed in order to get the best angle for my body. This flexibility is also a factor in making this plug comfortable enough to wear for longer periods of time and may offer some relief from the pressure of the bulb at times too.
Sensation wise, plugs like this one make the vaginal canal feel tighter, which can be fun for both parties during intercourse. It is noticeable for us both if I'm wearing a plug and although the difference is small because this plug is small, it does make me feel like I've just done a great kegel workout if I'm wearing it during sex. The tapered tip places a subtle but satisfactory pressure against my back wall which is one of my absolute favourite hot spots for sensation and this increases the chances of me being able to orgasm during penetration. I am one of those people who doesn't come from vaginal stimulation alone very often, so the aid of a plug like this one can definitely be useful and help me to enjoy better sex with my partner.
Overall, I think the Tantus Touchdown Silver Silicone Butt Plug is a remarkable product. It would definitely be suitable for beginners and people who prefer smaller anal toys. I'm a huge fan of this product for multiple reasons ranging from the soft silicone to the long neck and the way that it makes sex feel better for both of us. It's affordable, gender neutral and body-safe as well as living up to all of my previous expectations for this brand despite being made and released in under a week so I really can't complain.
Tantus did a great job with this online exclusive and I would not hesitate to recommend their Tantus Touchdown Silver Silicone Butt Plug to fans of anal exploration.
9/10
– NatandTom
---
Where To Buy
Thanks to Pleasure Panel reviewer NatandTom for this review of the Tantus Touchdown Silver Silicone Butt Plug.


The Tantus Touchdown Silver Silicone Butt Plug was sent free of charge, in exchange for a fair and honest review by the Pleasure Panel, by Tantus Sex Toys. Thank you! 🙂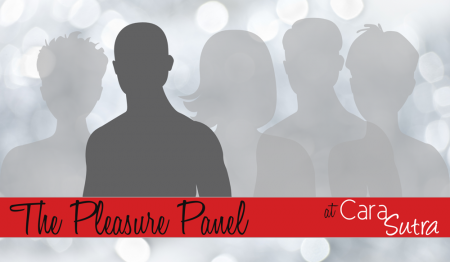 Contains affiliate links.