System JO H2O Lube Cotton Candy Flavoured Lube Review
By Pleasure Panel reviewer FesureMaybe
A little back story this System JO H2O Lube Cotton Candy Flavoured Lube is what kind of attracted me to it in the first place -as I thought it was such a lovely idea. Its history is described as nostalgic to the 1904 when candy floss was first invented at a fair and gives you a very romantic idea especially the year and era it is based on which really gave the product it self a bit of story almost.
The bottle of System JO H2O Lube Cotton Candy Flavoured Lube is actually quite small measuring at just under 11cm so its quite tiny! Don't let that put you off though because this makes it practical for dirty nights away or stashing in a drawer amongst stuff so no one can see it when people decide to go through your drawer!
Related: Read all our System JO reviews
It's a solid tube which does make it slightly awkward to get out and takes quite a bit of umph to squeeze. The lid has a little click lid so it ensures its shut so win win no leakage! Nobody likes leakage of that sort in the bedroom! I suppose if it was too difficult to squeeze with it being a screw top too you could just unscrew it so that overcomes the issue really. The design of the bottle is so pretty if I was to see this on a shelf it would make me buy it more, I love how the colours flow and it is just so pretty to look at with its pinks and purples.
The System JO H2O Lube Cotton Candy Flavoured Lube which is stated on the bottle is safe with natural rubber latex, polyurethane and polyisoprene condoms and also that it is water based. This is a big deal for me when buying a lubricant because I have no desire for any more kids and wouldn't want my protection to fail on me because of a lubricant breaking it so plus one for this lube! It also states on the bottle that there is no added sugar or artificial sweeteners which is good too, not sure if it means I'm allowed to just nom on it when I have a sweet craving though. There is a full list of ingredients on it but be prepared to get your reading glasses on as the writing is tiny and was a big struggle to read. It has the usual bumph of directions for use where to use it etc which by the way can be for either genitals to help "moisturise and lubricate".
So, I've had the pleasure of trying numerous lubricants before and I have to say this has to be one of the best so far. The System JO H2O Lube Cotton Candy Flavoured Lube is clear and see through completely which makes it less obvious you are using lubricant. The consistency of it is fairly runny but not too much to the point if you have the bottle upside down when apply that it runs out so it has a nice balance to it. I was so impressed with how far it went for one dollop. It just kept going and going, I usually prepare to put some more one part way through especially if using for on my male other half but nope! It literally went really far which was amazing.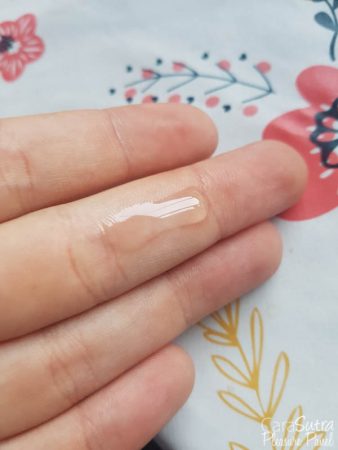 It felt like a more natural lubricant too like it wasn't too thick and felt more like my natural juices so to speak then a lubricant, this to me added to the product itself. The main thing that did let the product down is the feeling after, when your cleaning up and all you can feel is the greasy sticky feeling on you or my hands in this particular case, left a horrible feeling after wards of super sticky and took quite a scrub to get the feeling off my hands.
Overall this System JO H2O Lube Cotton Candy Flavoured Lube especially for the price exceeded my expectations massively. I expected so much less of it and it delivered so much more to me! I would definitely recommend this to anyone as its amazing during foreplay, intercourse any occasion really.
9/10
– FesureMaybe
---
Where To Buy
Thanks to Pleasure Panel reviewer FesureMaybe for this review of the System JO H2O Lube Cotton Candy Flavoured Lube.
Related: Read all our System JO reviews
The System JO H2O Lube Cotton Candy Flavoured Lube was sent free of charge, in exchange for a fair and honest review by the Pleasure Panel. 
Contains affiliate links.