SPIT Silicone Lube Review
SPIT Silicone Lube Review By ATPikachu
Lubricant isn't something i'd ever considered needing a review really – lube is lube, right? Wrong! This is something I've come to learn very quickly this month! The opportunity arose and I thought "Yeah, why not?" I hadn't really delved into the world of silicone lubes before and remained "safe" in the land of water based so this was a refreshing change.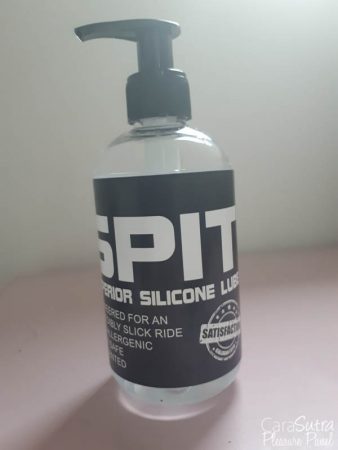 SPIT Silicone Lube comes in a 250ml pump dispensing bottle. It's clearly labelled SPIT and the design is nice and simple and user friendly. I favour pump action dispensers – less messy!
The SPIT Silicone Lube is clear, unscented and not too viscous, a little thicker than most water based lubes but not heavy. It spreads easily and lasts a good while before you need to use any more – always a bonus!
On the bottle the SPIT Silicone Lube is marked as paraben free, hypoallergenic and latex safe as well so don't be afraid to use it if you're also using condoms. Also, it is dermatologically tested and suitable for all skint types so you can't really go wrong!What I did really like was the addition of aloe Vera – it left my skin feeling nice and moisturised even after washing it off with soap.
For those not in the know, silicone based lubricants don't dissolve in water like water based lubes do – so you have to wash them off with soap. This makes them ideal for water based play! Hooray for silicone! Just remember you can't use silicone lube on silicone toys and accessories – it'll ruin them, don't do it.
So, how did I find it? The SPIT Silicone Lube did exactly what it said it would. It felt good, lubricated well, left my skin feeling soft and moisturised even after being washed off with soap and lasted plenty longer than the average water based lubricant.
Honestly, it's perfect for anal play as it lasts so much longer than water based but it's also really good for intimate massage and masturbation. Don't overlook silicone in favour of the "more commonly used" water based…just remember you can't use it on silicone toys and everything will be fine.
I really can't overstate how soft my skin felt afterwards, I really can't.
SPIT Silicone Lube: 9/10
– ATPikachu
---
Where To Buy
Thanks to Pleasure Panel reviewer ATPikachu for this review of the SPIT Silicone Lube.
Buy yours from Clonezone Direct.


Contains affiliate links