Oxballs Sackjack Ball Sling And Penis Stroker (Frosted) Review
By Pleasure Panel reviewer Miss Eve E
Thank you to Cara Sutra for giving us the odd yet highly entertaining Oxballs Sackjack Ball Sling And Penis Stroker to review.
My Opinions
I requested to review the Oxballs Sackjack Ball Sling And Penis Stroker, because it looks like nothing I've ever seen before. Have you ever seen a penis stroker with balls? I bet not. It has provided a hours of entertainment, for me and everyone I show it to. I admit, it's become a bit of a party piece when people come round.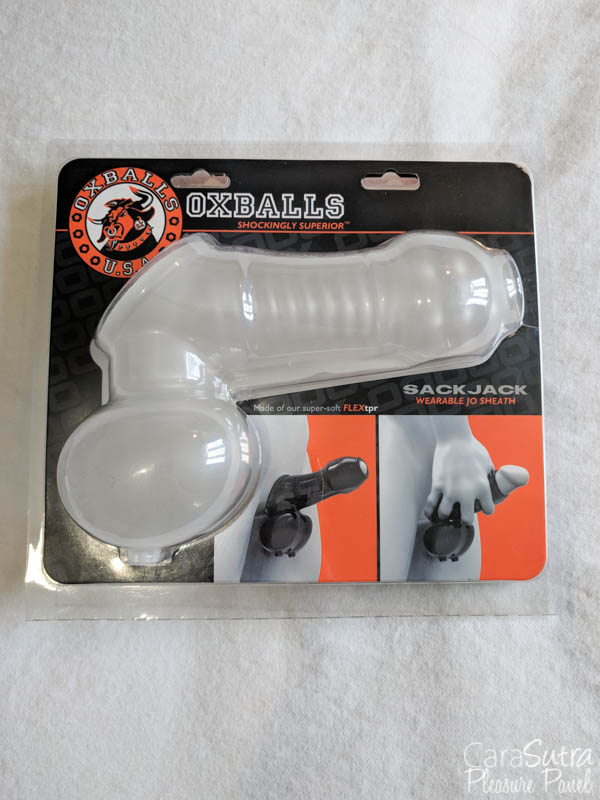 Unfortunately, I do not have a penis. I did try putting this on a plastic cock, but I can assure you it's not worth the effort. It's really difficult, and you don't really get any satisfaction from it, you just get frustration.
All jokes aside, what I really like about the Oxballs Sackjack Ball Sling And Penis Stroker is that there air holes/drainage holes. There are holes for the balls so when you trying to manoeuvre your balls into the rubber, you don't trap air in the tight enclosed space, and end up doing whatever the sex toy version of queefing is. Another thing I really like, is the rigidity. I was quite surprised when I took it out of the case, I put off taking pictures of it for a good few weeks because I thought it would be a nightmare to photograph. It wasn't. It's thick, and it's sturdy
This is a review where the Gent actually has to give me more than a few words. So enjoy!
The Gent's Opinions
All the textures don't do anything because when your balls are in the sling there is no flexibility to the toy. The ball sling is also painful, a pain to get your balls in – you might accidentally pop them back inside you instead, and it's completely useless. It gave nothing to my enjoyment of the toy – if anything it detracted from any decent sensation there might have been. Used just as a stroker, there is some sensation – there's less rigidity to the stroker textures, but it's nothing like other penis strokers. There's barely any sensation.
It is rigid, and hard. I do not like it.
The Positives
Non-toxic
The Oxballs Sackjack Ball Sling And Penis Stroker is made from skin safe rubber. It's non-toxic, and phthalate free.
Hair doesn't catch
The type of rubber means that when you're trying to stick your balls through a very  uncooperative hole, you're not to give yourself an impromptu wax.
Thick Skin Safe Rubber
What I quite like, and the Gent also thinks is good, is that it's quite sick cock stroke. It's not flimsy, and when you try to take pictures of it it will actually stand up!
Stretchy
I will admit, it has got some stretch to it! If you've got a bit of strength the Oxballs Sackjack Ball Sling And Penis Stroker will stretch enough that attempting to pop your balls in the sling might seem feasible.
The Negatives
Takes Some Manoeuvring
It's not exactly a sexy toy. Getting it on, at least from my perspective looks a bit traumatic, and according to the Gent it really is. Whilst your hair won't catch, your skin will – particulate if you're trying to push your balls in with lubed up hands.
Colour
The Gent and I agree that the Oxballs Sackjack Ball Sling And Penis Stroker would be better in silver. This is mostly down to the look of the toy, as you can see there are bits of rubber hanging off, and I think it just looks more polished with a silver sheen.
Odor
As with a lot of toys, the Oxballs Sackjack Ball Sling And Penis Stroker has quite an odour to it when you first get it out of the packaging. It does seem to faded slightly after some time, but if you're sensitive to chemical smells keep this in mind.
The Ball Sling is Useless!
It adds nothing to the experience, and according to the Gent his balls looked 'sad' in the ball sling. I agree.
Going Solo
It's not something I could put on. It's one of those toys that's best left to the person you want to put it on, otherwise you might accidentally punch them in the balls if your lubed hands slip whilst stretching the rubber. *ahem*
Conclusion
Whilst it seems like it could be good idea, it really should sit on the novelty shelf. We've gotten more enjoyment out of it by showing it to friends, than actually using it. For those with CBT interests it might be interesting to play more with the ball sling – experimenting with tugging more, or lubing it up with Deep Heat before passing it to your willing victim. Not that  the Gent would let me try that on him.
Ultimately, I think the Gent sums up our feelings of the toy rather well: "it's a useless toy, and I never want it near my penis again."
We'd say the Oxballs Sackjack Ball Sling And Penis Stroker earns a 2 out of 10.
– Miss Eve E
---
Where To Buy
Thanks to Pleasure Panel reviewer Miss Eve E for this review of the Oxballs Sackjack Ball Sling And Penis Stroker.
This masturbator was sent free of charge, in exchange for a fair and honest review by the Pleasure Panel.
Contains affiliate links.