MEO Little Johnny Steel Dildo Review
By Jezebella
MEO Little Johnny Steel Dildo review: I'm a big fan of hard, cool dildos, owning a few beautiful glass ones that I regularly use. So when I saw there were steel dildos on Cara Sutra's sex toy tester product list I leapt at the chance to try one.


Enjoy all our metal sex toy reviews
The MEO Little Johnny Steel Dildo arrived in a lovely solid leather covered storage box. I really love and appreciate that MEO took the extra effort to provide such a discreet and study case to keep the dildo in. It's basically a little wooden box that has been upholstered all over in leather type material (I don't think it's real leather, but it doesn't need to be in my opinion). The top surface of the box even has some padding in it which is a nice touch. The top and bottom of the box is black and the sides are a bright red, which I love, but might be a little garish for some people's taste. There are two brass fasteners on the front of the box to keep it securely closed, the style of which really gives the box an antique feel to it. There are also 4 little brass studs on the back to hold on the piece of leather that covers up the hinges. Inside the box is lined with a lovely black satin and velvety material. It's extremely padded and has a moulded out shaped for the dildo to sit in. The dildo is both presented beautifully in the centre of the box, it's hard, shining metal in stark contrast to the soft, dark satin cushion, and is completely protected from rattling around. The great thing about the box is there is absolutely nothing to signify that it holds a sex toy, if it was out on a shelf no one would ever know a dildo was inside unless they opened it.
However, what is a bit strange to me is that they went to all this effort to make this lovely storage case, and the result is kind of shabby. All my above description holds true, but on first inspection of the exterior of the box it seemed dirty, as if I had actually picked it up in an antiques store. Why would a new product be dirty? You can see a lot of glue where the "leather" has been glued on coming through the edges and the seams are a bit rough and not aligned properly in places. Inside, the satin padding has been really shoddily sewed in to the bottom; rough cut edges of material poke out all over the place. I don't really understand it, it kind of turns the luxury presentation box (which I'm sure was the intention) into something that feels very cheap and tacky. Saying that, a badly finished box is much better than no box at all, so it's an A for effort and a C for execution in this case.
Enough about storage, on to the star of the show; Little Johnny the steel dildo! The first thing I notice about the MEO Little Johnny Steel Dildo is it is heavy! That is the main difference between glass and steel dildos in my opinion, there's a real weight to steel. I popped Little Johnny on my kitchen scales and I can tell you it weighs 640g, quite a heft for a little guy! Although it's named Little Johnny, it is about 7 inches in total length, so not super small. Both ends have a bulbous head that leans forward a little, designed to effortlessly apply pressure to the P-spot or G-spot. One head is smaller than the other and the shaft gets gradually slimmer away from each head. This means that the dildo is very top heavy (or bottom heavy depending on which way up you hold it).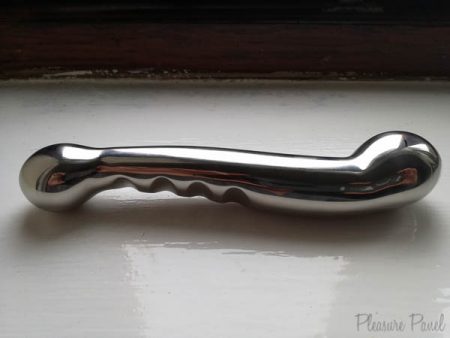 On the underside of the smaller head there are 4 deep ridges cut into the steel for a bit of texture and enhanced stimulation. Apart from them the dildo is completely smooth, there is not a seam or nick anywhere; it feels like a really high quality and well-made product. The shine on the metal is perfect, I can use it as a mirror it's that good. And If you wanted to polish it I'm sure it'd polish up good (although I definitely DO NOT recommend using polish on it and then putting it inside any part of your body!). It smells metallic, kind of like coins, but after a wash with some anti bacterial soap the smell fades somewhat but is still present.
I used this dildo as a G-spot toy, being female I lack a prostate to try it on, so I can only comment on its use as such. I started off with a warm up using a bullet vibrator on my clit to get nice and aroused. Then I added some water based lube (although being steel you can use whatever lube you'd like), and slipped the smaller head into my vagina. This worked pretty well as a starter, and the ridges did give me a nice extra bit of stimulation to the entrance of my vagina. The curved head did apply a nice bit of pressure to my G-spot, but I quickly wanted a more intense feeling.
I swapped the dildo around so the larger head was putting pressure on my G-spot. I turned over so I was lying flat on my stomach, and this is where all the steel really came into its element! Because it's so heavy it puts a lot of pressure onto the front wall of my vagina, just being in this position was doing most of the work to bring me to orgasm. That large bulbous head easily found the right spot and it didn't take me long to have a massive G-spot orgasm, no clitoral stimulation required. That in itself is a pretty impressive feat for me.
Overall I've really enjoyed my time with the MEO Little Johnny Steel Dildo. It's a fantastic shape for G-spot stimulation, it's a beautiful object to look at, and all that weight really does add something special to my orgasm. I'd like to thank Cara Sutra for providing it to me for an honest and unbiased review.
– Jezebella
---
Thanks to our reviewer Jezebella for this review of the MEO Little Johnny Steel Dildo.


This product was sent free of charge, in exchange for a fair and honest review here at the Cara Sutra sex blog. This review contains affiliate links.