Loving Joy Triple Ripple Anal Beads Review
By Stickywicket
The Loving Joy Triple Ripple Anal Beads are packaged up in black cardboard with a plastic inner shell. On the rear of the toy's packaging is a little more of a description which gives a helpful suggestion of heating or cooling them for an added sensation. I would guess heating these anal beads would involve submerging them in hot water, and cooling them would be to put them in the freezer?
Description
There's just one thing I didn't like about the anal beads packaging, and that's the suggestion you explore 'previously forbidden pleasures'. I find describing anal play as forbidden a bit of a turn-off – well, actually I find it a lot of a turn-off, what is forbidden about enjoying part of your body? Not sure why they've gone with this statement.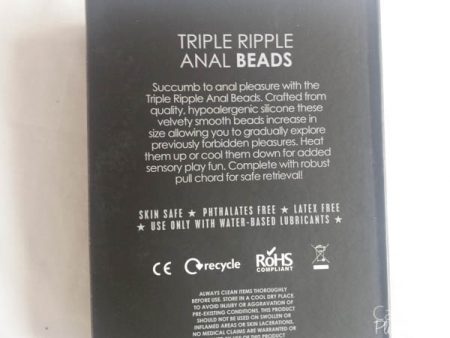 Design
Anyway I'm here to review the anal beads for their sensation more than anything. Three solid but slightly squishy silicone balls are connected all in line, and they feel well connected too. At the end of the largest ball is a loop that is used to remove the anal beads afterwards, and you don't want to be pulling a loop only for nothing to follow! That's not a worry at all with the Loving Joy Triple Ripple Anal Beads.
Insertion
The three balls on the anal beads are well sized. This toy is great for a beginner or someone more experienced with anal play looking for a bit of a return to basics. The first two balls are a doddle to insert with a small amount of lube. The third and final ball is a bit bigger and takes a moment more to insert but if you're relaxed there will be no problem. It's a nice, satisfying size and nothing too big or intimidating.
The Loving Joy Triple Ripple Anal Beads feel good moving about during sex and solo play alike. It's great to pull these out at the magic moment for great intensity too.
Clean-Up
Clean-up is a doddle. There's no seam on the edges, run the anal beads under a tap with soapy water and dry well, this is a toy that if cleaned well will last you years.
Conclusion
A good return to basics for anal play from Loving Joy, a no-nonsense toy that just delivers. No batteries to worry about, just easy going fun for singles and couples alike to enjoy. A firm 8/10 here, and thanks to Cara for giving me the opportunity to review the Loving Joy Triple Ripple Anal Beads.
– Stickywicket
---
Where To Buy
Thanks to Pleasure Panel reviewer Stickywicket for this review of the Loving Joy Triple Ripple Anal Beads.


These anal beads were sent free of charge, in exchange for a fair and honest review by the Cara Sutra team.
Contains affiliate links.