Fun Factory Bück Dich Review
By Pleasure Panel reviewer GenderQueer
The Fun Factory Bück Dich is a 2-in-1 toy that I have had my eye on for a while. Made of silicone; It functions as both a spanking paddle and a dildo. The name Bück Dich actually means 'bend over' in German which I think is quite fitting!
It was the dildo portion of this toy that initially drew me to it. It is very similar if not identical to the Fun Factory Stronic Drei and its texture and curve are what really tempted me. My partner and I don't usually partake in spanking as part of our play so we were excited to try something different. This would be my first time owning a spanking paddle that is made of silicone rather than the usual paddle materials of wood or leather.
Packaging
The Fun Factory Bück Dich is available in the UK & in the USA
The packaging of the Fun Factory Bück Dich is in the same style to all other Fun Factory toys that I've owned. It is simple and tasteful. A leaflet included gives basic information on how to use and clean the toy and this includes illustrations. A warning in this leaflet points out that users should be careful not to hit areas like the spine or near the kidneys when spanking.
One of the first things I noticed about the paddle is that it has a nice amount of weight to it. I had expected it to be purely made of silicone but when bending it you can feel that there is a more solid core inside the silicone. This core is quite thin inside the paddle portion of the toy and still leaves it flexible. The core then extends up through the length of the dildo/handle and this part of the toy feels more solid.
Measurements
The total length of the Fun Factory Bück Dich is 12 and a half inches
The insertable Length of the Dildo/Handle is just under 5 and a half inches
The diameter of the shaft is 1.5 to 1.7 inches
The Fun Factory Bück Dich is safe for anal use.
As A Paddle
We first tried out the Fun Factory Bück Dich as a paddle. I offered myself to be the spankee and found that the Fun Factory Bück Dich does pack some punch. We found it very easy to use for both gentle and more stinging spanks.
One side of the paddle is smooth and the other side is textured. I was unsure as to whether this would affect the 'spankees' experience much but sure enough it made a noticeable difference. The smooth side of the paddle has much more of a sharp sting to it while the textured side gives a duller hit. We didn't use the Fun Factory Bück Dich too roughly but I experienced just a couple of over enthusiastic spanks from my partner and I can see it working well at providing everything from gentle to intense spanking sessions. It's a bonus to have the two sides providing such different sensations.
As A Dildo
My first time using the dildo portion of the Fun Factory Bück Dich was by myself vaginally. I had hopes that the highly textured and curved shape would work well for G-spot stimulation. A generous amount of lubrication is required with this toy. The silicone has quite a drag to it and it's textured shaft calls for particular care when lubing it up. It helps to ensure lube is applied to every ridge along the toy. As this is a silicone toy, water based lube is ideal. Silicone lubricants can cause damage to silicone toys.
When used vaginally this wasn't all that I had hoped for. The build of the toy was too solid for my tastes and this mixed with all the ridges didn't work for me. I almost felt overwhelmed by it but at the same time it didn't quite hit the G-spot for me.
This was actually good news for my partner though as I offered to use the toy anally on him to see if this worked well as a prostate toy. Again lots of lube was necessary. This time we had great success. My partner is a huge fan of texture and ribbed shafts on toys and this went down a treat. The level of stimulation was intense and with just a little bit of angling from me it found the prostate. At roughly the size of an 'average' penis it didn't require much warm up but I needed to reapply lube once or twice. It was only minutes before my partner experienced a prostate orgasm.
The ridges are so pronounced on the Fun Factory Bück Dich that texture lovers will love it.
Conclusion
Overall this toy surpassed our expectations in two out of the three uses we wanted it for. When used vaginally it didn't work for me personally but I see this as a matter of personal taste. I expected the shaft to be more flexible and I know that firmer toys are generally not to my taste. However, I can still see myself and my partner using this toy regularly. I enjoy it as a paddle and he loves it for anal play. This will likely be one of our most used toys. The prostate stimulation from this is enough to have us reaching for it often.
Cleaning the paddle after use is easy. We use warm water and mild soap or toy cleaner after use. We take particular care to clean the toys ridges. One downside to a silicone paddle is that it can attract dust but then it is easily to clean before use. Careful storage of the paddle between uses helps to avoid this too.
We'd give the Fun Factory Bück Dich a rating of 8/10.
– GenderQueer
---
Where To Buy
Thanks to Pleasure Panel reviewer GenderQueer for this review of the Fun Factory Bück Dich.
You can buy yours here at funfactory.com – it's also available here in the UK & here in the USA.
The Fun Factory Bück Dich was sent free of charge, in exchange for a fair and honest review by the Pleasure Panel, by Fun Factory Sex Toys. Thank you! 🙂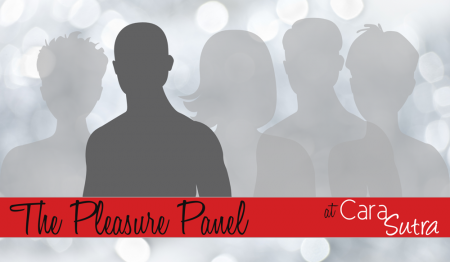 This review contains affiliate links.