Durex Pleasure Me Condoms Review
By Puspus
I received Durex Pleasure Me Condoms (x6 ribbed and dotted condoms) in the November Pleasure Panel. I was excited to review condoms for the first time.
Enjoy all our Durex reviews
The 6 condoms come in a fun, colorful cardboard box. The Durex Pleasure Me Condoms are packaged individually in a pink and Silver foil/plastic pouch. When the condom foil is opened the condom is lubed up and ready to use. The condoms just have a light latex smell, but nothing gross or overpowering. The condoms are see through but they have a light brownish/yellowish tint to them, again nothing out of the ordinary.
I tested the Durex Pleasure Me Condoms with different sex toys and in various different ways and orifices.
Vaginally:
I used the Durex Pleasure Me Condoms with my VixSkin Mustang- dildo. The condom is easy to roll on, just pinch the tip so no air gets trapped between the condom and the dildo and roll the rim to the base of the dildo. I also added some extra water based lube (My favourite is any sliquid lube) because the condom itself wasn't lubey enough for my vagina. Adding the lube with my hand I could feel the settle ribs and dots tickling my fingers. And I was curious if I could feel them in my vagina.
The answer is yes and no. Yes, they add some frictions and a hint of texture but I mean, just a tiny bit. At least my vagina canal is not so sensitive and discerning that it would feel the tiniest little latex bumps, but I mean, nothing negative to say.
Butt stuff:
I often use a condom when I do anal play, just so the after cleaning is easier and faster. I started by using a curved glass dildo.
I rolled the condom on, added more lube and started gentle anal stimulation. I could feel the ribs and dots on my anal rim. Obviously I couldn't feel single bumps  and lines but the feeling is more like a slightly grainy texture. It was ok. I personally wouldn't use it for anal, just because I and my butt  like smooth textures with butt stuff.
Orally:
I love oral sex! So I also love practicing my blowjob skills on dildos. I used my Vixen Creations Vixskin Mustang to try the Durex Pleasure Me Condoms with.
Most important thing when giving condom BJs is that the condom tastes and smells ok. And yes the Durex Pleasure Me Condoms were all good in the taste/smell department. It was slightly latexy, but for me, totally fine. My mouth is the most  texture discerning  from all the ways I tried the condom. My lips, tongue, inner cheeks, the roof of my mouth and throat could feel texture. Again the dots and ribs are more of an overall texture feeling, not individually felt. Orally it was a nice feel, nothing extreme but something different than just a smooth condom.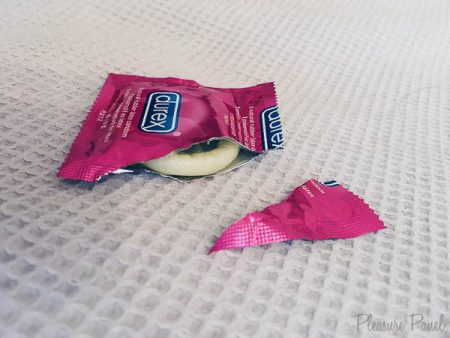 Overall I did like the Durex Pleasure Me Condoms. I used them all in different ways and it was a fun and an adventurous testing process. In the end a condom is made too keep us safe and healthy. It is made to prevent STIs, STDs and unwanted pregnancy. It is an amazing little latex sheath with a big purpose. And any ways condoms are made fun, easy and pleasurable to use, I am glad and happy to recommend them!
Rating 8/10
– Puspus
---
Thanks to Pleasure Panel reviewer Puspus for this review of the Durex Pleasure Me Condoms.
This product was sent free of charge, in exchange for a fair and honest review by the Cara Sutra team.
This review contains affiliate links