I was recently privileged to review the Rocks Off Slap n Tickle Kit, which included the RO-100mm Soft Tip Bullet (Red), as well as reviewing the RO-80mm bullet vibe and the RO-140mm Soft Tip Bullet Vibrator too.
In my past I have had the RO-120mm bullet vibrator in Pink but my Chrome one unfortunately suffered an accident with water in the battery compartment before I had a chance to review. This was a long time ago now, but Rocks Off very kindly replaced my Chrome 120mm bullet vibe and I am duly reviewing it here.
The RO-120mm Chrome is, strangely enough, 12 cm in length and quite chunky too. It's circumference is 3.2 inches.
I got the RO-120mm Chrome directly from Rocks Off, who as always, delivered discreetly, fast and professionally.
Set inside a plastic moulded insert, in a hinge lid box with front window, the RO-120mm is presented well and could be given as a gift. It also comes with a little Rocks Off leaflet/catalogue. It's an especially nice toy for those who don't like the traditional rabbit vibrators, or phallic shapes – or even tend to stay away from jelly or silicone materials.
The RO-120mm Chrome is made from chrome plated ABS plastic so you can use any lubricant you like with it – water based, silicone, special effects, oil etc. I tend to use water based for my play times as it's easily washed off and I don't have to worry about staining clothes or sheets.
This RO-120mm Chrome vibrator takes 2 x AAA batteries which are included.  Hurray! No dodgy watch batteries here! You just need to unscrew the end of the bullet vibe to reveal the battery compartment, remove the paper protective disc and replace the cap. You need to screw it on tightly, to ensure it will work and also the rubber sealant ring makes this vibrator waterproof. There are markings on the end and the vibrator's shaft that you line up to make sure you've screwed the end back on tightly enough.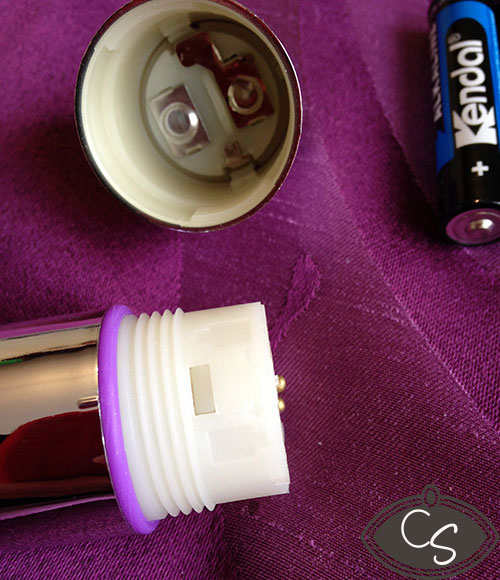 Unlike the smaller, one speed RO-80mm bullet vibrator, the RO-120mm Chrome has 5 different settings to discover.
These are:
Constant vibration
Medium speed constant vibration
Fastest constant vibration
Pulsing vibration
Ascending vibration, repeating
To activate and reach the first setting, simply press the end button. It's soft and made of silicone and easy to find. You then press again to reach the next setting and so on. To turn the vibrator off, just press and hold until it turns off. When you press again, the vibrator will once more be on the first setting, no matter where you turned the vibrator off from.
Even though my last RO-120 Chrome got water on the inside and was then damaged, I wanted to try out the waterproof ability of this new one. I'm not entirely sure my first one had the lining up markings that this new one does, either. Taking it to the shower, I was glad I decided to use it there first. It's not the quietest of vibrators on the fastest constant vibration setting.
It was easy to hold due to the size, despite being mostly smooth apart from the shaft logo indented (just like the other Rocks Off bullet vibrators) and the button on the tip.
I could have used silicone lubricant in the shower but I decided against; the vibrations were quite strong enough so it didn't take long at all to achieve the desired effect.
By quite strong I mean not up to LELO Smart Wand level, but for a bullet vibrator I think this is my favourite Rocks Off other than the RO-80mm. The silicone tips of the Soft Tip bullets are better in the dry; for wet occasions in the bath or shower you can't beat the smooth hard chrome of the 80 or 120.
Of course with the 120mm you get a choice of 5 settings instead of just one.
Using it in the bedroom, you need to make sure your walls aren't paper thin or at least that there aren't people in close proximity who you don't wish to know you're having some secret play time. It's still a great toy but I must say I prefer it in the shower, it's also better for me to use while standing.
It's not angry wasp level – not quite, but it's not silent either. If you don't mind having it on the lowest constant vibration level then it does dramatically decrease the noise emitted. More like a purr at that point.
As it isn't a phallic vibrator yet still combines vaginally penetrative and clitoral stimulation capabilities, this is a great vibe to have hanging around, especially in the bathroom.
12cm (120mm) is approximately 5 inches in length so it's like a hugely upgraded Lady Finger vibe, which takes decent batteries, offers 5 speeds, waterproof capabilities and the power that Rocks Off are known for.
When you think about it like that, it's a bargain buy, even for the price tag of £19.99.