YES WB Organic Water Based Lubricant Review
By RomanticIsa
Here's my review of the YES WB Organic Water Based Lubricant which was kindly sent to me for review by Cara Sutra.
Enjoy all our YES Lubricants reviews
Packaging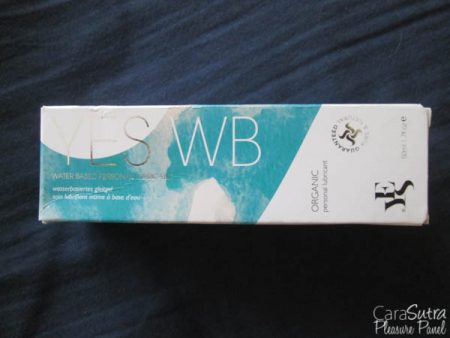 This lube comes in a little tube packed in a box. The tube itself is relatively small and stands on its end. The lid pops up quite easily so you're not fumbling with the tube while you are in the middle of play. The only criticism of the tube I have is that the opening itself was quite large.
The YES WB Organic Water Based Lubricant is not too thick, so when we first used it, hubby squeezed far too much on as he was used to our other lube which is a lot thicker. I think this lube could even be packaged in a bottle with a spray nozzle.
Consistency
As I said above, this lube is not one of your thicker lubricants. In fact, apart from the Durex Play lubricant, it is probably one of the thinner ones I have used. That doesn't necessarily need to be a bad thing; in face, hubby likes lube that is thinner as it is usually easier to wash off after.
My Experience
Just because the YES WB Organic Water Based Lubricant is not very thick doesn't mean it doesn't do the job well. During a long session with hubby, we only had to reapply once, which is pretty good. Once we got used to how fast the lube came out of the tube, we were able to make sure we didn't use too much. During solo play I prefer a slightly thicker lube, though so this YES water based lubricant would not be my first choice to use with a dildo or vibrator.
Formulation
The reason I gave the YES WB Organic Water Based Lubricant 9 stars is because of its organic formulation. Reading the ingredients, there is nothing in the lube that I am hesitant to put in my vagina, which is a big plus for me. My pussy also didn't feel irritated after sex, as it sometimes does with lubricants with more chemicals.
YES WB Organic Water Based Lubricant rating: 9/10
– RomanticIsa
---
Where To Buy
Thanks to our reviewer RomanticIsa for this review of the YES WB Organic Water Based Lubricant.
This product was sent free of charge, in exchange for a fair and honest review by the Cara Sutra team. The review contains affiliate links.