Tantus Vamp Super Soft Silicone Dildo Review
By Pleasure Panel reviewer Married2Sexy
The Tantus Vamp Super Soft Silicone Dildo is the first realistic dildo we have in our collection.  I pulled the trigger when there was a 50% off sale on Black Friday.  I have read wonderful reviews regarding this as a favorite product of many, so I had to give one a try.
I really appreciate the speed of delivery, particularly during the busy season.  Within a week I received the discreet package and the night arrived for my wife and I to take it for a trial run.
The Tantus Vamp Super Soft Silicone Dildo is made of body safe premium silicone with a soft squishy construction.  The shaft is ridged, but has some flexibility.  It is not floppy, so insertion is smooth.
Its circular base makes the Tantus Vamp Super Soft Silicone Dildo o-ring strap-on harness compatible and safe for anal play, but does not provide suction or a place for a bullet vibrator.
The design resembles a penis with a head and veiny shaft.  There is a pronounced vein-like feature running down the top middle of the velvety smooth shaft.  The insertable length of 7 inches is well balanced with its 1.7 to 1.75 inches in diameter (5 ¼ inch circumference).
The craftsmanship is flawless and I can understand why Tantus leads the pack.  The eco-friendly and hypoallergenic silicone can be boiled, bleached, or dishwashed to give it a good sterilization.  The only flaw I can see in this silicone is its love for lint collection.
My purpose of purchasing the Tantus Vamp Super Soft Silicone Dildo was to provide an opportunity for my wife to experience a large penis penetrating her and for me to pleasure her in a new way.
The packaging provided a protective environment for shipping, but is nothing special and I did not keep it around to store the toy in.
I consider the Tantus Vamp Super Soft Silicone Dildo to be our first large dildo.  With our wonderful NJoy Wand experience, I wondered if the Vamp could match or exceed its success.  I am average in size and have never been intimidated with the use of toys, but when I first saw and touched the Vamp, I was a wee bit jealous.  When I showed my wife, she was wondering how she was going to receive something so large.
I know this is not the girthiest toy out there, but the Tantus Vamp Super Soft Silicone Dildo is a sight to see.  Using a liberal amount of water-based lube, the Tantus Vamp Super Soft Silicone Dildo filled my wife causing her to moan with each stroke.  Gliding in and out, the toy became covered in her enjoyment.
The firmer vein running the top of the shaft, gave her a wonderful pressure on thrusting.  The circular base allowed me to always have a firm grip, even when things became slippery.
She loves her A-spot stimulated.  I can reach it with my fingers, but it is very position dependent when penetrating her with my penis.  There is no position dependency with the Tantus Vamp Super Soft Silicone Dildo.  I can run it along her g-spot and into her A-spot, bringing her closer to cumming.  Though she does not orgasm from penetration alone, it only took a little rumbling from the We-Vibe Tango to send her into a leg-clutching orgasm.
After using the Tantus Vamp Super Soft Silicone Dildo to fulfill her needs for the evening, it cleaned up well with soap and water.  Success.  Lying there in total euphoria, this toy has been added to our top toy list, sharing the ranks with the NJoy Wand, and We-Vibe Tango.
The Tantus Vamp Super Soft Silicone Dildo is quality.  The construction, shape, and size show Tantus, as a company, cares about a customer's pleasure.  I am beginning to shape some fantasy that include the Vamp.  I would highly recommend the Tantus line.  Though our experience is solely the Vamp, I could see adding a few more of their products to our drawer.
10 out of 10
– Married2sexy
---
Where To Buy
Thanks to Pleasure Panel reviewer Married2Sexy for this contributed review of the Tantus Vamp Super Soft Silicone Dildo.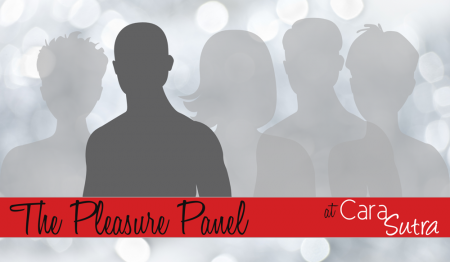 This review contains affiliate links.