System JO Premium Jelly Silicone Based Personal Lubricant Review
By Pleasure Panel reviewer Nat and Tom
As a couple who use lube for every sexual encounter and review sex toys on a regular basis we can never have enough bottles on hand. If we are not using silicone sex toys then we usually use silicone based lubes as they are slicker and tend to last longer than water based options. The System JO Premium Jelly Silicone Based Personal Lubricant stuck out to me on October's Pleasure Panel listing as the word jelly implies that it has a thick consistency and there's nothing I love more than a thick lube.
Related: Read all our System JO reviews
The System JO Premium Jelly Silicone Based Personal Lubricant arrives in a 120ml tube that has a black and silver colour scheme. It is also partly clear so you can easily see how much product is left. The front just shows the branding and product name whilst the back reads a basic description, directions for use (in a couple of different languages) and a list of ingredients. It has a flip top cap that opens to reveal the dispenser. You need to unscrew the lid before the first use as it has a foil seal that needs to be pulled back to release the product. I've kept the seal on so I can cover the dispenser when the product isn't in use to keep it as fresh as possible.
Before going any further, it's worth mentioning that caution should be used with other silicone products. It's typically advised not to combine silicone with silicone as they can sometimes interact if the grades used aren't the same quality. If you are out of other options and must use it with a silicone toy always do a patch test on the base first to see how the two react with each other. You should also be cautious with surfaces, bed sheets and clothing as silicone lube is known to stain things. I usually use waterproof, wipeable sheets with these lubes to avoid this problem but if spills should occur on surfaces remove them as quickly as possible. Top tip: some antibacterial toy cleaners actually work well for removing residues from surfaces and clothing.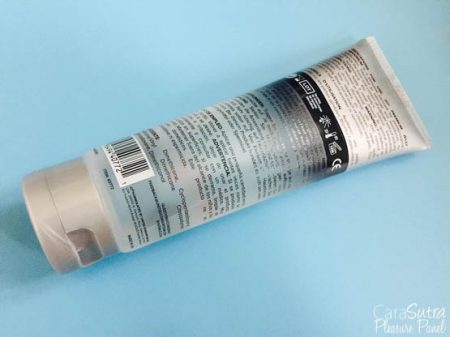 This System JO Premium Jelly Silicone Based Personal Lubricant contains no parabens, glycerin or propylene glycol, which reduces the risk of irritation as those ingredients tend to be the major problem starters. It has a small ingredients list overall which is a good sign to me as lubes with less ingredients tend to be better for the body in our experience. My partner and I both have sensitive skin and have had flare ups in the past so always recommend carrying out a patch test before use. We had no reactions to this one whatsoever.
We were both extremely pleased with the consistency of this System JO Premium Jelly Silicone Based Personal Lubricant and it definitely ticked all of our boxes. It mimicked natural lubrication, glided across the skin with ease and removed unwanted friction and discomfort. It's decently thick as we expected which means it's not runny or tacky and it can be used for either vaginal or anal sex. You don't need much of this to make insertion feel comfortable whereas I'd have to use five times the amount of water based lube to get the same results. It rubs in well, leaving no evidence that it was ever there, and has no noticeable odours upon application, use or afterwards.
Not only can the System JO Premium Jelly Silicone Based Personal Lubricant be used for vaginal and anal sex, but it can also be used with glass, metal and ceramic sex toys. We love using it with glass/metal butt plugs in particular as it lasts a long time so we can wear the plug for hours without needing to take it out to top-up on the lube. Toys will need a thorough scrub with soapy water to remove traces after use, particularly if they are textured, but I think that's a fair bargain considering the benefits that you get. The uses don't stop there though. It could also be used for masturbation, massage, shaving, taming fly-away hairs, chafing and aquatic fun. Silicone lubes don't wash away with water which means they are perfectly suited to bath or shower play.
Overall, I think this is the best lube I've tried from this brand to date. System JO have definitely stepped up their game and done a great job creating this product. It suits our needs well and we would be happy to recommend it to other silicone lube lovers. I struggle to find affordable silicone lubes that are thick enough for me to engage in comfortable anal sex but this one is just about right.
If you've been looking for a lube suitable for that purpose then I would gladly point you in the direction of the System JO Premium Jelly Silicone Based Personal Lubricant as we had great experiences with it.
10/10
– Nat and Tom
---
Where To Buy
Thanks to Pleasure Panel reviewer Nat and Tom for this review of the System JO Premium Jelly Silicone Based Personal Lubricant.
Related: Read all our System JO reviews
This product was sent free of charge, in exchange for a fair and honest review by the Cara Sutra reviews team.
This review contains affiliate links.