System JO Gelato Hazelnut Espresso Lube Review
By Pleasure Panel reviewer CandySnatch
Having already tried System JO Gelato Crème Brulee for Pleasure Panel I was expecting great things of this one, the System JO Gelato Hazelnut Espresso Lube. System JO Gelato is a range of dessert based flavoured lubes with such delicious offerings as Salted Caramel and Mint Chocolate.
Related: Read all our System JO reviews
Presentation
Coming in a 30ml little flip top bottle, the System JO Gelato Hazelnut Espresso Lube looks very stylish even before you've opened it. It doesn't look at all like a personal lubricant. The bottle is sealed beneath the cap when you first open it in case, like me you don't realise this at first.
I seem to have issues pouring System JO Gelato lubes. The bottles don't want to squeeze enough to dispense the amount of lube I require and I end up resorting to sort of flicking the bottle. This strongly reminds me of putting ketchup on my chips and is a bit of a mood killer.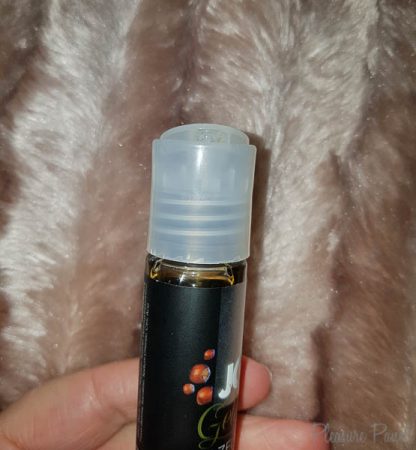 Scent & Taste
There is absolutely no doubt what flavour this is once I've opened the bottle. The strong smell of hazelnut laced with light coffee notes drifts tantalisingly from the bottle. I was worried the coffee smell would be over powering in the System JO Gelato Hazelnut Espresso Lube. Coffee is a dominating scent and isn't one I massively enjoy and yet in this it's light and sweet smelling, with bitter back-notes.
The taste is sweet and nutty. Not like any flavoured lube I've ever tried before. It tastes just like the syrup used by famous coffee houses. After I swallow I detect the coffee flavour in the back of my throat, almost as if I've eaten a coffee flavoured sweet. It's not too strong at all and adds a lovely deep flavour to the lube.
How It Feels
The lube itself is silky and feels slightly thinner than the Crème Brulee flavour. It covers just as well despite feeling slightly less thick. Stroking the Hazelnut Espresso lube over my partner is a real treat for the senses. It feels great, both for him and me and smells amazing. This is a good lube for a hand job. The glide is immense and I find it to be a much more fluid experience. Licking it off my fingers I begin to salivate.
Slowly trailing my tongue up his length to fully appreciate the flavour I enjoy the hazelnut sweetness. The System JO Gelato Hazelnut Espresso Lube makes oral even more of a treat than normal. I love sucking his cock anyway, but the sweet tasty Gelato lube makes my mouth water so much it leads to a really enthusiastic, wet blow job. I love this about these lubes.
Ingredients
They leave no sticky residue and no irritation on either of us after use. Containing no parabens or propylene glycol at first I thought I'd found the perfect "tick all boxes" flavoured lube. However, a quick look at the ingredients of the System JO Gelato Hazelnut Espresso Lube shows it contains glycerine. Glycerine is safe to use in lube however it can be converted into sugar in the vagina. This can cause yeast infections in women prone to them.
It certainly isn't unusual to find glycerin in flavoured lubes and it may well be had System JO left this out Gelato would have lacked that super sweet deliciousness. It's just a shame it may limit the uses for some people. This isn't a standard for everyone, some women can use glycerin lubes with no problem and for some women it depends on the brand of lube. However, if you are prone to yeast infections or have a sensitive PH balance vaginally I would recommend only using Gelato as an oral lube. Don't let this deter you though because even just as an oral lube the System JO Gelato Hazelnut Espresso Lube rocks.
Longevity
I found the System JO Gelato Hazelnut Espresso Lube to be a good long lasting lube. It has a great feel to it and despite vigorous oral sex for a prolonged period the flavour remained and it didn't require reapplying at all. Despite my initial curiosity about how coffee would translate into a lube it works well. It feels like a sophisticated, sweet, multi layered flavour and I enjoyed both the taste and scent.
During Use
My other half really enjoyed the sensation of having the lube stroked over him plus the obvious benefits of such an enthusiastic blow job. The System JO Gelato Hazelnut Espresso Lube would also be a perfect lube for anyone like me that finds mixing food with sex a little on the icky side. It's the benefits of food based sex without the mess.
The System JO Gelato Hazelnut Espresso Lube is clear and velvety. It will run when applied, but didn't stain or mark my sheets or bedding. Despite the sweet flavour, it also didn't leave either of us feeling sticky afterwards, it just absorbs into the skin eventually.
Good Value
System JO are selling their Gelato range at under £6 a bottle which isn't a bad price for a lube that'll probably last a decent amount of time. It also means you can try a few flavours which is a nice prospect, I'd be interested to see what combined flavours taste like.
I have a collection of flavoured lubes and the System JO Gelato ones rank highly amongst them. I would say to my preference Crème Brulee was a better flavour but this is only because I really love crème brulee. I'm not a fan of coffee and yet still really enjoy the nutty sweetness of the Hazelnut Espresso flavour.
In Conclusion
I would rate System JO Gelato Hazelnut Espresso Lube an 8/10. It's a great flavoured oral lube but the glycerin content will limit its uses for some.
– CandySnatch
---
Thanks to Pleasure Panel reviewer CandySnatch for this review of the System JO Gelato Hazelnut Espresso Lube.
Related: Read all our System JO reviews
This product was sent free of charge, in exchange for a fair and honest review by the Cara Sutra team.
Contains affiliate links.