Sliquid Swirl Strawberry Pomegranate Flavoured Lube Review
By Saint1ess
I managed to volunteer for some flavoured lubricants from Cara, and one of them was this Sliquid Swirl Strawberry Pomegranate Flavoured Lube. Flavoured lubes are not my normal choice and it has been a long time since I used any prior to this Sliquid lube review. My experiences in the past were not fantastic so anticipation of revising an old foe aside let's get to it.
Enjoy all our Sliquid reviews
Packaging
This particular version I had for review were convenient sachets. So perfect for travel, wallets/purses or trying lube before you buy it. You can get Sliquid lubes in bottle form as well in various sizes. So no matter your requirement package wise you are covered. The sachet itself holds 17 oz or 5 ml of lubricant so if you need quite a lot and multiple applications you may want to keep two on you.
Ingredients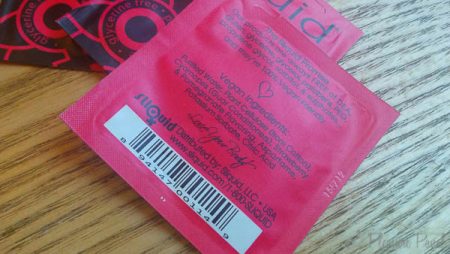 Purified Water, Plant Cellulose (from cotton), Cyamopsis (guar conditioners), Strawberry & Pomegranate Flavouring, Aspartame, Potassium Sorbate, Citric Acid.
All the Sliquid Swirl Strawberry Pomegranate Flavoured Lube ingredients are vegan as is usually the case with Sliquid lubricants. It also absent of glycerine, and paraben free so for those prone to yeast infections and other nasties rest easy!
Texture
In terms of texture it feels like thick water when applied to the skin. It has a slight stickiness to it although this more of a residue. Odor wise it smells as it says, being someone who has never had a Pomegranate that smell I wouldn't be able to judge on. However it wasn't overpowering and was a pleasant odor.
In Use – Oral
The initial fruity taste of the Sliquid Swirl Strawberry Pomegranate Flavoured Lube actually made me more enthusiastic at first mainly because I wanted to lick it all off. It was very fruity to taste so if you dislike the taste of fruit in anyway needless to say get a different flavour! On application as with most flavoured lubes it became sickly to taste after a period of time. I will say this took longer than other flavoured lubes to become sickly most likely due to the more natural ingredients used.
In Use – Vaginal/Clitoral
When used for masturbation the Sliquid Swirl Strawberry Pomegranate Flavoured Lube behaved very well. It didn't become too sticky even after some vigorous use. It is slightly stickier than it's unflavoured counterpart but nothing too major. One large dollop was enough to reach climax however on a second go with the second sachet I used the whole thing. As usual the cleanup is just a quick wipe-up without any residue to worry about great for those times you can't get to the shower afterwards as fast as you would like. I am quite picky with lubes when it comes to how they perform in terms of use, Sliquid is one of my go to lubes for a reason, that reason is mainly the lack of stickiness and overall natural feel to it.
Summary/TLDR
This Sliquid Swirl Strawberry Pomegranate Flavoured Lube is ideal for fruity loving individuals who want a to the point lube. No fancy bells or whistles just a flavour added to an already fantastic lube.
Perfect For: Keeping it simple but spicing it up a little, no compromise on quality, novelty use
Not Ideal For: Anyone who likes their lube to be slightly thicker and have more stickiness and residue to it.
Rating: 8/10
– Saint1ess
---
Thanks to our reviewer Saint1ess for this review of the xxx
This product was sent free of charge, in exchange for a fair and honest review by the Cara Sutra team.
This review contains affiliate links