Sliquid Swirl Blackberry Fig Lube Review
By Miss Anna
I have been given the opportunity to review the Sliquid Swirl Blackberry Fig Lube, free of charge, in exchange for my fair and honest review. Boasting an upmarket and unusual flavour I was looking forward to testing this water based lubricant out.
Enjoy all our Sliquid reviews
Packaging and First Impressions
Receiving the Sliquid Swirl Blackberry Fig Lube I found the packaging to follow the upmarket and unusual theme of this product. The lubricant comes in a generous 125ml bottle finished with a click open top, the label presented on the bottle is attractive; a blue and purple theme with a floral design on the front and information on the back.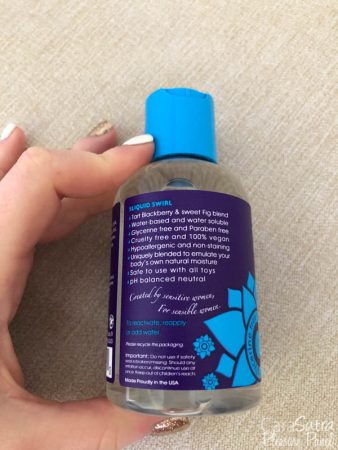 The Sliquid lubricant is marketed as glycerine and paraben free – which are huge plus points. Flipping the bottle over the positive points continue with reading this product is cruelty free and vegan, hypoallergenic and is non staining, water based and water soluble and is PH balanced amongst others.
I particularly like the unusual combination of flavours in this lubricant, a tart blackberry and sweet fig blend which sounds delightful and a great alternative to the common flavours of Strawberry etc.
Texture and Taste of the Sliquid Swirl Lubricant
Although the Sliquid Swirl Blackberry Fig Lube isn't necessarily marketed as a 'flavoured lubricant' in fact it doesn't actually state that anywhere on the bottle, there is a nod towards it having an exciting flavour which I naturally couldn't wait to try.
Giving the lube a taste, it was actually the texture that I noticed first; light and not at all slimy… Kind of like thick water if that could be a thing! The lubricant doesn't have an overwhelming taste nor does it taste heavily of either of its blended flavours, all I found was a slight hint of blackberry a second or two after initial tasting. The lubricant doesn't taste overly sweet, in fact mild and incredibly pleasant opposed the typical sickly sweet flavourings of many flavoured lubricants.
The feel of the lubricant is 'uniquely blended to emulate your body's own natural moisture', squeezing a drop onto my fingers I would agree with this statement. The texture feels exactly like natural wetness and not at all superficial, it is light and almost jelly like not sticky just incredibly smooth and slippery. Very nice indeed!
During Use
I have found this Sliquid Swirl Blackberry Fig Lube fantastic to use during oral, on toys and during intercourse too. The lube provides a fresh taste that lasts throughout oral, it also feels great adding a little more natural wetness too. Whilst using on toys and during intercourse I found this lubricant to simply complement my natural moisture opposed to overwhelming my entire crotch with sticky slime!
After use I found no unpleasant residue and found no need to wash off either. I am incredibly impressed with the overall performance of this lube and it has certainly increased my curiosity in trying lubricants from smaller brands in the future. 'Created by sensitive women for sensible women' – I couldn't agree more!
Conclusion
Overall I found this Sliquid Swirl Blackberry Fig Lube a real pleasure to test, it looks great, feels great and gives as good as it gets where lube is concerned. The pleasant and fresh taste is a real credit to this product and the fact it is made with care and is cruelty free is a bonus.
I would 100% recommend this product.
10/10
– Miss Anna
---
Where To Buy
Thanks to our reviewer Miss Anna for this review of the xxx
This product was sent free of charge, in exchange for a fair and honest review by the Cara Sutra team.
This review contains affiliate links