Seven til Midnight Floral Seamless Cami Bodystocking Review
By Pleasure Panel reviewer Petra Pan
I love sexy lingerie and bodystockings, thanks Cara for sending me the Seven til Midnight Floral Seamless Cami Bodystocking to review!  I have other Seven till Midnight lingerie which is gorgeous and fantastic quality, so I jumped at the chance to review this piece.
Packaging
The gorgeous Seven til Midnight Floral Seamless Cami Bodystocking comes in a pretty pale pink box, whilst cute flower and bow sketch-style images frame the picture of the bodystocking on the front.  It is being modelled by a gorgeous girl, and there's a rear angle image of her modelling the item on the back.
It's a tights / stocking style box, with a piece of card inside with the bodystocking wrapped around it.
Putting it on
I stepped into the Seven til Midnight Floral Seamless Cami Bodystocking through the neck part and pulled it up and over my body, then I carefully put my feet into the stockings part and rolled them gently up my legs, taking care not to ladder the stockings as they're relatively sheer.  I didn't wear any knickers with this, but you can wear them if you prefer – a little g-string or black crotchless knickers would look very sexy!  You'd need to put them on first and then put the bodystocking on, so they sit underneath it.
I team the bodystocking with a pair of heels, which makes me feel even more sexy.  Hubby absolutely loves it too, especially with some killer heels!  It's very flattering and so comfortable to wear and move around in.  It certainly helps to initiate sex, although I have only worn it to initiate sex as it's too hot to keep it on for the main event!  Once summer is over and we're back to the cooler weather, I'll probably keep it on for sex, teamed with some crotchless knickers so I don't have to undress.
Sizing
The Seven til Midnight Floral Seamless Cami Bodystocking is marketed as 'One size'.  I'm a size 8-10 with large boobs, and I'm petite at 5'1".  It would fit taller people as there is lots of stretch.  At a guess, I'd say it would fit sizes 6 – 16 due to the fabric.  It certainly fit me very well, even though I'm short!
The Body
The body section is camisole / dress style which finishes just under my bum.  There is a high, straight neck and it's sleeveless with thick, sturdy shoulder straps.  The body is fishnet style, with a stunning pattern which runs down over the sides of my body and my boobs; it's helps create more of an hourglass shape.  It's incredibly flattering around the boobs as the pattern covers them, your nipples can be seen and mine tend to poke through the fabric a little, hubby loved it!
The back of the Seven til Midnight Floral Seamless Cami Bodystocking is equally as gorgeous – the lacy pattern runs down the sides of my body, framing my bum, and the fishnet runs right the way down the centre.  I love the length as it finishes just underneath my bum which makes it look more round and curvy!
I find it comfortable to wear so I'd happily wear it out under a dress, and I'd like to show off the stockings as they are so gorgeous!  Talking of which…
The Stockings
The stockings are semi-sheer and shiny, they look gorgeous!  Thick lace tops frame my thighs and the bottom part of the tops are elasticated, to ensure a snug fit and this helps them to stay in the same position.  The 'suspender' detail is also thick and lacy, and feels sturdy, I don't have any fear of tearing or snagging.  I love to run my hands over my legs in semi-sheer stockings, and these are incredibly smooth.
Taking it off
To remove the Seven til Midnight Floral Seamless Cami Bodystocking, I find it easiest to pull the shoulder straps off and push the whole thing down my body, stepping out of the stockings.  You do need good balance to do this, else it might be easier to sit down!  But it's OK once you get the hang of it.
Likes & Dislikes?
I love the smooth, shiny stockings, and I was delighted that the fishnet part of the body didn't continue down as I'm not keen on fishnet on my legs.  Also, I love the stocking tops, as they're thick and lacy; I find thicker lace very flattering on my body.  The sexy design on the sides of the body is also a really nice feature, particularly as it just about covers each of my boobs – a very clever design feature as it helps to achieve an hourglass shape.
My only dislike isn't anything to do with the design or quality – but with all my tights, stockings and bodystockings, they collect dog hairs easily so I have to keep using a sticky roller over them.  I find it best to unstick the dog hairs before storing the Seven til Midnight Floral Seamless Cami Bodystocking in a lingerie bag, and that helps them stay fur free!!
Washing
The packet suggests hand washing the Seven til Midnight Floral Seamless Cami Bodystocking in cold water.  I must confess, I don't handwash all my 'handwash only' lingerie, but I do with bodystockings.  A quick rinse with some washing detergent will do the trick and they dry very quickly.
Recommendations
It's difficult for me to recommend the Seven til Midnight Floral Seamless Cami Bodystocking to people of a different size as I can't guarantee it'll fit, but if you're sized 8-10 and a little on the short side, then I can 100% recommend this with confidence!  That said, I think with the stretch in the item, you'll be fine if you are between a 6 and 16.  It's a gorgeous bodystocking, it looks fantastic, makes you look curvier and is comfortable enough to wear both inside and outside of the bedroom.
Marks out of 10 = 9.
I'd give a 10 if I didn't have to keep cleaning dog hairs off it.
– Petra Pan
---
Where To Buy
Thanks to Pleasure Panel reviewer Petra Pan for this review of the Seven til Midnight Floral Seamless Cami Bodystocking (STM-20453).
Buy yours here from Bondara.
The Seven til Midnight Floral Seamless Cami Bodystocking was sent free of charge, in exchange for a fair and honest review by the Pleasure Panel, by Bondara. Thank you! 🙂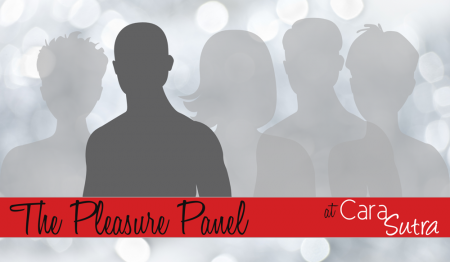 This review contains affiliate links.