Mates SKYN Extra Lubricated Latex Free Condoms Reviews
Enjoy this selection of reviews for the Mates SKYN Extra Lubricated Latex Free Condoms, all provided to the Cara Sutra team free of charge for our fair and honest reviews.
Click to discover all our condom reviews – & latex free condom reviews too
Anon:
I have a small confession to make: my wife and I rarely use condoms. That's because we just don't like them. In the past, we used them when we were first dating, but we have always found that they have too much of a desensitising effect on me and it leads to excessively delayed ejaculation.
Plus Sized Condoms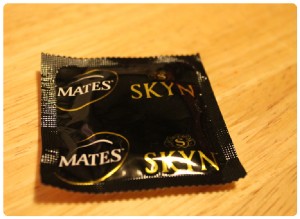 We found TheyFit Condoms a few months ago, which make latex prophylactics to 95 different sizes; we found that I am considerably wider than the average man but of average length and purchased several condoms of size "S21" and it made a significant difference. They are now my de-facto choice for condoms, but when I saw Cara was seeking reviews for these condoms, I was more than welcome to give them a go. They claim to be the closest thing to feeling nothing.
SKYN's Material
At the time of use, the material of the Mates SKYN Extra Lubricated Latex Free Condoms felt slightly softer than "normal" condoms. This is something the manufacturers claim that the material of manufacture, Polyisoprene,
has "revolutionary characteristics" compared to latex. Despite there being some of the condom still rolled at the base of my shaft, there was no marking or "red ring" that I have had with Durex and Pasante condoms in the past.
How They Feel
These condoms did feel very good during sex. There was still a slight dulling of the sensation compared to unfettered sex, but they felt better than just about any other condom. They weren't too tight, and I orgasmed without excessive amounts of "thrusting". The same could not be said for my experiences with other brands.
In Conclusion
The Mates SKYN Extra Lubricated Latex Free Condoms are great condoms. I still can't quite decide whether I prefer the TheyFit condoms, designed for my size, or the Mates SKYN, which aren't so necessarily ideal for me but are made of a better material. I have mulled it over, and can't help feeling that if TheyFit and SKYN merge there would be the perfect condom. That said, these condoms must come strongly recommended.
One reason why I think the Mates SKYN Extra Lubricated Latex Free Condoms are so good is because they do appear to be slightly wider than "normal" condoms although not as wide as my TheyFit.
10/10
Anon:
I always welcome a different type of product to review. When Cara asked if I would review some of the new condom range from Mates SKYN, the Mates SKYN Extra Lubricated Latex Free Condoms, I jumped at the chance.
Material
These condoms are formulated and made from a non-rubber material called Polyisoprene.  This means that these condoms are latex free and leave your skin feeling silky soft.  SKYN have combined the feel of ultra-thin condoms and non-latex, to form a sheer and comfortable sexual aid.
Packaging
The packaging is eye catching with it's blue/black background and gold font colours.  I have seen these SKYN condoms on retail market shelves such as boots and they have caught my attention within seconds, over other well known brands.
The Mates SKYN Extra Lubricated Latex Free Condoms box that I was sent to review comes as a pack of ten.  Each condom is securely wrapped in a black and gold foil pocket.  Removing the condom from its housing is as simple as abc. Gently open the edge of the foil package with your fingers (Note: Never open a condom wrapper with scissors or any sharp instruments).
How They Feel
To the touch, these Mates SKYN Extra Lubricated Latex Free Condoms are VERY silky. It's like I have squirted a drop of baby oil into the palm of my hand.  They aren't the best smelling condoms but then again, they aren't the worst.  Personally, the smell of these SKYN condoms aren't to my taste but they aren't made for their scent.  I did find that I had to wash my hands after holding one of these condoms, due to the overly-moisturised sensation that they leave behind.
Putting Them On
Placing the condom over your partner's penis couldn't be made any simpler.  Due to the lubricant, they slide on with no effort.  No more of that uncomfortable friction or fiddling about, SKYN has come up with an absolute time saver with these condoms. Even if it is a 10 second advantage.
I will admit that I tend to find it tricky when placing a condom over my partners manly bits, mainly due to me having a fond addiction to false acrylic nails.  But with the Mates SKYN Extra Lubricated Latex Free Condoms I found that my fiddly days are long behind me.
What He Says
Like most men, I am not a big fan of condoms. However, I prioritise safety for both involved.  These condoms are a brand I'll definitely be using during a 'heated moment'.  They feel comfortable to wear, pretty much feel like an extra layer of skin. As a slighter larger than average bloke, I had no issue with the usual tightness around the base of my shaft but that band could be made slightly bigger to accommodate the over average sized man.
Impressive
I am very confident about this line of SKYN condoms. In fact I have already recommended these condoms to a few friends and will continue to recommend them, over other well known brands.
The RRP of the Mates SKYN Extra Lubricated Latex Free Condoms is £10 for a pack of 10.  I feel that due to the high quality and feel of these condoms, the price is good.
Would I recommend these condoms to friends?  Yes, of course I would!  The SKYN extra lubricated line, have been the best 'condom' experience that I have had to this date.
Thank you to Cara Sutra for this box of 10 Mates SKYN Extra Lubricated Latex Free Condoms to review.
10/10
Ali's Addiction:
Mates SKYN Extra Lubricated Latex Free Condoms are premium condoms made from polyisoprene, an alternative to latex, which are coated in almost twice as much long-lasting lubricant as Skyn Original to enhance your lovemaking.


These condoms come in packs of 10 in a rather masculine box which reminds me of an old cigarette packet. The packaging is about 5 x 2.5 x 1.5 inches, and each individual condom packet measures 2.25 x 2.25 inches. The foil is black and gold which, I suppose, is to reflect the luxurious quality, but I personally see gold as quite a tacky colour.
The Material
Polyisoprene feels softer and more comfortable than latex but is equally strong, if not stronger. The material offers a silky smooth texture texture for a more natural sensation.
Wear & Comfort
This was my first experience with non-latex condoms and they are without doubt the best condoms I have ever used. My partner was equally impressed, stating they fit well and felt comfortable to wear, something he never thought he would say about a condom. The Mates SKYN Extra Lubricated Latex Free Condoms dulled the sensation for him, like any condom. However, this effect was minimal and didn't hinder the pleasure for either of us.
Normally we find that condoms are too tight and roll up his shaft during intercourse, which makes them less effective at preventing pregnancy and STDs, but these condoms stayed securely on his penis. They didn't cling, pinch or wrinkle up like latex ones, and stayed smooth and molded to his shape like a second skin.
Lubrication
The combination of the soft polyisoprene and silky lubricant also meant there wasn't any of the friction or irritation associated with latex. However, considering they claim to have extra lubrication, I was a little underwhelmed by how lubricated the Mates SKYN Extra Lubricated Latex Free Condoms actually felt.
Pros:
+ Very comfortable for both partners
+ Feels more natural
+ Ideal for latex allergy sufferers
+ None of that unpleasant condom smell
Cons:
– Tacky packaging
– Underwhelming amount of lubrication
Bottom line:
My partner's opinion? "As far as condoms go, its as close as I've felt to the real thing."
9/10
Anon:
I was very happy to be given the opportunity to review the new Mates SKYN Extra Lubricated Latex Free Condoms. They're available for £10 for a 10 pack from Lovehoney.
These condoms are not made of the traditional latex but are manufactured from polyisoprene. This is a good alternative for users who are allergic to latex.
Packaging
These come in boxes of ten and the packaging appears to be the standard size box for condoms. The box is mostly black in colour with a blue gradient towards the bottom. It has some gold parts too.
The foil packs inside are black in colour with gold SKYN lettering. I would have liked to have seen the same colours on the foil packets are the outside packaging. You can't tell that they are the Extra Lubricated ones unless you read the back.
How They Feel
The condoms themselves feel a little like latex but seem thinner. They certainly feel as strong as the standard latex condoms.
The condoms fit well feel great when on. There is still a slight loss of sensation but still feel great during sex.
I didn't feel that there was any more lubricant than a normal condom and still preferred them with extra lubricant.
Pros:
Good size and fit
Comfortable to wear
Cons:
Hard to tell them from other Skyn condoms
No apparent extra lubrication
8/10
Angechaotiques:
The Mates SKYN Extra Lubricated Latex Free Condoms were sent to me free of charge in exchange for this fair and honest review, as part of the Cara Sutra Pleasure Panel. Mates is the second largest condom manufacturer in the UK, originally launched by Sir Richard Branson in 1987. With various ranges of condoms to choose from, the SKYN brand stands out from the rest considerably in terms of style, branding and the word that is used all too often to describe them – "REVOLUTIONARY!"
OK, let's see then, revolutionary eh? I want to find out what sort of revolution the SKYN Latex Free Condoms are making!
The packaging is very nicely designed, unlike the very playful appearance of some brands; the SKYN range gives the impression that it really does take itself seriously. The black box with its gold stylised logo looks very sophisticated and has a sense of sensuality about it.
The words "Closest Thing To Wearing Nothing" are brazenly placed directly under the brand name followed by yet another bold claim of "Clinically proven to enhance stimulation".
These condoms themselves are, as expected, individually wrapped in black and gold foil. This foil is very easy to tear open from the perforated edges giving a peace of mind that the condoms are not going to be damaged upon retrieval from the packet.
Now, getting down to the nitty gritty, it's time to try out the condom as it was intended.
Material
Material: Polyisoprene
Nominal width: 53mm
Length: 190mm
The Mates SKYN Latex Free Condoms are made from a material called polyisoprene, which is very similar in density, texture and strength to latex. For those that have an aversion or allergy to natural rubber latex, these are ideal due to them completely free of the substance.
Wear & Fit
After carefully removing the condom from the foil and checking it was the right way round, I placed it at the end of my readily erect penis. Holding the teat between finger and thumb of one hand, I used the other hand to carefully roll the condom down the shaft. Ah, first problem encountered. The condom was quite difficult to get on and I struggled to roll it over where the foreskin meets the glans. With a little perseverance however, I prevailed. Perhaps I should have gone for a larger size. I'm not bragging!
Lubrication
My first observation upon wearing one of the Mates SKYN Extra Lubricated Latex Free Condoms was that it didn't feel at all "Extra Lubricated" as the box clearly stated. Just using my hand, there was still a fair amount of friction whilst stroking the length of my cock. Observation number two was a frightfully disappointing one. Despite claims of being the "closest thing to wearing nothing" the sensation when massaging my cock head was virtually non-existent. This condom felt no thinner, no softer and no more natural than many other condoms I had worn before. Personally, for a more natural feel, I think the condom should be shaped with more width toward the end of the penis to accommodate the head.
So far, I'm disappointed, but worry not, all is not lost!
Taste
With the help of my trusty assistant, I wanted to find out if SKYN had managed to avoid the one thing I abhor about condoms in general. For this test, I required the use of his mouth and tongue.
Now I am (as I am sure most men are) quite a fan of oral sex. My waning erection began to stiffen once more in anticipation of this part! Unfortunately, once again, the stimulation was nigh on absent, but that wasn't what I needed to know. How did it taste? Well bonus points go to these condoms for being virtually tasteless!
By this point, I just wanted the condom off, I wasn't even going to bother using it for sex, it was uncomfortable and I had much more interesting products in my drawer that I intended to use…!
Synopsis:
Mates SKYN Extra Lubricated Latex Free Condoms are, as a regular condom, not a bad product at all. Unfortunately, the claims of being like "skin on skin" or "wearing nothing" I felt were unwarranted. The extra lubrication was unnecessary. If these condoms were going to be used for anything other than vaginal sex with an already very wet pussy, extra lube would definitely be needed. If you are allergic to latex, then yes, these are for you, but otherwise, I'd choose another brand. Pretty box though…
Rating:
As a condom: 6/10 (includes bonus point for not tasting nasty!)
As a revolutionary, extra lubricated, ultra-thin condom: 2/10
Overall: 4/10
---
Buy Mates SKYN Extra Lubricated Latex Free Condoms
Click through the buttons below to discover a huge selection of top brand condoms, including latex free condoms, at Lovehoney US and UK:
Contains affiliate links.