Lubido Anal Ease Water Based Lube Review
By KurosakiKun
If asked, anyone with a sex toy will tell you that lube is one of, it not THE most vital purchase to compliment any online basket of sexy treats.  Often if I'm doing a bit of online shopping of the risqué nature I will just add a bottle of lube "just in case" or "it always comes in handy!"  Along comes the lubricant we have today, the Lubido Anal Ease Water Based Lube to give it its Sunday name.


Enjoy all our Lubido reviews
Sporting a see through and generous sized 250ml bottle with a depress to dispense head, the Lubido Anal Ease Water Based Lube bottle is adorned with bubbles which handily let us know its various qualities.  Long lasting, Paraben free, odour free, latex safe, non staining and anti bac bubbles all point to a rather well thought out lubricant.  We shall see….
After removing the handy neck clip, which prevents the head from being depressed accidentally while in storage, the head needs simply twisting clockwise to operate freely.  The one and only problem I encountered with the bottle was that when you dispense some lube the head often returns to the closed position as it releases.  A good idea to automatically close which will keep spillages to a minimum but awkward when you want to top up or quickly lube a different toy!
Once dispensed the Lubido Anal Ease Water Based Lube really is very nice to use. It is super slippery, almost silky and has an excellent viscosity which is not so thick it won't budge and is not so thin it runs straight off the vital parts!  There is no greasy feeling to the lubricant and the blurb on the rear of the bottle claims "with Lubido lasting that much longer, it's only necessary to use in small amounts". Never a truer word written.  I have found that for a smaller anal toy such as the last product I reviewed (the Rocks Off Quest) only half a dispense was needed to sufficiently coat the massager and have very effective insertion.  Onto something bigger such as the Lovehoney Wowzer Butt Plug and again half a dispense coated the whole plug and was perfectly comfortable to insert.
Using the various anal toys with the Lubido Anal Ease Water Based Lube I did not need to top up at all. The long lasting formula works very well internally and I could remove with the ease that they were inserted.  With the added bonus of the soothing, moisturising and healing properties of Aloe Vera which the lube is infused with, I personally found that I could use the anal toys more actively and inserting and removing more often was effectively painless.  Any stretching sensation seemed to dissipate quickly and the area also felt relaxed.
You can use this Lubido Anal Ease Water Based Lube safe in the knowledge that the infused aloe will soothe and sanitise and as it claims is paraben free, you can forget the health concerns that have been raised by the inclusion of this ingredient.
It does contain glycerine which some people try to avoid so it is worth noting if this concerns you!  It is latex safe so can be used with condoms (wise if indulging in some awesome anal sex!) and claims to be non-staining. If I am honest, this has never crossed my mind as a quality in a lubricant but is actually a really good one.  There has been a few times I have spilt lube and groaned after the sheets have come out of the wash with the tell tale tide marks!  You have no worries here (although that is the lube alone, not to put too fine a point on it, anal play can get messy and just because the lube won't stain doesn't mean anything it is mixed with won't!)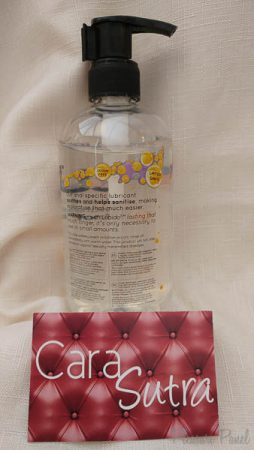 One of the handy 'point bubbles' claims the Lubido Anal Ease Water Based Lube is odour free, which it is. Always a positive as there's nothing worse than that 'stick in the back of your nose' smell of some lubes.  Unfortunately I also tried the taste test, which resulted in it being spat back out!  It doesn't taste nice, but it shouldn't, it's an anal lube and should be used for anal play!  It doesn't claim to be flavourless by the way, I just thought I would let you all know to save you the temptation!
As for the last bubble on our bottle, the Lubido Anal Ease Water Based Lube has anti-bacterial properties so will add a degree of sanitising to your preferred insertable (please still sterilise anything you intend to put inside your body). All positive things!
I have used the Lubido Anal Ease Water Based Lube over the course of a few weeks now, various insertables (steel, ABS, silicone and skin) and have found it to be brilliant. The size of the bottle will last you for a long time; it looks like I have hardly used any but in reality it goes a long way.  The sessions we have used it in have been long and it has not faltered. No need to top up and cleans off easily with some warm water. My wife commented after using it for anal play together that it made the "thrusting" much more comfortable.
As it is water based, if you want to revitalise an insertable with the lube on, a splash of water will immediately make it super smooth again.  The pump makes easy work of applying the lube to anything you require and it could easily sit on your sink and be mistaken for hand wash any day of the week… It doesn't scream lube!
As for a score, the Lubido Anal Ease Water Based Lube scores a hot 9/10. It is excellent used for its intended purpose and the bottle size is brilliant, definitely a lubricant I would recommend to anyone.
– KurosakiKun
---
Thanks to our reviewer KurosakiKun for this review of the Lubido Anal Ease Water Based Lube (250ml bottle). 


This product was sent in return for a fair and honest review here at the Cara Sutra sex blog. This review contains affiliate links.