Loving Joy Furry Fantasy Black Fox Tail Butt Plug Review
By Luv Bunny
I had been lusting after a fox tail plug for a while, and had seen several I'd entertained as contenders. Then the August Pleasure Panel goodies were revealed; among them was the gorgeous and distinctive Loving Joy Furry Fantasy Black Fox Tail Butt Plug. Luckily, I was selected to test and review this tail.
Packaging & First Impressions
The Fox Tail Butt Plug arrived in a plastic wrapper, within a black velour style drawstring pouch. The tail is rather weighty, bushy and long, approx 17 inches from the plug to tip of the tail. It is mostly black, with a bluish tip at the end. I really like how thick and bushy it is, and the colour contrast is very striking.
As for the plug, it is a small-medium sized metal plug with a girth around the bulb of about 4 1/8 inches. The fact that it is metal makes it ideal for temperature play.
Wearing The Plug
With metal plugs, I prefer warmth to cold, purely to avoid my anal muscles clenching when the plug goes in. Before use, I pre-warmed the plug in some warm water. I had showered before using the plug to ensure I was both 'prepared' and relaxed enough to receive the girth of the bulb.
Using copious water-based lube (silicone lubricant may also be used), I slathered the plug and my anus before easing the plug in. Despite having slightly more girth than my other metal plug, the Butt Plug inched into my tight sphincter without discomfort.
My first thought on letting the tail hang from my butt was 'will it fall out and crash to the floor?!' Such is the weight of the Loving Joy Furry Fantasy Black Fox Tail Butt Plug, I wondered if my butt would release its grip around the bulb. Luckily it stayed put. The tail reached down to the rear of my knees and felt delightful brushing against my legs as I swished it playfully.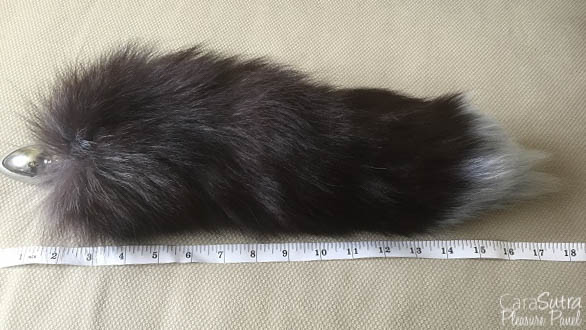 I'm looking forward to trying the tail again soon, and would like to experience wearing it whilst having PiV sex with Mr Bunny in an all-fours position. I have tried the Furry Fantasy Black Fox Tail Butt Plug whilst using a vibrator vaginally, for some dual penetration play, which I enjoyed, though I did end up 'losing' the plug when I reached orgasm!
Care & Maintenance
I tried brushing the hair carefully with a wide-tooth comb. The tail did shed a little hair, but not enough to cause concern. After all, I shed hair when I brush my own! I've not tried washing the tail as yet. I thought I'd wait until I'd worn it a couple of times. When I do wash it, I will use a non-biological detergent, suitable for synthetics and delicates.
The metal plug can be washed with sex toy cleaner or antibacterial soap and water.
Feeling Foxy
I was so enamoured with this Black Fox Tail Butt Plug, it featured in a recent Sinful Sunday blog post, complete with video of the tail 'swish.' Though black is not conventionally the colour of fox tails, the bushiness is enough to be reminiscent of a fox. I love the blue hue at the tip of the tail. This plug will be great for those wishing to indulge in 'pet play fantasies' and will be ideal for a Halloween black fox or even black cat costume.
Overall, I really enjoyed using the Loving Joy Furry Fantasy Black Fox Tail Butt Plug, and would recommend it to anyone wanting to try a medium-sized tail plug.
I'd rate it 9/10.
– Luv Bunny
---
Where To Buy
Thanks to Pleasure Panel reviewer Luv Bunny for this review of the Loving Joy Furry Fantasy Black Fox Tail Butt Plug.


The Loving Joy Furry Fantasy Black Fox Tail Butt Plug was sent free of charge, in exchange for a fair and honest review by the Cara Sutra team. Contains affiliate links.