Lovehoney BASICS Finger Ring Vibrator Review
By Pleasure Panel reviewer Shady Shania
I have been sent the Lovehoney BASICS Finger Ring Vibrator through the Pleasure Panel free of charge in exchange for an honest and frank review.  The Lovehoney BASICS Finger Ring Vibrator is currently retailing on the Lovehoney website for £5.99.
When I received the Lovehoney BASICS Finger Ring Vibrator I was informed that it came with no instructions, but to be honest that did not make much difference.  The packaging for this review sample item was basic, it came in a small sealed bag that was see through on one side and a silver background -packaging direct from Lovehoney may be more detailed. The Finger Ring Vibrator came in a nice purple colour.
Upon opening the package, I could feel how soft the TPR was and how stretchy.  It took a while to work out how to switch the vibrator on, but soon discovered that the vibrating bullet part comes out of the sleeve of rubber and there is a button that switches it on.  Once switched on, you need to tuck it back within the sleeve of rubber.  The outer part of the ring where the vibrating part sits is raised, so this helps with the sensation when playing.
The essential information is that the Lovehoney BASICS Finger Ring Vibrator only has one speed, it has 30 minutes of use, this can be taken in one go or in several sessions providing you remember to switch it off in between. The battery is not replaceable, so once you have flattened the battery, I'm afraid that is it.  Also remember to make a note of how long you have been using it, nothing worse than half way to an orgasm and the vibrator dies…
Size wise, I have quite podgy fingers and it fit very comfortably on them. I used it on the ends of my fingers, so should be OK for most size fingers. Another word of warning, the Lovehoney BASICS Finger Ring Vibrator is NOT waterproof. Due to the material it is manufactured from, it's easy to assume it's safe to use in the bath.
When I had got the Lovehoney BASICS Finger Ring Vibrator switched on, it was time to see if it delivered what I was expecting.
Depending on how you play with a vibrator against your clitoris will depend on how you use this Lovehoney BASICS Finger Ring Vibrator.  I tried 2 different ways, the first was to keep on the sensitive part of my clitoris without moving and the other way was to rub across and up and down against the clitoris.  I normally enjoy a gentle vibrating sensation against my clitoris and have to say this seemed quite strong on first placing on the end of my finger.
However I have to say I was disappointed when I actually applied it to my clitoris.  Both ways I tried did nothing for me, I got no stirring of sensations and certainly did not reach anywhere near an orgasm. Whether or not I felt pressured to achieve an orgasm within 30 minutes, I'm not quite sure and if that was the issue. I suppose it depends on each individual and their own bodies.
Personally for the price, I would definitely not be put off trying it, and who knows it may make you reach the heights I could not achieve.
I would score the Lovehoney BASICS Finger Ring Vibrator a 6 out of 10. Ease of use, the price and how it looks created this score; I have marked it down because personally it did not do it for me.
– Shady Shania
---
Where To Buy
Thanks to Pleasure Panel reviewer Shady Shania for this review of the Lovehoney BASICS Finger Ring Vibrator.


The Lovehoney BASICS Finger Ring Vibrator is one of the sex toys found in the Lovehoney All Nighter Couples Sexy Christmas Crackers. When purchased direct from Lovehoney, this vibrating toy is likely to come in different packaging to that shown in this review.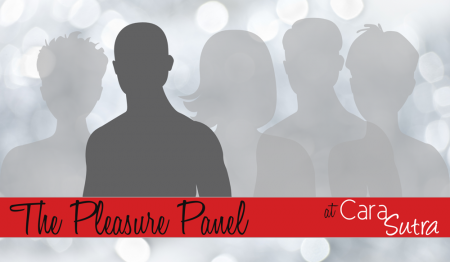 Contains affiliate links.