Kinky Tails Pink Pony Tail Glass Butt Plug Review
By Pleasure Panel reviewer Candy Snatch
I have a real obsession with My Little Pony so when my other half mentioned buying a pony tail butt plug I was totally excited by the suggestion. I wanted something pretty and girly and My Little Pony-ish but looking around found that lots of the really pretty tail plugs were very pricey and was reluctant to pay out a lot of money for something we had no experience in. So you can imagine my delight when I came across the Kinky Tails Pink Pony Tail Glass Butt Plug on Bondara for the very reasonable price of £27.99. There was a choice of two lovely girly colours, but being that the pink choice matched my hair colour I was sold.
I was totally taken with the Kinky Tails Pink Pony Tail Glass Butt Plug from the second I ordered it. It arrived very quickly, as is fairly standard with Bondara, I couldn't wait to see it up close and in person. The packaging was fairly unexciting however the contents more than made up for this.
The Kinky Tails Pink Pony Tail is a fantastic bit of kit. It has a long gorgeous pink synthetic tail. Stroking the silky lengths felt reminiscent of plaiting my toy ponies as a child. The colour was a beautiful bright hot pink with a delicious candy sheen to it. The tail is rooted into a lovely solid, smooth, clear glass plug with a good wide base. There is a nice black velvet pouch to keep the Kinky Tails Pink Pony Tail Glass Butt Plug in and they even supply you with a little hair net to keep your tail neat and tangle free which is a cute touch.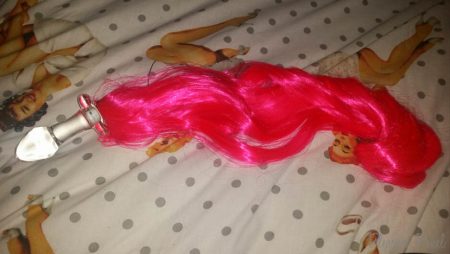 Initially I was slightly daunted by the size of the plug in my hand but I was so keen to see just how that tail would look once in place so applied a slick of my favourite lube and gently slid it home.
I already loved the Kinky Tails Pink Pony Tail but actually wearing it cemented the deal. The plug is totally wearable and very comfortable, I'm a huge fan of glass toys and this has all my favourite attributes. No drag at all, that lovely temperature play element to it. I find it very thrilling when removing the plug and finding it heated to my body temperature. The bulb of the plug isn't too wide and feels amazing as it locks into place inside my arse, however it gives me just enough stretch to keep me horny as hell when wearing it.
The tail itself sits beautifully when in place. It swings gloriously and reaches the back of my knees. I find it very hard to stop looking at it and touching it. The butt plug is very secure and moving around I felt no concerns about it coming out or travelling anywhere unwanted.
If I was going to have anything negative to say about the Kinky Tails Pink Pony Tail Glass Butt Plug then it would be that there can be a little bit of shedding from the tail. But this is a very minor issue to be fair, considering the incredibly reasonable price compared to most pony tail plugs on the market. I find when I'm wearing my pony tail plug I feel beyond sexy and very feminine, I enjoy the look as much as the sensation. My man adores lifting the tail up during sex and gently pulling it or having it stroked over his face during play adding a whole different element to anal toys. He finds the whole look a total turn on.
This was my first experience with a tail plug and I can honestly say it was very enjoyable and the Kinky Tails Pink Pony Tail Glass Butt Plug is now my favourite butt plug. For some people the tail length might be a downside because it would make wearing this plug in public fairly hard however I find under a maxi dress with certain knickers I can wear it with no problem. I was slightly worried at first as to how the tail would wear with use and time but I can honestly say I've had mine months and it's still in beautiful condition despite a fair bit of wear. As long as it's looked after, and kept in its little net when stored, I think it will remain this way for a considerable while.
I absolutely love the Kinky Tails Pink Pony Tail Glass Butt Plug and recommend it highly to anyone that would like to add this new dimension to their play time. It certainly won't be the last one I own but it makes a stunning starter toy thanks to the excellent quality and value for money. I give The Kinky Tails Pink Pony Tail Glass Butt Plug a corking 10/10!
– Candy Snatch
---
Thanks to Pleasure Panel reviewer Candy Snatch for this contributed review of the Kinky Tails Pink Pony Tail Glass Butt Plug (available here at Bondara for £27.99)
Useful Links
This review contains affiliate links.