Fun Factory Volita Slim Vibrator Review
By Pleasure Panel reviewer Married2Sexy
Fun Factory VOLITA! The exclamation point said it all.  I have wanted to try a Fun Factory toy on my wife ever since I heard about their thrusting line.  Finally, our chance.  Care Sutra Pleasure Panel you are awesome.  Thank you for selecting us and making my fantasy come true by sending the Fun Factory Volita Slim Vibrator for review.
First Impressions
Heading to the Fun Factory website, I clicked on the link to start researching the Fun Factory Volita Slim Vibrator and how we will use it first.
"Taking powerful orgasms with you wherever you go."  CHECK!
"Mini version of our bestselling VOLTA."  Ok so I am not familiar with this model, but I am still game.  CHECK!
One Speed?  One AA battery required?  Ahh man, this is not a thruster.
OK, let's regroup here.  I am still getting a high-quality vibrator from a well-respected German company.  Plus in last month's Nexus G-Play Plus Small Rechargeable Vibrating Butt Plug review, I commented on loving the limited selections provided by the toy.  Now we have only ON and OFF.
The packaging for the Fun Factory Volita Slim Vibrator is long and slender, but not for long term storage.  It was sealed with a hygiene guaranteed sticker.  Removing this sticker, I was slightly tripped up on all the folds you had to go through to slide out the toy.  If it was not for the need to take pictures, the cardboard is thin enough to rip open.
In The Box
Once unfolded the well protected toy became visible.  There are a few positives to having a BYOB (bring your own battery) toy.  The first is with contents.  Inside the box was the toy and a small product line fold.  No proprietary cable, no wall wart, and no 20-page multi-language manual that warns you of your newly acquired lithium battery.  Toy and pamphlet… refreshing.
Another positive is that if you want the Fun Factory Volita Slim Vibrator to be travel locked, you simple remove the battery.  Lastly, if you want to see the toy in action, you put the battery in (thank you Fun Factory for supplying the battery) and turn it on.  Sure, you need to have a spare battery laying around, but if it dies mid-session you are back in action in less than 10 seconds.
Size & Design
The purple toy is 6.3 inches long (16 cm) with a white cap on one end and thin lips on the opposite end.  The white cap is a hard plastic that has three positions.  Turning to the right is the OFF position.  Middle is ON and turning left past a bit of resistance opens the battery compartment.  Very simple and intuitive.  I am liking this one speed for all.
The remainder of the Fun Factory Volita Slim Vibrator is the lint-loving, soft yet firm, body-safe silicone material.  Easy to clean, but don't drop it on the carpet.
The opposite end, the tip consists of two thin pieces of material about an 1/8 of an inch apart (0.32 cm).  When turned on, they flap at a high oscillation to create a vibration which is not buzzy or rumbly, but rather "flicky."  The strength of the vibration is strong.  Not as strong as the We-Vibe Tango or the "Pocket Rocket," but strong.  Again, the vibrations created are neither rumbly (We-Vibe Tango) or buzzy (Pocket Rocket).
The Fun Factory Volita Slim Vibrator is no louder than other advertised quiet toys, in other words, close the door and the kids or roommate won't hear.  Submerging the actively vibrating toy into water in order to clean it verified its advertised waterproofness.
During Use
Showing Mrs. Sexy the new toy, she was perplexed and asked what you do with the beak.  I twisted the base and the toy came to life. Explaining to her that you can use the beak to trace and tease areas, I traced around her nipple with a light pressure.  She squirmed as her nipple came quickly erect.  A neat trick is then to slip the nipple between the lips creating a mix of a light pinch and vibration.
I then proceeded to her vulva. Not wanting to bring her to climax yet, I used the Fun Factory Volita Slim Vibrator to outline her left labia, sliding it between each tip.  Tracing the entrance to her vagina, I then repeated the stimulation on her right side.  Moving up she convulsed as I circled her clit.  Hitting it directly caused her to push the toy away due to over-stimulation. Going back to the sides, she shivered with pleasure.
For Mrs. Sexy, she likes to cum while on her stomach.  Rolling over she took control of the Fun Factory Volita Slim Vibrator.  Unfortunately, she was met with the only perceivable downside of this design.  The lips need to flap to cause its vibrations.  Therefore, if you press too hard or if you push it against a blanket, the stimulation muffles or even pauses.  She eventually came, but this first session, she needed to use a "traditional" vibrator toy to finish.  Talking about the experience, she loved the stimulation it provided on her nipple and side of her clitoris.  The next time we use it, we will need to modify her position.
The next session together, we approached the Fun Factory Volita Slim Vibrator with a better understanding.  Using the vibration style to our advantage we used it to tease each other as foreplay.  Whether it was to enhance the blow job she was providing me or to add to the oral I was enjoying giving her, this is what the toy was designed to do for us.  The lighter flicks from the Fun Factory Volita Slim Vibrator on the underside of my shaft along with the stiffer flicks of her tongue, sent me into a state of pleasure.  For her, after enjoying her taste and using the Fun Factory Volita Slim Vibrator to bring her close, I switched to a more rumbly vibe to finish her.
Though the Fun Factory Volita Slim Vibrator is not the Fun Factory thruster I was hoping for, it does have a place in our collection.  The flicking beak is a foreplay master.  I will use this toy to tease and pleasure her, bringing her close but not quite to cumming. Using the Fun Factory Volita Slim Vibrator to enhance a blow job is also a wonderful way to use this toy.
The AA battery is not a shortcoming since this toy is not something that we will always use.  This way we can pull the battery out placing both in a plastic bag.  When we do want it, we just slip in the battery not worrying that it will be dead.
So who would benefit from the Fun Factory Volita Slim Vibrator? Someone who is looking for a fluttering style of vibration, someone who is not a power lover, someone who wants to explore edging or enhancing foreplay, or someone who will not have access to a charger.  For Mrs. Sexy and I, we will be keeping this toy and exploring the ways we can enhance our experience together.
The Fun Factory Volita Slim Vibrator gets 8/10.
– Married2Sexy
---
Where To Buy
Thanks to Pleasure Panel reviewer Married2Sexy for this review of the Fun Factory Volita Slim Vibrator.


The Fun Factory Volita Slim Vibrator was sent free of charge, in exchange for a fair and honest review by the Pleasure Panel, by Fun Factory Sex Toys. Thank you! 🙂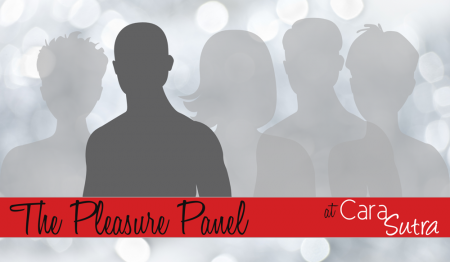 Unaffiliated