Fun Factory Patchy Paul G-Spot Vibrator Review
By Pleasure Panel reviewer Candy Snatch
I've never tried a Fun Factory toy so when Cara offered the opportunity to try the Fun Factory Patchy Paul G-Spot Vibrator through the Pleasure Panel, courtesy of Bondara, I was really excited. The packaging for the Patchy Paul is quite simple, a nice grey box with the name of the product and a photo down the side. Nothing over the top and it gave the Patchy Paul quite a quality look.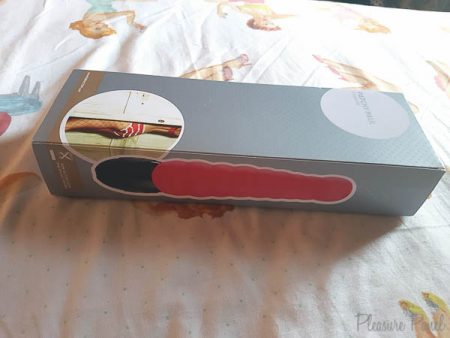 Inside the Fun Factory Patchy Paul was set into a cardboard slip case. The Fun Factory Patchy Paul is a hot pink silicone G Spot vibrator. It has a wavy shaft with a curved tip which on closer inspection appears to have a little face, much to my amusement.
The Patchy Paul is battery operated and tucked away in the box were 4 AA batteries, this was a bit strange as the Fun Factory Patchy Paul runs on AAAs. Rather unsurprisingly my bedside drawer contains a plethora of batteries of all sizes so I dug out 4 AAAs and had a quick scan on the instructions. The battery compartment is in the handle, which is fairly standard for a battery-powered vibrator. I was initially stumped as there appeared to be no guidance to which end of the battery goes up or down in the compartment but then I noticed a guide on the instruction leaflet. Once the batteries were in I came across what I initially thought was a problem. As soon as I closed the Fun Factory Patchy Paul it burst into life and none of the controls appeared to work. I realised that either my Patchy Paul was faulty or I'd managed to mess up the batteries, a quick swap about revealed indeed it was the latter. Ok so now the Fun Factory Patchy Paul was ready to go.
The controls are situated on the base of the handle, which is as good a place for them as any. They consist of a star button on the base, with plus and minus buttons above it. Had I not taken the time to read the instructions I probably would have found the controls quite frustrating. The star button looks like it should be an on/off button but it's actually a booster. You switch the Fun Factory Patchy Paul by holding the plus button for a few seconds. A small blue light appears inside the handle to let you know all is well. Scrolling through the settings, using the plus button, I quickly established Patchy Paul has 5 standard vibration intensities and 3 patterns. The vibrations felt quite strong for a battery-powered vibrator and were enough to make my hand tingle and itch holding it. You turn the Patchy Paul off by scrolling back through the settings using the minus button, which could be annoying if you needed a quick cut out. Here's where that little star button comes into play, it's a sort of boost button. It whacks The Patchy Paul into a kind of turbo vibrate, I think this is intended to be a grand finale to finish you off.
Feeling the vibrations on my hand I was keen to see how it felt inside me. The Fun Factory Patchy Paul is silicone and feels like it would have a fair bit of drag to it so I slicked it with water based lube and laid back. The wavy shaft felt delicious sliding deep inside me and although there isn't much girth to the Patchy Paul the bumps make up for this. The vibrations felt good but I quickly realised that Patchy Paul wasn't going to stimulate my G Spot. The angle just wasn't right for me. This may be my anatomy as I tend to require more of a curve and this is more like a bend but as nice as the vibrations felt internally I just couldn't make Patchy Paul reach my sweet spot. I definitely felt horny and could feel intensity building but the internal climax wouldn't come. Frustrated I pulled Patchy Paul out and rested the bend against the side of my clit and dialled it to the highest steady vibration. This felt really good and I steadily built to a delicious clitoral climax, pushed over the edge by that handy little boost. The controls were easily manageable during use and I didn't struggle to change settings. I really enjoy using the Fun Factory Patchy Paul for thrusting but internally I prefer the vibration off as it's frustrating that it can't reach my G Spot. That doesn't impact my enjoyment of it, it simply doesn't do the job as a G Spot vibrator for me.  It does however make me cum nicely, used on my clit as a kind of super bullet after thrusting to build tension.
The Fun Factory Patchy Paul is made of body safe silicone and is waterproof so you could take it into the bath or shower for play. It also makes washing it a breeze. Patchy Paul is also fairly quiet, which is nice, I was perfectly confident to use it with people in the house. Patchy Paul has a nice long insertable length of 6 inches and a circumference of 5 inches. Fun Factory state in the instructions that Patchy Paul is not suitable for anal as there is no flared base and I totally agree with this. All in all I'm impressed with the Fun Factory Patchy Paul's power, especially as a battery operated vibrator. I'm bemused by the design, I do enjoy the waves on the body but I'm not sure if Patchy Paul is meant to be a caterpillar, hence the little face. If so this is a strange choice for a vibrator design, but I don't dislike it. The negatives for me were definitely the lack of G Spot stimulation and the confusing controls, although once you have worked them out they are fairly simple.
I would give the Fun Factory Patchy Paul a 7/10 it does make me cum, just not in the way I'd hoped. Priced at £39.99 on Bondara I do think Patchy Paul is good value for money given how powerful it is. It may well be for other women the Fun Factory Patchy Paul would be a perfect G Spot vibrator just for my body it wasn't a fit.
– Candy Snatch
---
Thanks to Pleasure Panel reviewer Candy Snatch for this review of the Fun Factory Patchy Paul G-Spot Vibrator (£39.99 from Bondara – rechargeable version also available for £59.99)
This vibrator was sent free of charge, in exchange for a fair and honest review by the Pleasure Panel, by Bondara. Thank you! 🙂
Useful Links
This review contains affiliate links.