Eroscillator 2 Powerful Vibrator With Attachments Review
By Puspus
I had been lusting after the Eroscillator 2 Powerful Vibrator With Attachments for a while, until I got the courage to pay the price of this ravishing orgasm inducing machine. I don't call it a "sex toy", because it isn't a "toy", it is an actual orgasm device. It seriously knows what it's doing and seriously understands my anatomy and pleasure.


Enjoy all our Eroscillator reviews
The Eroscillator 2 Powerful Vibrator With Attachments arrived in its signature cardboard box, which is not extremely discreet, but it is classy (it has a photo of the Eroscillator and the name on the front). The Eroscillator's main body comes in a 'guaranteed hygiene' plastic seal, which informs you that the device is new and has not been used or tampered with. The attachments are individually packed in plastic bags and are are arranged very neatly in the box with the long mains power cord.
The Eroscillator 2 Powerful Vibrator itself is a metallic burgundy colour with a silver control switch. It doesn't really look modern, but I don't think "modern" is the look they were going for. It's is more like a steampunk orgasm device. It is the Eroscillator. It can look how it wants to look like, it´s still amazing.
I began my journey by unraveling the long cord (I love the cord, it's very convenient in places where a power output isn't nearby!) and attaching it to the bottom of the Eroscillator 2 Powerful Vibrator. Next, I looked through the attachments and chose the "Super soft fingertip attachment" and with a simple click it was in place. I turned the device on from the silver switch and it hummed on. The sound is quiet, discreet and very soothing. When the device isn't touching anything it makes a tiny buzz sound (just the attachment rattling against itself), but when you touch it to something like a body part (clitoris, nipples, bum, nose…) it becomes nearly silent. Under a blanket you really can't hear it, so it's perfect for people who want a very quiet toy.
I lubed up my vulva and turned the Eroscillator 2 Powerful Vibrator on power 1. The oscillating head feels divine on my clit. It is a very interesting humming, deep sensation. I wouldn't call them rumbly, strong vibrations, but more of a pleasuring, soothing, orgasmic hum, I really really enjoy it, a lot! When fully aroused and warmed up, perhaps after an orgasm or two, the hum becomes more and more pleasurable. It literally feels like something humming above my clit but still makes me tremble under the pleasure… It is very intriguing to say the least. It gives me a nice steady build-up with a beautiful and intense wave-like orgasm. Also, I don't get numb. Right after an orgasm, it can feel too intense so I just move it around and soon my clit is ready again. I can go for long marathon sessions… and this is a big deal for me.
On the marathon note… this is also why being mains powered with a long cord is handy. The Eroscillator 2 Powerful Vibrator With Attachments won't get tired! No charging time, no low batteries, no problems with weak engines or dead batteries… The mains really is a powerful and amazing thing that will continue for as long as I want to. I do have sex toys that will run out of battery power right at the wrong moment which is the worst thing in orgasm history ( I like edging, but not when a toys does it to me :D).
All the attachments have their own good qualities. But my favourite, hands down, is the soft fingertip/marshmallow head. It is gentle and gives me the softest and steadiest build up. The other ones are nice, fun and adventurous but some are just too pinpoint for me. I am not a power queen but I think pinpoint power queens would love the other attachments. Some are honestly just fun to play with (moustache one or the pearl one).
I personally always have an orgasmic, euphoric and "cum drunk" time with my Eroscillator 2 Powerful Vibrator. I would totally recommend it for anyone who likes sex toys! It is pricey, but honestly it is good, really good – so good that it is actually worth the money. The orgasms are not quick little fireworks, for me the Eroscillator 2 Deluxe Vibrator provides long, wave-like orgasms… I love them very truly and deeply! I personally prioritise my orgasms highly in life, so I am ready to pay for pleasure!
– Puspus
---
Buy Yours
Thanks to Puspus for this great review of the Eroscillator 2 Powerful Vibrator With Attachments!
Find more fabulous and powerful Eroscillator vibrators at the best prices through the following link: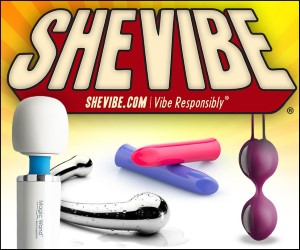 Contains affiliate links