Bondara Large Black Silicone Heart Vibrating Butt Plug Review
By Pleasure Panel reviewer Nat and Tom
My partner and I have been exploring anal play for the past few years now and over that time I have developed a strong love of butt plugs. I have tried a wide variety of shapes and sizes in the past twelve months but I'd never come across one quite like the Bondara Large Black Silicone Heart Vibrating Butt Plug. It stood out to me on the latest Pleasure Panel listing as it looked as though it might be a bit of a challenge and I absolutely love testing myself. Another thing I found interesting about this plug was the shape as the cut-out heart was not just aesthetically pleasing, but something I'd never tried before and I was eager to see whether it would create the flexibility the website description describes.
The Bondara Large Black Silicone Heart Vibrating Butt Plug packaging is understated and simple, just a metallic pouch that has been hygiene sealed for assurance that it hasn't been used or tampered with. The only issue with this is that there are no instructions or directions given with the packaging and the website misses out on some important pieces of information such as the type of batteries that are needed. After a bit of exploration, I discovered that it takes three of those small watch batteries (LR44) and the base needs to be screwed back on firmly to ensure that the vibrations will work.
As the name suggests, this plug is made from silicone. This material is odourless, hypoallergenic and free from phthalates and latex. If body safety and good quality materials are important factors to you when it's time to choose a new sex toy (which they should be) then you'll be pleased to know that this meets the guidelines and shouldn't cause any problems. The Bondara Large Black Silicone Heart Vibrating Butt Plug is non-toxic, non-porous and can be shared between partners as it's easy to clean between uses. The particular silicone used for this plug is very smooth but does have the drag that is associated with this material. As it's an anal toy this isn't particularly important as you'll be covering it in lubricant anyway. I'd recommend a thick, water-based option for use with this toy and considering the dimensions, I'd advise adding more than you think you need.
The Bondara Large Black Silicone Heart Vibrating Butt Plug is listed on Bondara's site as being splashproof so I was able to rinse it in warm water before and after each use with no problems. Silicone attracts a fair share of lint, fluff and pet fur so rinsing before is essential. After use, add some soap or toy cleaner and rinse thoroughly. If it may be used by someone else on its next outing then I recommend wiping down with a 10% bleach solution to make sure all traces of the previous use are completely removed.
The measurements given on the site confused me. The overall length of the Bondara Large Black Silicone Heart Vibrating Butt Plug was less than the usable length which made me think this may have been entered the wrong way around by mistake so I decided to take my own measurements. I came back with an overall length of seven inches and an insertable length of five and a half inches. The main reason I took my own measurements was because of the width listed on the site. I remember holding this huge plug in my hand and thinking "there's no way that this plug is only 3.25 inches wide". It turns out that it's actually 8.7 inches at the widest point and this is based on the width around, not across like the site measurements read.
Some people may be confused by the information listed on the site and end up buying this Bondara Large Black Silicone Heart Vibrating Butt Plug thinking it's longer in length but not super wide and I'd hate for someone to end up with a plug that's way too big for them. Just to be clear, this is not a toy that is suitable for beginners at all. It's best suited to people who have a fair amount of anal experience under their belt and enough time to properly warm themselves up before attempting insertion. I needed to warm up with a few medium-sized plugs before taking on this challenge for the first time but I was able to insert it comfortably. Relaxation and a lot of lubrication was also needed to reach that point.
Butt plugs can be worn to make the vaginal canal feel tighter, leading to a fun experience for the wearer and their partner during intercourse. I'm rather tight naturally as I frequently do kegels and have never had children but this plug made a very noticeable difference to my partner. For me, I didn't notice much of a difference in terms of tightness but I did feel an obvious pressure on the back wall of my vagina where the plug was pushed up against it. This made penetration more enjoyable for me and I was able to orgasm through the combination of the plug and vaginal penetration each time I wore it. I am not someone who can usually orgasm without clitoral stimulation of some description but the size and weight of this plug has offered me a way to get my rocks off during sex without involving a bullet or wand vibrator.
As for the vibrations, you turn them on with one tap of the button on the base, continue to tap to cycle through the settings and press and hold for a couple of seconds to turn off. There are ten settings to choose from but I just stick to the constant speeds. The vibrations are buzzy, which is to be expected considering the power source, but they can really be felt in the neck of the Bondara Large Black Silicone Heart Vibrating Butt Plug even when on the lowest setting. On the higher intensities the vibrations travel throughout the whole plug which was surprising as silicone tends to dampen vibrations at the best of times but somehow they managed it. The vibrations sadly won't blow your mind but they will add a little bit of extra sensation near your entrance to get you closer to the brink of orgasm.
Overall, I was pleased with the Bondara Large Black Silicone Heart Vibrating Butt Plug and quite proud that I'm able to take its size comfortably. It was definitely a challenge as it's the biggest thing I've ever inserted back there but it was manageable with the adequate preparation and the results were more than I could have ever asked for. The shape of this plug is fantastic and the cut-out heart really does allow you to manipulate the plug in a way that will make insertion and removal go as smoothly as possible. It's flexible enough to allow for adjustments but not bendy enough that it looses its shape or moves on its own.
The base is wider than the largest section of the toy which makes it safe and secure and I have had no worries or concerns with regards to unwanted travel or movement during wear. If my partner pushes his hand against the base it increases the amount of pressure I can feel against that back wall of the vagina and that adds further intensity to my orgasms. On top of all of these wonderful things, it's also surprisingly quiet. It can not be heard through a closed-door which makes it a great choice for people who need discretion but don't want to pass up a larger vibrating toy.
All in all, I would highly recommend this Bondara Large Black Silicone Heart Vibrating Butt Plug to experienced anal players and people who like to feel filled.
9/10 
– Nat and Tom
---
Where To Buy
Thanks to Pleasure Panel reviewer Nat and Tom for this review of the Bondara Large Black Silicone Heart Vibrating Butt Plug.


The Bondara Large Black Silicone Heart Vibrating Butt Plug was sent free of charge, in exchange for a fair and honest review by the Pleasure Panel, by Bondara. Thank you! 🙂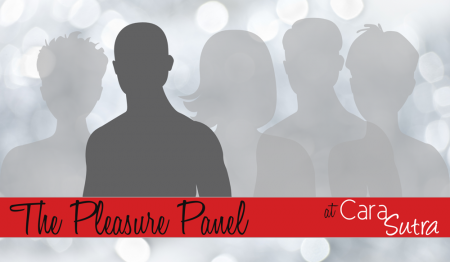 This review contains affiliate links.