ID Glide

By Minxy Michief I'd like to thank Cara Sutra for sending me a sex toy subscription box sample, the Teasebox from Smutboxes UK, to test and review as part of the Pleasure Panel.

By FesureMaybe I was lucky enough to receive a Teasebox from Smutboxes UK to review. The company Smutboxes is a new company and they express different points. Firstly that they want people to feel empowered by orgasms, and not to be ashamed of enjoying sex.

I have to admit that the first time I tried the ID Glide Water Based Lube I had totally forgot that it was 'natural feel' while I was using it and it wasn't till afterwards when I was cleaning up I picked up the tube that I noticed that it was in fact natural feel. Well done ID Glide, it's nice to come across a lubricant that actually does what it claims. Not had any stains on the sheets or anywhere from it.

You probably have multiple toys for different things - vibrators and butt plugs and cock-rings oh my – so why not different lubes for different purposes? If I use a silicone toy I'll use the ID Glide Natural Feel Lube - for everything else I'll use the Give Lube Silicone+. They are both really good lubes and a good lube can be the difference between OK and WOW so I would urge you to give both a try.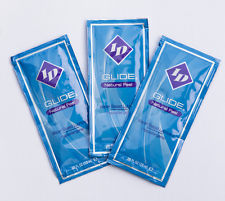 It's quite slippery and silky to the touch and it creates a nice tingly sensation on the tip of my tongue (yes I did taste it ) and it's also quite sweet. The sensation it produced made me excited to try it on my clitoris. My OH is also quite fond of tingly lubes. As this is water based it also suitable for him to try in one of his masturbators, though I did wonder if the viscosity of it would affect its ability to keep it lubricated.

I like to mix things up sometimes and use stimulating or arousal gels. The sensations can be fun so I was really looking forward to trying the ID Stimulating Gel. Thanks Cara! Knowing how strong some of them can be, I just started with a little, can always add more later. Rubbing it into my sensitive areas and I didn't feel anything apart from the lubricant-like substance being applied.

My first explorations in the world of lube drew me to the popular and easily-found Durex range. Through my years of reviewing sex toys, sexual products and pleasure enhancers, I discovered and still love the Sliquid lubes for masturbation and sex.