When this arrived in the post I instantly liked the bottle it was small enough for travel and the classy black and silver design could easily be mistaken for a make up item or perfume if were to fall from your bag.

Either way, it glides on very well and provides a good amount of moisture. I just didn't think it was any different from any other lube they've made, so I wouldn't go out of my way to buy it unless I was specifically after a Silicone lubricant.

As this is a silicone lubricant, it's long lasting and is silky smooth. It's perfect for male or female masturbation, couples sex or use with non-silicone and non-porous sex toys. The Pjur Med Premium Glide silicone lube contains no preservatives, water, oil or fat and it's compatible with latex and latex condoms. It is also free from cyclic silicones.

This makes the Pjur Woman Silicone Body Glide entirely friendly for the pH of a woman's vagina, as well as rendering it irritation-free for her choice of sexual pleasure. It's great to use with non-porous, non-silicone sex toys, such as those made from glass, stone, ceramic or other hard materials. It's also a great go-to lube for anal sex - although of course, a specialised anal lube is always preferable there.

During use, the Pjur Original Body Glide silicone lube is extremely slippery, performing true to its name and gliding over the body. It's particularly great for anal sex, as it doesn't dry and evaporate like water based lubricants can, so there's not a regular need to reapply. It's also wonderful to use during both female and male masturbation.

Überlube Silicone Lubricant Review Skip to the Quick Review I'd heard quite a bit about Überlube before receiving either free samples or the 50ml bottle which I...

It it a clear lube, unscented and tasteless. I like to use silicone lube with my glass toys, it just makes them all the more slicker. It is also great for anal sex as it is long lasting. It is quite a runny lube as I have found other silicone lubes to be but this isn't a problem as it lasts for ages!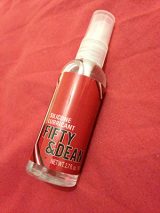 Fifty and Dean Silicone Lubricant 80ml Fifty and Dean is a store in Soho, aimed at the gay sex market. Their lubricant is sold online...