The Jack Boot Paddle is just as it says. Looks like the underside of a size 14 boot. It's a bootprint which feels like it's made from boot sole rubber, firmly attached to the same shape piece of wood with a handle for easy wielding. The handle is backed on both sides with what feels like a riveted strip of leather, and a reinforced hole through the end and a hanging/wrist loop. This paddle measures just under 15 inches in overall length, within which the handle measures 5.25 inches. The maximum width of the spanking area of the paddle is 4.5 inches and the thickness of the paddle is just under 0.5 inches.

These ties can be used in a couple of ways. They are very flexible and can be bent and used as bondage restraints, of fashioned into a spanking implement. There are diagrams on the back of the pack to give you some ideas. Spank Ties are an unintimidating and fun item for lovers or those new to kink and BDSM.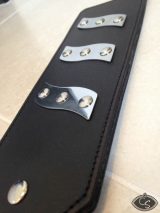 ElectraStim Paddle Review I received the ElectraStim Paddle along with the ElectraStim EM-60 E Flick control unit pack, and the ElectraStim electrosex Conductive Gel. These...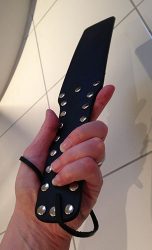 I received this Leather Spanking Paddle at the same time as the Fetish Fantasy Designer Paddle 2. As usual, the postage from Magic Moments was very fast and the packaging professional and discreet.

It's a paddle I even let him use on me! The Fetish Fantasy Designer Spanking Paddle 2 costs £19 to buy from Magic Moments online sex shop - and I'd say that's a fair price. Total bargain at under £20 for this fun and bedroom friendly piece of fetish gear.

The Leather Hand Paddle from Voluptasse.co.uk is a delightful little fetish implement. At 16.5 inches long and made with quarter inch thick leather over a...