Womanizer W500 Clitoral Stimulator Review
By Puspus
Yes, I do. I really do love the Womanizer W500 Clitoral Stimulator! I was so glad when Womanizer finally came up with the W500. I liked the look of a classy one in the range, the white and silver version. I purchased it from Lovehoney and was so excited when this innovative and much-worshipped clitoris stimulator arrived. The Womanizer W500 Clitoral Stimulator came in a classy white box (not super discreet, because it has the picture of the toy on the front). Inside was the device, two different sized silicone clitoral nozzles, a charging cable, black satin storage pouch and the instruction manual.
Enjoy all our Womanizer reviews
The Womanizer W500 Clitoral Stimulator has a plastic body, with easily changeable silicone heads (I call them nozzles) for the clitoris. The crystal button is  the on/off control, then there are the + and – buttons for 8 different stimulation strengths.
I started with the recommended 2 hour initial charge. When it was all charged up I went straight to the point. I put some lube on my clitoral area and switched the device on by pressing the crystal. I placed the suction nozzle on my clitoris and let it form the "suction seal".
The feeling of the stimulation is very intriguing even on the lowest setting, and the stimulation gets more and more intense the more I press the + button. I will try describing the stimulation the best I can. I would describe the stimulation feeling like bubbles or fast nibbling or something similar. It feels beautiful! When it is on my clit it sounds like a distant tractor driving (can´t hear through a closed door and some music/TV), when it's off my clit it is pretty loud.
I usually start on a higher setting, this gets my clitoral nerve endings awake, warmed up and ready to go for an orgasm adventure. I will build up to an orgasm very fast (takes between 1-2 minutes). Right when I "tip over the edge" into an orgasm, I will push the crystal button, the Womanizer W500 Clitoral Stimulator scrolls the power back to the lightest one and I can orgasm with the minimal stimulation. This helps to prevent me getting overly sensitive. Still, by retaining some stimulation, the orgasm lasts longer and stays steady and just oh… so sweet!
After a warm up orgasm I will continue on setting 1-4 and go up and down in strength. This will create a rhythm manually and make me come to the edge of my orgasms. I will just stay still and let the Womanizer W500 work it's orgasm magic. The orgasm build up just feels sweet and heavenly, because I am not really doing anything I get to just feel the pleasure and orgasmic sensations. I really get to just be in the moment, sense and enjoy everything and I think this makes the experience so different.
It's difficult to explain, but I think when I use a dildo and a clitoral stimulator, I have to focus on creating and building the orgasm manually, which feels amazing as well, but it´s not pure concentration on the clitoral nerves… With the Womanizer W500 Clitoral Stimulator, it does all the work for me and I just get to focus solely on my clitoris feeling amazing, and all the nerve endings just singing Hallelujah!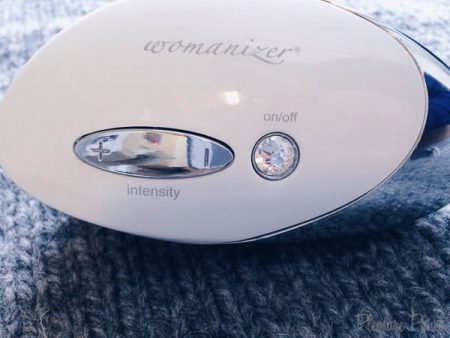 I personally also love some internal stimulation while my Womanizer W500 is doing it´s thing on my clitoris. I will go for a good butt plug or dildo which I can move slowly or just keep still and squeeze around with my pelvic floor muscles. A thrusting dildo doesn't really work that well, because movement will break the suction and that´s not what we're going for.
I can be orgasmically satisfied with the Womanizer W500 Clitoral Stimulator, but many times I like to take advantage of all the "pussy juice buildup" orgasmic sensations and sensitivity I have. I love to continue my session with a dildo and some other type of clitoral stimulation (fingers, Eroscillator 2, one of my magic wand vibrators…) for even longer sessions.
The two different size silicone nozzles feel different on my clitoris. The smaller one feels more intense than the bigger one. They are both pleasing and deliver different feels…
The battery life of the Womanizer W500 Clitoral Stimulator is amazing! It charges in about 2 hours and I can use it many times (= I think they say 4 hours). And the charging is simple and easy, you stick the USB cable in the toy, the nozzle blinks green when it´s charging and it will stay green when fully charged.
Cleaning is also easy, just wash the silicone nozzle and wipe down the Womanizer W500 body after every use.
I only have one sad thing to say about my Womanizer W500. After using it many times in a row, or using it for a marathon session, my clitoris will get chafed. It's not bad it will heal in a day, but still this is sad…  This isn't a problem, unless we are talking 1 hour or more of use. I just have to be conscious of how I'm using my Womanizer W500.
Remember: Use a good amount of water based lube, don't apply pressure to your clitoris with the toy (keep a light touch), don´t play too long, don't use continuously on the highest speeds.
I don't really know what else to say. For me, my body and my clitoris the Womanizer W500 Clitoral Stimulator works great. It gives me amazing orgasms every time, over and over again. I love it. I would wholeheartedly recommend the Womanizer W500 to all who like clitoral stimulation…
– Puspus
---
Buy Yours
Thanks to our reviewer Puspus for this review of the Womanizer W500 Clitoral Stimulator.
This product was sent free of charge, in exchange for a fair and honest review here at the Cara Sutra sex blog. This review contains affiliate links.