Warm Authentic Warm System Review
By Pleasure Panel reviewer CandySnatch
Let me tell you about the Warm Authentic Warm System. I was selected by the lovely Cara Sutra to review this for Pleasure Panel and I was a mix of excitement and curiosity. The premise behind the Warm Authentic Warm System (Sex Toy Warming Device) is that warmer toys feel more realistic. And I think I agree with that. Part of the reason I enjoy temperature play with glass and metal toys is the warming effect feels great.
Packaging & First Impressions
When Cara's parcel arrived at first I was confused. The package was massive and for some reason I was expecting a much smaller delivery. Opening it I was stunned to see a huge box containing the Warm Authentic Warm System.
The packaging, aside from being huge, is discreet. I opened it in my lounge and nobody batted an eyelid. There is a picture of the Authentic Warm System on the front with some toys tucked inside but they aren't immediately recognisable as sex toys.
Inside the sturdy box sits the Authentic Warm System, which is masquerading as a nice brown clutch bag. Removing the Authentic Warm System from its included storage pouch and removing all the cords and cables from the box I began setting it up.
My Authentic Warm System came with an American Plug on it. This wasn't an issue for me as I have an adaptor but if you don't have one you might consider getting one before ordering. Set up is easy, just connect the cables together, plug in and switch on. Even I couldn't mess that up.
Set-Up Instructions
Because of the nature of the Authentic Warm System I decided to do something I never do. I was going to fully read the instructions. They weren't as painful as I expected but answered some questions that me and my friends had been wondering about since I knew I was going to be reviewing the Authentic Warm System.
Everyone's initial response is,
"What if you burn yourself?"
Usually accompanied by a screwed-up ouch face. Well I think having reviewed the Warm Authentic Warm System this would be very hard. But the instructions informed me that there is an internal cut out. This stops the product going above quite a low temperature. You alter the heat level to your toys by adjusting the time they're in the Authentic Warm System.
How To Use
The Authentic Warm System is safe to use with all kinds of toys including rechargeable and battery powered ones. I did wonder if it would only be OK to use with dildos but this isn't the case.
The controls for the Authentic Warm System are on the cable. There is a small triangular connector and here lives the power button. Once the Authentic Warm System is on a small blue light appears above this button to let you know the status of the Warm. When it has been left on over an hour the cut-out kicks in and the light vanishes, switching the product off.
The Authentic Warm System reminds me a bit of the old Bender hair rollers sets. You basically wrap your chosen toy in the warming element inside, once it's wrapped up you fold the case over it and button it up. So simple it's unreal. Now the instructions state that around ten to fifteen minutes is sufficient to warm a toy but obviously, this will depend on its density.
Material Comparisons
I decided to run a comparison test on different materials using silicone, glass, ceramic and steel. This is because I felt it was the best way to see which materials worked best in the Authentic Warm System and how to work out how long was needed to get the best temperature.
I used a silicone dildo first and I actually expected this to be the least successful of the four toys tested. It's a very thick, heavy lump of silicone and I couldn't see the Authentic Warm System heating it well. It quickly became apparent fifteen minutes wasn't long enough. In fact, none of the materials were anything more than not quite ambient after fifteen minutes
I restarted the test this time leaving the toys in the Warm Authentic Warm System for half an hour. The difference was marked. I expected the silicone to heat the least and then the ceramic followed by glass and steel. But I was wrong.
Silicone
The silicone after half an hour was definitely warm. It felt much more realistic in my hand and this excited me so much I literally put it straight inside myself. The penetration felt nicer, the warmth was very soothing and it felt more like being fucked than usual.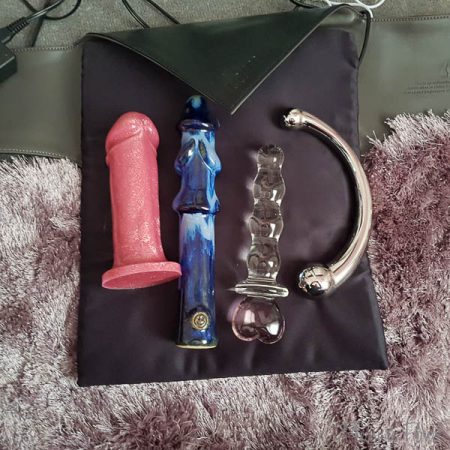 Ceramic
Next I tried the ceramic and was surprised to feel that after half an hour it was still only slightly warm. It didn't feel anywhere near as warm as the silicone and I expected this to be the other way around. This said with even a slight increased temperature the difference during penetration was noticeable. It was an all-round better experience.
Glass
Shocked at the previous test I next placed a glass dildo in the Authentic Warm System. I expected this to warm well and wasn't disappointed. The effect was much better than when I heat the glass toys with water. It felt more consistent. I loved using the glass dildo warm. It felt divine and I fear it may have spoiled it for ever using it ambient again. Somehow it even managed to make the glass feel more realistic inside me.
Metal
Finally, onto the metal. I expected this to be the toy which heated the most and yet after the same amount of time it wasn't as impressive as I thought. I was expecting to have to be cautious but it was only about as warm as the glass, maybe even a little less warm. That aside it didn't affect the awesome change in penetration. It felt somehow softer and less intimidating. I can only put this down to the fact that heat is comforting.
Butt Plugs
After finding the dildos so successful I went on to test butt plugs. I found I could wrap the butt plugs three at a time thanks to their small size. I only tested silicone, glass and metal as I don't have a ceramic plug.
Once again, the results were stunning. All three heated beautifully. I reduced the heating time to twenty minutes given the smaller size. On insertion, I genuinely wanted to go "Ooooh" it felt much less intrusive than normal when first inserted. Just like with the dildos the glass was the stand out winner. However, don't let that deter you from trying the Authentic Warm System with the other materials because they all felt amazing.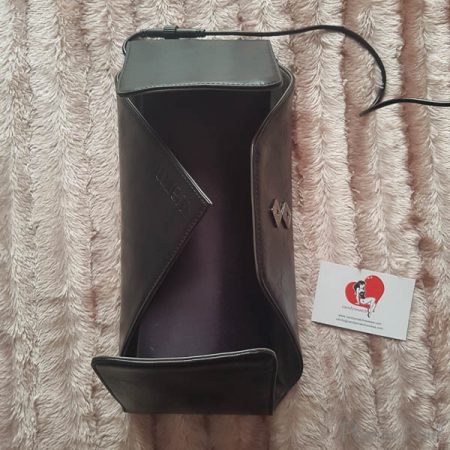 I tried to bulk heat the dildos after finding it so effective with the plugs. The Authentic Warm System says you can heat multiple items but I found this impacted on the temperature. I assume it's because the toy is less in contact with the element. This would be a bit annoying if you wanted two dildos for double penetration play. I combatted this by again slightly increasing the time the toys stayed in the Authentic Warm System.
Other Toys
In the spirit of curiosity, I went on to heat all sorts in the Warm Authentic Warm System. I heated nipple clamps and suckers, I heated bullet vibes and even a pair of metal manacles I have. Some I liked. Some I didn't. I don't want warm manacles but the clamps felt lush.
The Authentic Warm System is so easy to use. Folded up in its bag, it sits on my bedroom floor and nobody would give it a second look. Which is great. The Warm pouch is stylish to look at and I love the concept.
I'd advise always checking the temperature of a toy before placing it on your sensitive areas, and remember what feels luke-warm to your hand is often much hotter elsewhere.
Thoughts After Use
I was very impressed with the difference the Authentic Warm System makes to my toys. It improved old favourites and made ones I wasn't fond of much better. The introduction of temperature really does make it feel more realistic.
Things I'd be tempted to change about the Authentic Warm System itself are few and far between. The slightly misleading time frame is a bit annoying as it does rob you of spontaneity a little.
I like how it's very customisable in terms of heat level simply by adjusting the time.  I love the concept and effect during use. All that aside I do think $149 is expensive even given how much I like the warm feeling during play.
For me that is the major downside to the Warm Authentic Warm System. It's a great way to add a dimension to play but it would be costing more than many of my toys. If I was going to spend that amount of money I'm sure this wouldn't be the first thing I'd think of in terms of priority.
Summary
It's a clever idea but I can't help wondering if you couldn't replicate the results simply by placing your toys in a towel and popping them on the radiator for a bit? Or by using hot water? Yes the results are perhaps more consistent but that price tag is so high this is only going to be a purchase for someone with loads of disposable income. And let's be honest that rules most of us out.
I've very much enjoyed reviewing the Authentic Warm System, I think it's a great product and it adds a new dimension to old toys. However I do not love it enough to part with  $149 for it. I'd rate the Warm Authentic Warm System 6/10. If it was cheaper it would have got full marks.
– CandySnatch
---
Where To Buy
Thanks to Pleasure Panel reviewer CandySnatch for this review of the (Vegan Certified) Warm Authentic Warm System. You can buy yours direct from experiencewarm.com for $149.
This sex toy warming device was sent free of charge, in exchange for a fair and honest review by the Pleasure Panel, by Warm. Thank you! 🙂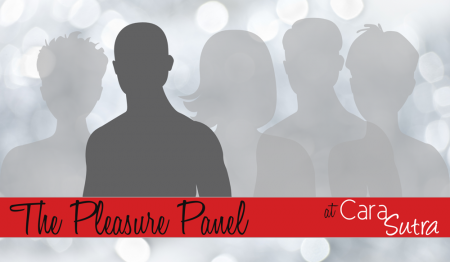 This review does not contain any affiliate links.